The Dark Side of a $10 Billion Industry:
Private Vaults, Armored Cars, and Duffel Bags BURSTING With Cash
These 100% legal businesses are FORCED to operate in cash only...
But that's about to change, and it could mean a 994% windfall for you.
Dear Reader,
You've probably seen this sign on storefront doors...
These signs are literally everywhere... in California, Colorado, Pennsylvania, and 30 other states.
Inside each of these unique stores, you will also find an ATM.
That's because these stores can't accept credit or debit cards from customers.
So customers must pay for their products in cash.
The owners of these stores are even forced to pay taxes in cash!
In Sacramento, for example, one owner filled a duffel bag with $338,654 to drop off at a secret location, just to pay his tax bill.
It's the same story for 30 other shop owners in the city.
"Duffel bags and sometimes suitcases of cash would arrive quarterly at some of our designated offices and some business owners had to drive 350 miles to pay their taxes," says California state treasurer Fiona Ma.
Out of sheer necessity, these business owners are hiring expensive armored trucks to transport large sums of cash around safely.
For now, a lot of this cash is being stored in private vaults.
Because of federal banking laws, these business owners can't get access to checking accounts, loans, or lines of credit.
They have to pay their employees in all cash.
They have to pay their rent in cash.
They even have to pay their taxes in cash!
We're talking about a $10 billion industry that's currently being forced to operate almost entirely in cash.
As you can imagine, all that cash also makes these businesses massive targets for crime.
But thanks to a historic bill that's quietly making its way through the halls of Congress...
All of this is about to change. And it could mean a fortune for you.
This bill — known as HR 1595 — has widespread support from BOTH sides of the aisle!
Including more than 38 attorneys general...
And Trump-appointed Treasury Secretary Steven Mnuchin, who has called this a "significant issue."
The bill could be on Trump's desk by the end of the year... if not much sooner.
With the stroke of his pen, President Trump will alter the course of history for millions of Americans.
Because for the first time ever, small businesses in this one robust sector of the economy are going to be able to do something they've never been able to before...
Trade in their duffel bags overflowing with cash for bank accounts.
It will finally give businesses in this sector access to the banking services they desperately need.
It will reduce the extra costs these businesses incur by having to operate in cash.
It will allow them to sell more product, leading to higher profits.
It will help this industry to grow like never before and make investors who are positioned to take advantage of it a killing.
In fact, the last time something like this happened, investors could have scored an impressive 994% windfall.
But the impact this piece of legislation will have for this industry is much, much bigger.
Yes, I'm talking about the legal marijuana industry.
You know marijuana stocks have been rising like skyscrapers.
And I've already helped my readers make a fortune from the rapid spread of its legalization.
Hi, My Name Is Jeff Siegel
I've been a professional investor for 30 years.
You may have seen me speaking on Fox News, CNBC, or Bloomberg.
Or maybe you've read my top-selling book, Investing in Renewable Energy: Making Money on Green Chip Stocks.
I've been showing regular folks from all walks of life how to capture massive gains from the legal marijuana space...
And I've been doing it longer than anyone else I know of in this industry.
I've been on the inside since day one.
For instance, three years ago, before legalization in Canada was even a possibility...
I absolutely begged my readers to buy shares of a small Canadian firm called Canopy Growth Corporation.
I told them it was going to be the biggest cannabis player not just in Canada, but in the entire world.
And that's EXACTLY what it is today: the world's largest marijuana firm, worth $14.8 billion.
But at the time of my recommendation, it was just a TINY penny stock.
It was off the radar of EVERYONE.
But not us.
We paid $1.60 a share for Canopy Growth Corporation.
And in the months following my recommendation, the stock began to explode higher.
Canada legalized marijuana on October 17, 2018.
And just a week later, we unloaded those shares of Canopy Growth on the open market for $49.85.
That's good for a gain of 3,015%.
Those readers who took advantage of my recommendation made an absolute fortune.
If you put $10,000 in Canopy Growth Corporation when I first made the recommendation, you would've cashed out with $315,500.
And if you tripled that initial investment, you'd have made almost $1 million.
In fact, one of my readers told me that he turned a $40,000 stake in Canopy into over $1,200,000.
What would you do with $1.2 million?
Buy a boat for leisurely summer cruises? Or maybe you're the type to buy a beach house in Florida and a new Tesla to go with it?
You could buy all of that and still have enough left over to fund a generous nest egg for your kids.
And that was just the beginning of our epic profit run...
There was also the trade I recommended on a pot company by the name of Aphria.
Today it's one of the more well-known cannabis companies in the industry.
In fact, big-name brokerage houses like Vanguard and Black Rock have both made huge investments in this company.
But I can guarantee few firms on Wall Street were paying attention to Aphria back when it was just a penny stock on a small Canadian exchange...
Once again, my readers had the chance to get there first, when shares were trading at only $1.32.
Over the next 30 months, Aphria exploded, and we got out at $14.40.
That's a gain of 1,174%.
Then there was also the trade I recommended on OrganiGram Holdings.
I uncovered this gem back before all the "Johnnies-come-lately" began piling in.
At the time of my recommendation, it was trading for only $0.40 per share.
When I told my readers to sell:
That was in October 2018, which was after the stock shot up by 1,185%.
That's three of the biggest names in the marijuana industry — all discovered before their huge explosions in price.
All told, from just these three pot plays alone, you could have banked gains of 5,374%.
That's enough to turn every $1,500 stake into $82,110... every $5,000 into $273,700... or every $10,000 into $547,400.
Just think about what that kind of wealth could do for your life...
And that's still just a small sample of the winners I've uncovered in the legal cannabis markets.
This is why I've gotten a stack of notes like these from my readers...
"Jeff, I just secured a $120,000 gain in 30 days. You rock!!! Let's keep making $$$$$."
— Matt H., Burlington, Vermont
"You are a rock star when it comes to the knowledge you have regarding the cannabis market! I'm so thankful I found you to help guide me through this exciting time."
— Barbara T., Tucson, Arizona
"I would like to thank you for your advice surrounding the marijuana boom. I've followed your tips for two years now and I've made a lot of money."
— Craig J., Abilene, Texas
And I'm not trying to brag here...
I simply point out these gains because I want you to know that unlike all the self-proclaimed pot "gurus" out there, I know how to really make money in this space.
It's why I get invited to speak at the High Times Cannabis Cup and several other elite investment conferences around the globe.
Few people have put as much time into this industry as I have or made the kind of contacts I have.
For instance, just last week, I met with several hedge fund managers, a high-end lawyer with many high-profile cannabis industry clients, and a congressman who helped make recreational cannabis use legal in Illinois.
My network of contacts gives me the undisputed information edge.
And this new piece of cannabis legislation is going to be the biggest development for this industry yet.
It could spark incredible fortunes for investors who get in front of it.
Let me explain...
Why This Could Be the Single Most Profitable Day in Pot Stock History
Businesses operating in the legal cannabis sector today have a BIG problem...
And that is finding a safe place to store the mountains of money they're making.
In short, banks in America are prevented from providing financial services to cannabis-related businesses.
Why? Because federal law still views cannabis as a Schedule 1 drug, right alongside the likes of heroin and cocaine.
In fact, companies that work with cannabis-related businesses — even plumbers and electricians — can be prosecuted for money laundering simply for accepting payment!
Crazy, right?
So despite the fact that medical cannabis is now legal in 33 states and recreational cannabis is legal in 11 states...
It still remains an all-cash business.
When dispensaries buy their inventory from growers, they have to pay in cash.
And when customers purchase marijuana products from a dispensary, they can't use credit cards. They have to pay cash, too.
The industry made almost $9 billion last year.
By 2022, it's expected to be raking in over $23 billion a year.
All of that cash on hand makes for a VERY tempting target for thieves.
As California edibles producer Mark Mason told Rolling Stone magazine:
"We carry more cash than banks. You can't walk into a bank and get $300,000 in cash. You'd make more money robbing us. It just feels like, wow, now that my business is completely legal, it's more dangerous than ever."
And he's right.
The morning after he brought his wife and newborn son home from the hospital, Mark discovered his marijuana edibles store — one of the first and most successful in the country — had been robbed.
Hundreds of thousands in both cash and inventory had been stolen.
As Congressman Ed Perlmutter says:
"Thousands of employees, businesses, and communities across this country... have been put at risk because they have been forced to deal in piles of cash."
It's been a real nightmare for these businesses and the communities they operate in.
It's also created tremendous overhead costs in terms of storing, transporting, and handling that much cash.
These businesses can't write checks to meet payroll or pay taxes. It forced one pot company's CEO to cart $3 million in cash down to the IRS, just to pay his tax bill.
The employees of cannabis businesses can't even get access to loans for education or housing!
It's pure insanity...
But this new bill aims to change all of this... fast.
It's called the Secure and Fair Enforcement (SAFE) Banking Act.
As the name implies, it would make marijuana business practices better, easier, and safer.
These businesses will no longer have to spend money to protect their piles of cash.
The SAFE Banking Act would allow cannabis companies to not only put their cash in banks but also access cash from those same banks...
Cash that grows businesses and increases shareholder profits.
And it has outstanding support from both sides of the aisle — including from key Trump administration officials.
I believe this bill will move on to the Senate in short order... and then to President Trump.
President Trump has already declared:
"I'm in favor of Medical Marijuana a hundred percent."
But this is about more than just politicians wanting jobs and more tax revenue...
The Big Money Wants In
Corporate America spies opportunity, too. Investment funds are pumping cash into legal cannabis. Founders Fund, created by Peter Thiel, founder of PayPal, is millions in.
Tribeca Global Natural Resources, the world's top-performing hedge fund, is in. Poseidon, another hedge fund, has invested $60 million. Tiger Global Management, a $22 billion investment firm, is buying stakes in California pot businesses.
These funds are investing in marijuana because it's projected to be bigger than beer and tobacco.
Not only that, but America's Fortune 500 companies, like Scotts Miracle-Gro, Oracle, and Microsoft, are also developing side businesses dedicated to marijuana.
Cannabis Legalization IS an Unstoppable Force
Whether you're a Democrat, Republican, or independent...
There's one thing we can all agree on...
Marijuana is here to stay.
Just check out these statistics. They're truly incredible...
95% of Americans are now in favor of medical marijuana
63% of Americans are in favor of legalizing cannabis
More than half of America is on the marijuana bandwagon.
The tide has turned in a big way. Billions upon billions of dollars have poured into this industry...
And the passage of this bill will turn the flow of capital into the cannabis sector into an absolute torrent.
It will make it easier than ever before for cannabis entrepreneurs to access capital to build and expand their businesses.
Because without access to loans, the cannabis industry is currently missing a key source of funding it needs for growth and expansion.
Legislation similar to this has recently passed... and it made investors massive gains in short order.
The 2018 Farm Bill Allowed Banks to Do Business With Hemp Companies... Cannabis Is Next!
When President Trump signed the Farm Bill into law last year, it did something incredible...
It legalized hemp.
For those of you who don't know, hemp is a strain of cannabis that can't get you high.
Yet for over 80 years, it was considered a Schedule 1 drug alongside marijuana and heroin. But not anymore.
There are thousands of hemp products out there: hemp tea, hemp seeds, hemp butter, socks, soaps...
There's also cannabis oil that's made from hemp, also known as CBD oil.
I'm sure you've heard of CBD. It's literally everywhere.
It's being sold in drug stores, pharmacies, convenience stores, vitamin shops, spas, salons, and more.
In 2017, sales for hemp-derived CBD were $291 million.
By 2021, those sales are expected to hit $1.65 billion.
That's 500% growth in just four years.
Most importantly, now that hemp is legal, financial institutions have the opportunity to transact with this largely untapped industry without fear of penalty.
When this happened, CBD stocks took off like rocket ships...
Elixinol Global Ltd., which uses CBD in supplements and cosmetics, shot up 276% in nine months.
India Globalization, a supplier of CBD for energy drinks, shot up 457%.
Pyramidion Technology Group, another CBD producer, shot up 994% in three months.
The farm bill has opened the door to billions of dollars in new sales for these CBD companies.
But when this new cannabis banking bill passes, I expect the gains to be much larger than anything we've ever seen before.
The entire cannabis industry is on the verge of explosion, and the passage of the SAFE Banking Act will light the fuse.
But before this bill passes, I want to make sure you are in the best position possible to make an absolute killing from this historic piece of legislation.
The Spreading Legalization of Cannabis Is Making My Readers Rich
This bill has more sponsors than any cannabis reform bill has ever had — 206 sponsors and counting.
It's a sign of tremendous support from BOTH parties.
Politicians are starting to come around on cannabis like they never have before...
The industry is expected to create more than $130 BILLION in federal tax revenue over the next six years.
That's over 10 times the amount of money alcohol sales generate per year.
The stars are aligning for the cannabis industry.
And the passage of this bill is going to unleash a tidal wave of cash.
That's why I've written up a detailed report on how to rake in a fortune from this looming legislation.
It's called "The Six Best Ways to Play the Cannabis Banking Act NOW."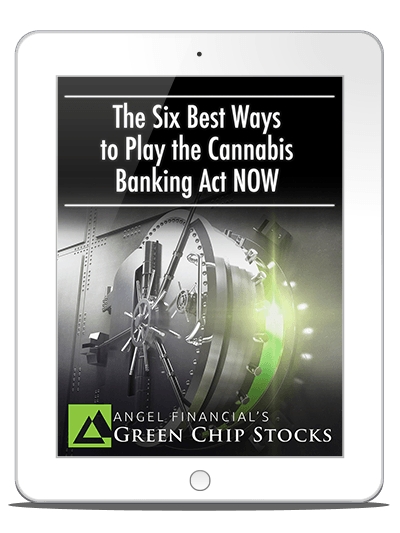 I won't get into the details about all of these plays because I want to make sure this report gets into your hands as quickly as possible.
But I'll tell you that the six companies inside this report all have several specific traits in common:
Each one of them is already selling cannabis across multiple states where it's currently legal — either medically, recreationally, or both.
They're building out operations across the United States that will give them the first-mover advantage as soon as this new legislation passes.
They're actively generating revenues.
They all have very deep pockets.
They're all trading at significant discounts compared to their peers.
Each one of them is loaded with triple-digit profit potential.
The passage of this bill could help them grow faster than ever before — and pay you growing streams of cash.
There's absolutely no time to waste. Things are moving very quickly.
This bill could be in Trump's hands by the end of the year, if not much earlier. When it passes, we could see these stocks rise by many multiples.
Remember, I've showed my readers gains of 1,174%, 1,185%, and 3,015% from Canada's legalization of cannabis.
And the SAFE Banking Act is by far the biggest piece of cannabis legalization yet to come up in America.
This is huge. This is historic. And it could make you rich.
I've compiled all the details of these six companies that are set to benefit from it...
Their names and stock tickers...
Inside my newest report titled, "The Six Best Ways to Play the Cannabis Banking Act NOW."
There's no technical jargon.
It's extremely easy to read and understand.
So you'll be able to get ahead of the crowd.
I'll send this report to your email right away, so you can read it immediately.
Here's how to get your copy right now...
My Own Stunning Announcement and Offer for You
For a very limited time, I am granting access to my highly restricted, invitation-only investment newsletter, Green Chip Stocks.
It's where I alert my circle of readers to the fastest-moving opportunities in the markets... and how to play them for big paydays.
The majority of the money we're making today comes from the legal cannabis markets...
Over just the past two years, I've shown readers gains of:
100% on Aurora Cannabis
105% on Innovative Industrial Properties
106% on Aleafia Health, Inc.
108% on Khiron Life Sciences
109% on MariMed
1,174% on Aphria Inc.
1,185% on OrganiGram Holdings
3,015% on Canopy Growth Corporation
If you put $5,000 into each of those recommendations, you would be sitting on over $300,000 worth of cannabis profits.
But over the course of my career, I've banked dozens of triple-digit winners across a host of sectors, like:
215% on U.S. Geothermal
490% on Vestas Wind Systems
566% on First Solar
707% on Chipotle
780% on Whole Foods Market
In short, I look for the opportunities that can pay you the most money right NOW.
These days, most of them are coming from the legal marijuana market, which is only getting bigger and bigger.
New legislation is constantly opening the doors to explosive new profit opportunities.
And the SAFE Banking Act is poised to be the biggest one yet.
The moment you join Green Chip Stocks, you'll get your copy of "The Six Best Ways to Play the Cannabis Banking Act NOW."
As soon as President Trump signs this bill into law, the cash grab will be on.
Anyone who takes action today and gets their report will be set up for the profit shot of a lifetime.
And folks who don't — they'll be out of luck.
And since its passage will be so big and life changing...
I want to make sure as many people as possible get the chance to take advantage.
That's why today, I'm allowing access to Green Chip Stocks for HALF off the normal price.
That's right... a full 50% off.
I can't imagine ever offering a discount like this again.
But opportunities like this happen once in a lifetime — if you're lucky.
And I don't want the price to stop anyone.
So as soon as you grab access to Green Chip Stocks...
I'll email you "The Six Best Ways to Play the Cannabis Banking Act NOW."
You'll be able to read it in one sitting.
But that's not all. Not by a long shot.
Even More Chances to Get Even More Rich
I want to be clear.
While the passage of this bill will be a watershed moment for the cannabis industry and make fast movers absolutely wealthy...
This is not a one-time deal.
There are dozens more cannabis bills in Congress being considered right now.
I'm tracking every single one of them.
And I'll tell you exactly how to capitalize on them.
I'm scouring every corner of this market for the best shots at huge profits.
So, as soon as you join Green Chip Stocks, you'll immediately receive "The Six Best Ways to Play the Cannabis Banking Act NOW."
And you'll also get:
An "All Access" Pass to Green Chip Stocks: This is my personal website where I post every urgent update you'll need to profit from the latest opportunities in the legal cannabis markets.
Urgent Weekly Updates: Once a week, I'll update you on the investment opportunities I've shown you up to that point. This includes any breaking news, insider rumors, and more.
Invitation-Only Private Research Trips: As an active member of Green Chip Stocks, you'll be able to join me on private research trips that are only available to the select few in this group. You'll also be able to attend private investor dinners that I hold exclusively for my inner circle of like-minded folks.
Constant Direct Support: As long as you're a member of our community, you'll be able to contact me with any questions you may have. My staff and I will be happy to work with you.
My Official Ironclad Guarantee to You
Now, given the kinds of results I've shown you today...
You know the information inside your report, "The Six Best Ways to Play the Cannabis Banking Act NOW," is worth a fortune.
And the ongoing support and stock recommendations you'll get with Green Chip Stocks are priceless.
But instead of the normal $199 price...
You get the 50% off I mentioned earlier.
That means you'll pay just $99 for a full year.
And after you try it out for a month...
If you're not totally happy with what you get...
You can call and cancel, and I'll give you back every single cent — no questions asked.
You can even keep "The Six Best Ways to Play the Cannabis Banking Act NOW" as my gift to you for just trying us out.
I can't believe I'm doing this!
The most profitable information on the cannabis market...
50% off the normal price...
And a money-back promise.
That's my guarantee to you.
Now It's Your Turn
You are the only one who decides what happens next.
It's totally up to you.
It's your turn to get in front of a fast-moving piece of legislation that will forever change the cannabis industry.
It's your turn to live the life you deserve.
It's your turn to take action.
Just remember, the clock is ticking on these opportunities.
This bill could be in Trump's hands by the end of the year, if not much quicker.
So please don't hesitate.
As soon as you join Green Chip Stocks, I'll email you your copy of "The Six Best Ways to Play the Cannabis Banking Act NOW."
It's yours to keep forever.
Just click the "Subscribe Now" button below.

You'll be taken to a secure order form where you can review all the details before anything is final.
As soon as you get your report, I suggest you tear into it and read it immediately.
I look forward to hearing your story about hitting it big because you got ahead of this announcement.
I hope to see you at our invitation-only retreats.
And I look forward to seeing you take action and live the life you know you deserve.
Sincerely,
Jeff Siegel
Investment Director, Green Chip Stocks