"...the most important discovery in half a century."
— Science Magazine
This Changes Everything
"This is going to save millions of lives.
Why wouldn't I want to be invested."
— Kevin O'Leary, Shark Tank
The last time science came anywhere close to
a breakthrough like this, investors made up to 70,000%
(...but they had to get in early)
Dear Reader,
What if...
There was a "pill" that could turn an alcoholic into a non-alcoholic.
One minute, the person craves alcohol. The next minute, he no longer drinks.
And what if...
The same "pill" could turn a depressed person into someone who isn't depressed.
Or turn an opioid addict into a non-addict.
Help give a diabetic a normal blood sugar level.
Or enable an Alzheimer's patient to remember again.
Well... this pill is no fantasy.
This Pill Actually Exists... Right Now
It's being used to treat people with many different incurable chronic diseases.
And it's already transforming people's lives.
Take George Johnson, age 46. He's been an alcoholic all his life.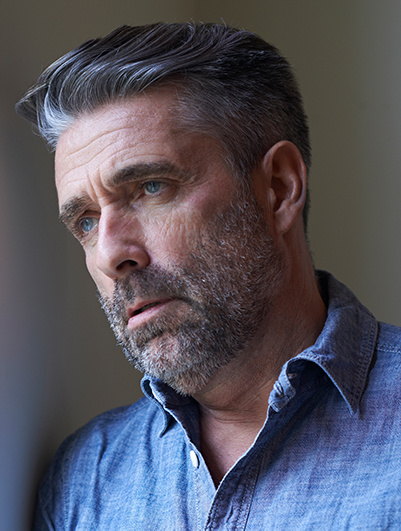 Most of us know someone like George.
His drinking destroyed his career, broke up his family, and almost killed him.
He missed his daughter's high school graduation because he was passed out from drinking.
He's tried everything to quit — and several times he did stop drinking, but not for long.
And even when he wasn't drinking, he lived in constant fear of slipping and taking a drink.
Life was a constant struggle to stay sober.
So when George heard about a clinical trial for a new cure for alcoholism being run at an Ivy League university, he offered to participate as a subject — and was accepted.
The researchers said they were studying a treatment that wasn't just about "managing" one's alcoholism but eliminating it.
Naturally, George was skeptical, but he figured he had nothing to lose.
Long story short, after two sessions, he'd lost all desire to drink alcohol.
Any fear of slipping was gone.
In short, George was an alcoholic. Now, he's not.
This is a true story based on a rigorous scientific study conducted at an elite institution — one of the most prestigious and respected medical laboratories in the world.
And George Johnson's story is not unique, but one of many like it.
A Radical Departure from
Established Treatments
But to see what a radical change this is from the established way of treating alcoholism, take a look at this statistic...
"Between 40 to 60 percent of people who've been treated for addiction or alcoholism relapse within a year, according to a 2014 study in the Journal of the American Medical Association."
The established ways of treating alcoholism don't work very well — only about 40% to 60% of the time — and they don't cure the disease.
Worse, the establishment doesn't believe alcoholism can be cured.
Once an alcoholic, always an alcoholic.
Alcoholism can only be managed, not cured. And it must be managed for life.
That's why this new treatment is so revolutionary: It eliminates the person's alcoholism.
It turns the alcoholic into a non-alcoholic.
This goes completely against the established medical approaches to treating alcoholism.
And rigorous scientific studies are proving it works!
Treats Many Other Chronic Diseases, Too
And this may be the best part:
Many other studies underway at places like Harvard, Johns Hopkins, and Stanford are showing this new treatment is effective against other deadly chronic diseases…
Like depression, diabetes, PTSD, opioid addiction, anorexia, and Alzheimer's disease.
Take the story of Elise Farmer.
A 55-year-old woman, who'd been severely depressed for decades.
On a good day, she was able to get out of bed and make a meal for herself.
But most days, she stayed in bed with the curtains drawn.
She refused the company and got her (fast) food delivered.
More than once, she thought about ending her life.
But one day — it was a "good day" — a friend told her about a clinical trial for a brand-new cure for depression. They were asking for volunteer subjects.
What got her attention was this new cure wasn't just a variation on the same old treatments that never worked for her.
Like George, Elise had tried everything to cure her depression: expensive, long-term therapy and antidepressants with lots of painful side effects. One of them made her gain weight.
Everything had worked a little bit, but nothing worked very well or for very long.
So naturally, she was skeptical about this new cure, too.
But she was accepted into the program and after one session, her depression lifted.
The following day, she felt even better than the day before.
And in the days after, she reported feeling better and better every day.
For the first time in decades, Elise feels good, healthy, happy, and excited about life.
She loves getting up in the morning and diving into the day.
Bottom line...
Elise was deeply depressed. Now her depression has disappeared. Completely.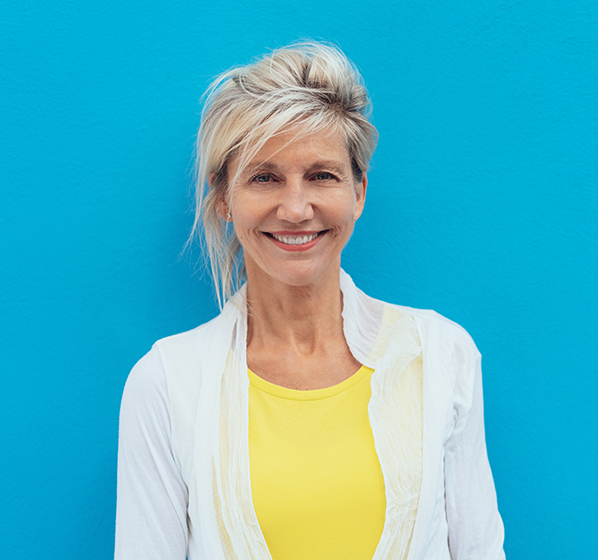 Both Elise and George got virtually identical outcomes.
Complete relief with lasting results after only one or two treatments.
Studies show that antidepressants coupled with expensive, long-term therapy works only about 40% to 60% of the time.
But Thanks to This Radical New Treatment...
Elise is quite literally, a changed person.
And she is far from alone.
Like George's story, Elise's story is true, but not unique.
Many others with incurable chronic diseases have tried this same new agent and gotten the same or similar results.
Take Kenneth.
Age 46 and from the Bible Belt of America, Kenneth suffered from "osteoarthritis, rheumatoid and gout."
He tried "a couple of different doctors, tried multiple NSAIDS, shots in my wrist, and an NSAID cream (four times a day)."
He got some relief from these treatments, but it was only temporary.
But like George and Elise, he had the opportunity to try this breakthrough, saying:
"So far, this seems to get rid of 70-80% of my pain [and] I get relief starting an hour or two after taking it. I haven't had to use the NSAID cream..."
And here's the icing on the cake...
This "breakthrough" not only works, but it also involves...
No prescriptions.
No synthetic drugs with side effects.
No invasive surgery.
No long, expensive therapy of any kind.
No more taking a zillion pills a day.
No restrictions on one's lifestyle afterward.
No costs the size of three house payments.
It's 100% natural, organic, and plant-based, so it's free of the painful side effects that plague patients with most medications for these diseases.
(I know what you might be thinking, but it's NOT cannabis).
Sound too good to be true?
I thought so at first, too.
FDA Opens the Floodgates
But the FDA — the ultimate judge of safety and effectiveness for medical treatments — has awarded this new medicine "breakthrough status."
And not just to one, but to several companies working on this "cure for the incurable."
The FDA assigns "breakthrough status" to treatments where scientific "evidence indicates there could be a substantial improvement over currently available treatments."
In short, "breakthrough" status means cutting red tape for fast commercial development.
As Bloomberg reports...
"The FDA [has given] "breakthrough therapy" status to a treatment developed by a London company for clinical depression, expediting the development process."
In short, the FDA has thrown the flood gates wide open.
And already, other studies are showing equally promising results for people suffering from auto-immune diseases, epilepsy, chronic Lyme disease, Alzheimer's disease, and many others.
Again, Bloomberg writes:
"...a growing number of companies are conducting clinical trials of [this same cure] for everything from depression to post-traumatic stress disorder with the blessing of the FDA."
One prominent scientist has called this new breakthrough...
"…the most important discovery in half a century"
— Science Magazine
What is this medicine exactly?
How does it work?
Why does it work where traditional medicines mostly fail?
Why are the world's most successful investors — like Kevin O'Leary — jumping in to back this medicine now?
To the tune of millions and millions of dollars?
In a moment, I'll give you the answers...
But the bottom line is this:
Even the best treatments for depression, alcoholism, and addiction only impact symptoms.
They help patients manage their disease, feel better for a time, and live with less pain.
But they only work partially and only about 30% the time.
The disease retreats temporarily, but persists, lies in wait, and can erupt again at any time.
And then, the pain and suffering just continue and may, even, get worse.
Along with the painful side effects.
By contrast, this new medicine reaches into the disease itself... and "vanishes" it.
It Literally Makes the Disease Disappear
Leaving the patient whole and healthy, often for the first time in years.
Addicts become non-addicts.
Depressed people no longer have depression.
And PTSD sufferers no longer have PTSD.
This breakthrough treatment simply "removes" the disease.
And as for side effects, one researcher put it this way:
There were "no serious adverse events" and "no negative effects."
But perhaps the most amazing thing about this cure is how simple it is.
As you'll see in a moment...
Hi, I'm Jeffrey Siegel
I've been an independent financial analyst for the past 25 years.
My specialty is investing in "world-changing breakthroughs" long before they become household words and...
...giving my readers opportunities to make a fortune while others are looking the other way.
Doing extreme due diligence and "getting in early" is my secret for helping others make life-changing amounts of money.
For example, I don't take what I read or hear at face value. I spend a lot of time on the road visiting companies, doing site visits, and talking directly to management.
That's how I became one of the first to call the boom in alternative energy which helped make my readers millions of dollars.
I was also one of the first to see the cannabis revolution coming before most investors suspected anything was there.
While some said I was nuts to get behind a drug that wasn't even legal in most of the country, no one can argue with my results:
3,016% on Canopy Growth Corporations
1,185% on OrganiGram Holdings, Inc.
A $10,000 investment in each of these stocks could've turned your investment into a...
Total of $537,400
Just $5,000 in each would have given you $268,700.
These incredible results didn't surprise me, though.
I could see the positive health benefits of cannabis for millions of people suffering from pain, cancer, and a host of maladies.
And those cannabis health benefits meant early investors could make millions of dollars on cannabis stocks.
Which, as I'm sure you know, they did... and still are.
And many of my readers aren't shy about letting me know...
Like Peter H. who said "So $5K is now $20K."
And Rene L. who said, "So my score is 332%."
And Mary L., who's up "almost 300%."
And Mike P., who's "up 163%."
And Matt H., who made a "$120,000 gain in 30 days."
And many others like them.
But if cannabis was a step in the right direction, this breakthrough cure is...
Turning Traditional Medicine on Its Head
Especially when it comes to treating the major chronic diseases like diabetes, obesity, depression, and others plaguing hundreds of millions of people.
You see, traditional treatments drug treatments usually address only one disease at a time.
They take a long time to work and often have painful side effects.
They are expensive, which is a big drawback for patients in extreme distress.
And on average, they are only about 30% effective.
By contrast, this one breakthrough could potentially treat an almost endless number of chronic diseases with 60% to 100% effectiveness with just a single dose.
For example, right now, scientists around the world are studying this treatment's impact on...
In short, this breakthrough could be the single most efficient way to treat the most stubborn and costly diseases plaguing society.
Which Is Why the Big Boys Are
Racing to Claim Their Share Now
Kevin O'Leary of Shark Tank fame has invested $6 million (and counting) into this cure.
PayPal co-founder and legendary venture capitalist Peter Thiel is in, too. He is backing another company in this space with an undisclosed amount, though it's common knowledge he never "goes small when he can go big."
So is Bruce Linton, founder of Canopy Growth who made 70,000% on cannabis when his company's stock price went from $0.10 to $70 a share.
He's betting big money this breakthrough medicine will be much, much bigger than cannabis.
Ultimately, by as much as 10 to 20 times bigger.
A lot of the elite cannabis investors are pouring money into this new opportunity.
They see this as a repeat of what happened in the early days of cannabis stocks.
They have reason to believe history is repeating itself.
Here's What the Big, Deep-Pockets See:
If you look at the money now spent to treat these diseases every year, it comes to hundreds of billions... even trillions... of dollars.
$35 billion on treatment for alcoholism.
$78.5 billion on PTSD.
$150 billion on depression.
$39 billion on smoking cessation.
...just for starters.
This alone adds up to a whopping $300 billion spent on just these four diseases.
And each disease requires its own medicine and treatment protocol.
If this new breakthrough captures just 1% of this total, we're looking at billions in profits.
That's why the world's biggest investors are going all in... as early as they can.
As Kevin O'Leary put it, "This could save lives, cure depression, help alcoholism, get people off opioids — why wouldn't I want to be invested?"
He's making his move now... because Kevin and other heavyweight investors know...
Delaying Means Leaving Money on the Table
But to truly grasp the tremendous size of this opportunity, don't think of it as "just another amazing cure" or "new medicine"...
It's actually comparable to how...
Vaccines
Penicillin
Anesthesia
Anti-viral drugs
Organ transplants and other major advances
...have transformed our world.
...and saved many hundreds of millions of lives and eliminated untold suffering.
Scientists estimate vaccines alone have prevented 103 million cases of deadly and crippling childhood polio, smallpox, measles, flu, and others.
And before antibiotics, an infection was often a death sentence. Nothing could stop it.
As one expert writes: "...[just] penicillin saved 80.000.000 to 200,000,000 lives."
Up to 200 million lives saved... and counting!
Almost three times more than the number of people who died in World War II.
And that's not even counting all the lives other antibiotics have saved.
Now, this one breakthrough could do the same for the...
264 million people who suffer from depression.
38 million suffer from alcoholism.
35 million suffer from PTSD.
15 million suffer from opioid addiction.
1 billion people smoke.
44 million suffer from Alzheimer's disease.
30 million suffer from anorexia.
And 70 million suffer from arthritis.
I Only Wish It Had Come in Time to Save Katie's Life
You see, while my professional interest in this breakthrough is its massive investment potential...
I, like many people, have friends and family whose lives could be saved by it.
Katie was one such good friend.
Whenever I was in Cleveland, we'd get together for long dinners. Talked a mile a minute, trading jokes, jabs, and light-hearted sarcasm.
But looking back, I could see her fun exterior was covering up a lot of pain inside. She'd struggled with deep depression for years.
She started self-medicating early on with alcohol, graduated to prescription opioids, and finally died from a heroin overdose one Christmas eve.
Now, her parents are left spending every Christmas thinking about how their daughter died. And I think about her, too.
If only this breakthrough cure had come along sooner...
Or she'd lived long enough to get treated...
Katie might be alive today.
And not just alive, but healthy, happy, and full of life.
If you're like many people, you know someone like "Katie."
And you know the anguish of watching, helpless, as someone you love slides downhill.
Fortunately for me, this new breakthrough gives me a way to "do something about it."
You see, many, many other depressed people are being healed by this radical new medicine.
And finding a new lease on life.
Like this patient who describes it as...
"...like getting out of a cave. You can see the light, and you can stay in the light. You've been liberated."
Depression is the leading cause of disability and suicide, which is one of the leading causes of death in the U.S.
Making this breakthrough available to the public could be a complete game-changer for millions of people who've been crying in the wilderness.
As the doctor who authored one study puts it, "We treated people who'd been suffering [with depression] for 30 years, and [now] they're getting better with a single dose."
"That tells us this [cure] is doing something profound."
Imagine — a Single Dose and You're Done
After 30 years of one failure after another, a single dose does the trick.
Chases the disease from the person's body almost like a "medical exorcism."
And yet, even more, remarkable than this...
People with many other chronic diseases — like Alzheimer's and diabetes — are experiencing the very same thing with the same breakthrough medicine.
Like Henry Levine, a heroin addict for many years...
After a single dose of this medicine, he lost his compulsion for heroin. It was gone.
As he puts it, "As I lay there, I could feel the medicine take over my entire body. I could feel it doing its work on my brain, repairing the virus known as addiction."
That's why some researchers liken the treatment of "surgical intervention."
It seems to "cut out" the disease.
But with no risky and invasive cutting.
And no nasty side effects.
It's "benign physiologically," as one researcher notes.
In other words, there are no negative side effects for the body or mind.
The main after-effect is a feeling of calm and lack of anxiety — something many patients have never felt in their adult lives.
So why am I so confident this new breakthrough cure could've saved Katie's life?
Because...
It's Saving the Lives of Many People Already
Here's another example...
PTSD affects 12% of our veterans — approximately 2 million people.
The impact on a soldier's family is horrific.
And the shame, pain, and remorse can lead to a "wounded warrior" taking his own life.
Long-term therapy and anti-depression medications are the usual treatment for PTSD.
But when military veteran and PTSD sufferer Bill Higgins tried this new breakthrough cure, here's what he reported:
"When I returned from Iraq working in IED demolition and combat, the war had changed me. The VA was ill-equipped to help me transition and deal with my PTSD.

I was heavily medicated. This [new medicine] saved me. My life was renewed. I now have peace and purpose, and I can't wait to share this opportunity with the world."
And study after study from the most prestigious universities and institutions in America, Europe, South America like:
Harbor-UCLA Medical Center
Harvard University
University of Arizona
University of Minnesota
Yale University
UNC, Chapel Hill Medical Center
Johns Hopkins University, Baltimore
Radboud University Medical Center, Nijmegen, Netherlands
Department of Veteran's Affairs, Center for PTSD
Imperial College, School for Science, Buenos Aires University
Swiss Federal Institute of Technology
University of Zurich, Switzerland
University of Basel, Switzerland
New York University, Bellevue Hospital
University College, London
NHS Foundation Trust, London
Royal London Hospital, London
The Beckley Foundation, Oxford, England
Stanford University
...all confirm this medicine's potential and effectiveness...
And all of them are coming to the same conclusion:
This radical new treatment could be a godsend for millions of chronically ill people suffering from otherwise incurable diseases.
What Is This "Breakthrough" Medicine?
Given its power to treat 10 to 15 different intractable diseases with just a single dose...
You might think this breakthrough medicine was a complex compound of heavy-duty and unpronounceable chemical ingredients.
But nothing could be further from the truth.
It's unbelievably simple, as many world-changing advances are.
This new medicine is made up of just one molecule.
But a molecule so powerful, it's being called the "magic molecule."
It's plant-based and naturally occurring in our environment.
So its side effects are nil to non-existent — unlike with the medications normally used.
Which is critical for doctors who must convince their patients to actually use the cure.
Here's a picture of the molecule: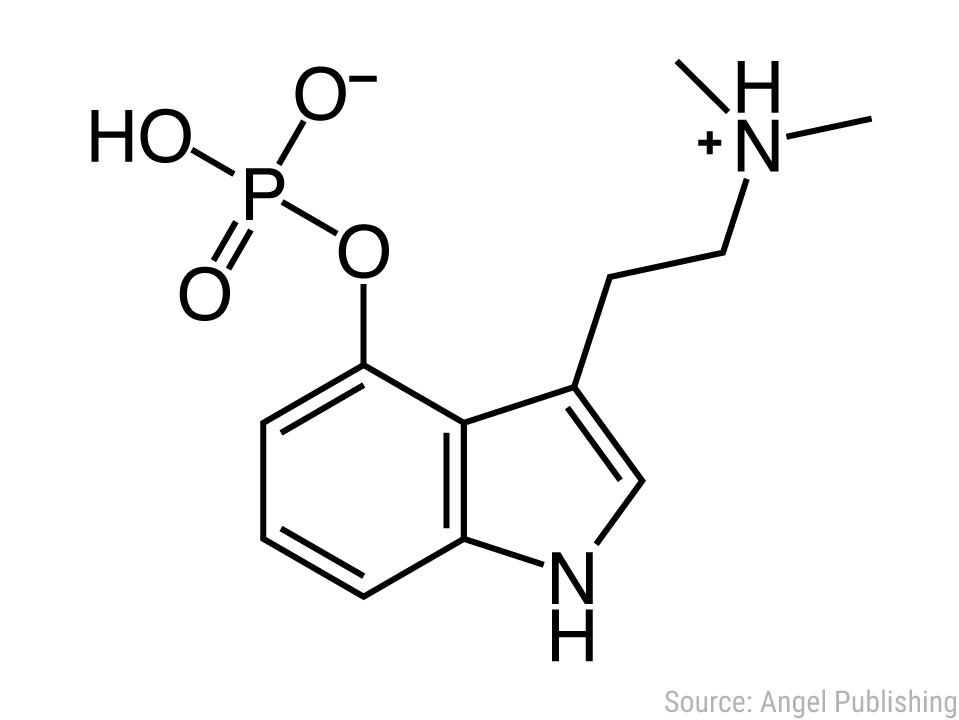 To the average person, this might look like any other molecule.
But to the trained eye, it's very, very different.
And its difference and "magic" lie in how it treats a disease.
Discovering the Holy Grail of Medicine
You see, throughout history, medicine has attacked disease with the knife or poison.
Doctors cut out the disease hoping that the organs will heal and get back to doing their jobs.
Or they poison the disease the way the chemotherapy poisons cancer cells.
And after the disease is gone, doctors hope the body grows back healthy tissue.
It's a bit like the way a cut "scabs over," and new skin grows where the cut was.
But the thing is, all of these cures are invasive and harsh.
They cause damage that must later be healed.
Plus these treatments have side effects that can be worse than the disease itself.
They leave the person depleted and saddled with a whole new set of ailments to deal with.
This is why many people prefer to face death instead of agreeing to these brutal "treatments."
And just to add insult to injury, these standard treatments...
Are expensive
Sometimes take years to work
And are surprisingly ineffective
On average, only about 30% effective.
But the "Magic Molecule" Is Shockingly Different:
It isn't invasive and doesn't kill the disease with poison.
Only one or two sessions are required for a 60% to 100% cure.
The results are often permanent.
And the side effects are non-existent or surprisingly mild.
Instead, the magic molecule enables the body's most powerful organ to do the healing:
The mind.
The Mind Healing the Body
This has been medicine's Holy Grail for centuries...
What could be simpler than getting the mind to heal diseases plaguing the body?
And for the patient himself, there are HUGE benefits:
Instead of feeling trapped by his illness and helpless to do anything...
And seeking rescue by a brutal and often ineffective treatment...
A patient's brain is, in effect, put "in charge" of the cure.
We've all heard of the power of "positive thinking" and "mind over matter," but...
This Is Completely New and Far More Powerful:
That's because the patient's brain gets a powerful boost from the "magical molecule."
Let's say you're an alcoholic and you've tried to quit for years without luck.
No matter how often you've tried, you just haven't been able to quit.
The magic molecule supercharges your mind and puts it in charge…
So now you can do what YOU want to do, not what your disease "wants" you to do.
You're liberated from the prison of your addiction.
And this same process occurs for people suffering from opioid addiction, depression, PTSD, and other the diseases I've mentioned.
Compare this to having to ingest a drug with nasty side effects.
Or spending years on expensive, long-term therapy that doesn't work very well.
There's no comparison: Your own mind, not an artificial or foreign substance, is doing the work.
But
How

Does It Work?

Honestly, I can't give you the organic chemistry explanation for how the "magic molecule" works. It's not my field of expertise.

But this picture could be worth a thousand words:
On the left is a visualization of the brain of a depressed or addicted person.
On the right is a visualization of the brain of a person cured by the "magic molecule."
Normally, information flows in the brain along with circuits or information highways. Some highways carry a steady stream of traffic. Others are rarely used.
In a depressed or addicted brain — just to use two examples — information flows along just a few circuits, as you see on the left.
These few circuits are used over and over again, locking the person's thinking into hard, rigid patterns that repeat.
And every time one circuit is used, the groove becomes deeper and harder to break away from.
Soon, the person can't break out of this well-worn brain circuit at all.
He can't avoid taking a drink.
He constantly craves a cigarette.
The PTSD sufferer obsesses over traumatic memories.
And the depressed person thinks the same bad thoughts over and over and over again.
He's trapped within his disease and can't break free.
And the feeling of being trapped can lead to desperation.
Opens up New Pathways in the Brain
The magic molecule breaks this cycle, enabling the brain to use formerly unused, or underused, brain circuits.
It also creates new connections between brain circuits, opening up novel possibilities.
"The separateness of these [neural] networks breaks down. Instead, you see a more integrated or unified brain," says one researcher.
Alcoholism, for example, is fueled by a constant stream of pleasurable memories of drinking alcohol.
These memories recycle endlessly constantly luring the person back to drinking, even if he's managed to quit for some time.
Current treatments don't target these powerful memories, allowing them to recycle.
And causing relapses to occur over and over again.
A study at the University College London found this molecule could "dramatically rewrite" these memories.
It allows drinkers to recognize what they truly think about alcohol, not just what they've learned to think.
In short, it puts the person in charge of whether he drinks or not. Often with...
Permanent Results
As one expert in neuroimaging sciences at King's College in London puts it, the molecule "perturbs the system."
In other words, it permanently restructures the way the brain works...
From this...
To this...
While a depressed person in traditional treatment may have to take anti-depressants and undergo expensive therapy for years, even a lifetime...
Just to maintain where they are, but with no progress.
The "magic molecule" delivers a "snowballing effect" that only gets bigger over time.
That's because the molecule doesn't simply mask symptoms as current treatments do.
It cuts through to the disease itself and erases it.
You can imagine the huge difference this makes for patients and doctors alike.
As one scientist writes, "This is the most rewarding work I've ever done to see these kinds of changes [in patients]."
Plus...
This New Treatment Attacks the Whole Disease...
...not just part of it.
Most people think of chronic diseases as simply "one thing."
When in fact, diseases like depression and addiction are collections of many different bodily systems not working correctly.
But traditional medicines target only one system at a time. They leave out the other systems that are contributing to the chronic disease.
So naturally, the disease persists even when the traditional treatment is doing its job.
By contrast, this new breakthrough addresses ALL the systems contributing to a disease at the same time.
It "corners" the disease from all sides, leaving it no way to "escape."
So naturally, it has a much higher cure rate... from 60% to 100%... than traditional treatments which, on average, work about 30% of the time. In short...
This breakthrough is about to rock the world
And already, things are moving at light speed in that direction.
Here's the big picture:
The FDA has given the green light to several companies to manufacture and distribute medicines made from the magic molecule.
Giving breakthrough status to a cure means the FDA recognizes traditional treatments don't work well... and they're

desperate

to find a treatment that works.
Dozens of elite institutions worldwide have funding to research the magic molecule's power to treat a host of deadly chronic diseases — from diabetes to Alzheimer's Disease and beyond.
Over 60 research studies have already been published in peer-reviewed scientific journals.
Start-ups researching, manufacturing, and marketing magic molecule-based medicines are going public, funded by venture capital funds and deep-pocket investors like... Kevin O'Leary, Bruce Linton, and Peter Thiel.
And Silicon Valley Sees the
Magic Molecule as the Next Big Prize
Tim Ferriss, an early investor in Uber, Twitter, and Alibaba has poured a lot of cash into analyzing the [magic molecule] marketplace. He says...
"I view the next five years as a golden window. A chance to use small amounts of cash to have a billions-of-dollars impact on thousands of lives. There simply aren't that many alternatives."
Big Pharma is starting to come out with magic molecule-based treatments, including a nasal spray from Johnson&Johnson.
There's even a nationwide network of walk-in clinics where people will be able to get doses of the magic molecule when they're away from home.
And this is just for starters.
This new molecular cure could mean new life for the many millions of people suffering from chronic illness, including Lyme disease syndrome, diabetes, obesity, alcoholism, and many more.
A ticket from hopelessness (even death) to a bright, healthy future.
In short, the total market value for this cure could reach trillions of dollars.
As one of the largest investors put it: "We have to take bold steps if we want to help those suffering from chronic illnesses."
10 Times Bigger Than Cannabis
Some are calling this breakthrough "cannabis 2.0," but I disagree.
As one of the earliest investors in cannabis...
Who was at the forefront of the cannabis stock revolution...
And who showed my readers gains of 3,015%... 1,185%... and 1,174% cannabis stocks...
I can already see that the magic molecule will be much, much bigger than this.
Most likely, about 10 times bigger.
This is precisely why many "cannabis millionaires," like Bruce Linton of Canopy Growth Corporation, are piling into this new market now.
Even investors who sat out the cannabis mania — like Kevin O'Leary — see a financial green light in the FDA's embrace of this new cure.
So, they're jumping in full-bore to profit from this molecular medicine.
After all, many variations of this molecular medicine are already approved by the FDA!
And unlike some forms of cannabis therapy, this "magic molecule" medicine doesn't make the patient "high." There are no inebriating effects.
"This is medicine," notes the CEO of one biotech firm now developing a medicine from this molecule.
The FDA giving "breakthrough status" to this completely new treatment has led to wide acceptance by the scientific and business community.
And it's opened up the floodgates for scientific research, cutting-edge investors, and even Big Pharma to participate fully.
For example...
Pharmaceutical giant Johnson & Johnson has already developed (and is marketing) a new nasal spray with the molecule aimed at depression sufferers.
Feeling depressed? J&J's "magic molecule" nasal spray can give you relief.
And this is just one disease...
And one company and one product...
In short, we are at the very beginning of something very big...
Which is precisely where you want to be to make the biggest money possible on this earth-shaking development.
How Much Money Could You Make?
Let me state at the outset that I can't predict the future with 100% accuracy.
No one can.
But the last time I was this excited about new medical development, look at what happened.
Here are the three cannabis stocks I recommended to my readers early on.
Check out the first one, in particular.
People who put $10,000 into Canopy Growth Corporations saw their money explode 3,015%.
Canopy Growth Corporations
Every $10,000 invested into Canopy jumped by $301,500.
$301,500 from a modest $10,000 investment.
But that wasn't all.
Readers who put $10,000 into OrganiGram Holdings saw their money soar 1,185%.
From $10,000 to $118,500...
OrganiGram Holdings, Inc.
And folks who followed my advice to invest in Aphria saw their money blossom 1,174%.
Every $10,000 became a stunning $117,400.
An incredible $537,400 in total.
I made a bundle on cannabis early on, but I wasn't in the very first wave of investors.
Those who got in even earlier made up to 70,000%.
On just one stock.
This stock went from $0.10 a share to $70 a share.
$10,000 invested in this one stock catapulted to...
An Earth-Shattering $7 million!
But profits from the "magic molecule" will make this look like pocket change.
That's why these elite investors are going all-in on this new discovery now.
And it's not hard to see why...
The market for anti-depression drugs is estimated to be $18.9 billion by 2026.
The market for diabetes treatment is estimated to reach $16.4 billion by 2023.
The market for smoking cessation treatment is about $39.1 billion by 2023.
The market for alcoholism treatment is around $35 billion.
The market for obesity treatment expected to reach $19.9 billion by 2026.
The market for PTSD treatment is about $90 billion by 2026.
The market for Alzheimer's disease treatment is $13.3 billion.
The market for anorexia treatments is $2.1 billion.
The market for treating chronic pain is $635 billion.
This comes to... an astounding total of $1.7 trillion!
And this doesn't even exhaust all the other diseases this cure could address.
Or all the costs of treating the diseases caused by these diseases — like heart disease caused by diabetes, smoking, and obesity.
Investing in the "Magic Molecule" Gives You
a Slice of All These Markets
And given how effective the molecule is proving to be, it will be a HUGE slice.
Even if this new cure captures only 1% of this value, it could mean astronomical profits for investors who gain an early foothold now.
As Kevin O'Leary put it, "Why wouldn't I want to be invested?"
Especially as...
The FDA Is Paving the Way for You
...and expanding the number of companies researching magic molecule medicine.
All the companies and start-ups I've talked to are working with the FDA to get their efforts fast-tracked.
Which, in turn, has attracted new start-ups and a growing number of investing gurus and VC funds to get in.
Which is also why Big Pharma is entering with its own products — like Johnson & Johnson's anti-depression nasal spray...
....and will, undoubtedly, pay top dollar to buy the most promising "magic molecule" start-ups.
Like smoking cessation start-ups whose success rate is about 80% compared to the current drugs whose success rate is only about 36%.
Like O'Leary said, with results like these, "Why wouldn't I want to be invested in this?"
But You Have to Get in
Now

...
to Make the Big Money

Look, I know this is probably the first time you've heard of this breakthrough cure.

Few people are familiar with it — even among medical professionals.

The "magic molecule" is throwing out the "playbook" for treating many chronic diseases.

It's a revolutionary new development...

And it's curing diseases that have long been thought to be incurable.

So I know it's a lot to take in in one sitting.

And frankly, I can't fit everything into this short presentation.

Nevertheless, you must act now if you want to make the big money.

That's why I've written two detailed reports on what is being called "the most important discovery in half a century."

My first report is called "The Magic Molecule: The Most Important Discovery in Half A Century"
(The "most important discovery," period, not just the most important "medical discovery.)
In this report, I go into detail on the science of the magic molecule. What it is. How it works. Why it works so well. And all the rigorous studies confirming the evidence of its efficacy.
I also go into detail on the regulatory, financial, and investment aspects of this amazing new breakthrough treatment.
This first report gives you a thorough grounding in this revolutionary new field. So if you decide to invest, you'll know exactly what you're doing.
My second report is called:
"Three Magic Molecule Picks for Quadruple-Digit Gains"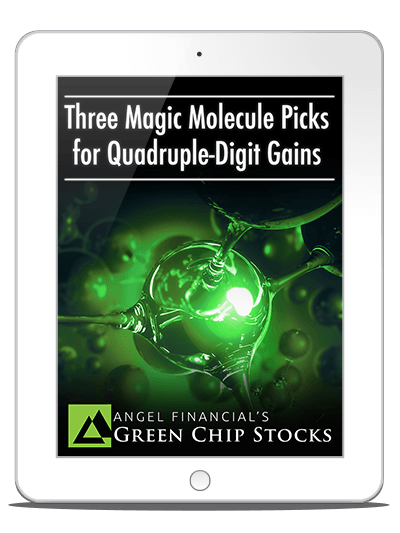 There's nothing quite like the thrill of getting in on the ground floor of stock and riding it straight up to the penthouse.
And knowing, all the while, you're helping to make the world a better place.
Most investors will never experience this thrill.
But you can if you get in now on this medical revolution.
The FDA has given breakthrough status to a growing number of companies to conduct clinical trials of magic molecule treatments for everything from depression to PTSD to Alzheimer's.
So there are incredible opportunities for you to profit early from this breakthrough cure.
This report contains my top 3 recommendations and how to act on them now.
My First Recommendation Has Just Gone Public
It's a small company developing molecular medicine to cure opioid addiction. It's just gone public and its stock is already up 30% proving its massive potential.
If you want to claim your share of the mega-profits coming from the "magic molecule," this company is the place to start.
In a phone interview, one of its co-founders, a Silicon Valley executive said, "Our ambition is to be one of the first publicly listed neuro-pharmaceutical companies developing [magic molecule] medicines."
And it's already met this goal and more.
In pre-IPO funding, this powerhouse raised $24 million and won the backing of high-profile investors who regularly write seven-figure checks.
On the day it went public, the stock was "very active" with over 14 million shares traded. The stock was up 27% on the day, making it the best capitalized of all its competitors.
And now, going public has opened up huge opportunities to attract institutional capital and ramp up its pipeline of clinical trials for treating a wide range of illnesses.
As one major investor noted, "As an investor, I am attracted to this company because they are solving health problems through federally-authorized clinical trials."
The company is starting with medicines to cure opioid addiction that afflicts 11 million Americans and costs $1.7 billion to treat by traditional means.
And costs the economy $500 billion overall.
But most of these traditional drugs are "substitution" treatments, meaning they simply substitute one addiction for another. They never cure the addiction itself.
These traditional drugs have a failure rate is up to 90%.
This company's magic-molecule-based medicine has an early success rate of 50%... so far.
This is a very big deal, and the FDA has noticed.
Instead of substituting one addiction for another...
This medicine cures the addiction by disrupting the addiction mechanism at work inside the person. In short, the opioid addict becomes a non-addict.
And what's most exciting is that physicians out in the field are asking the FDA permission to use this medicine in their practice. Especially to treat people traumatized by COVID-19.
Notes one co-founder, "Magic molecule medicines present an opportunity to address large societal problems."
And already, this new company has acquired the "exclusive license" to 8 ongoing clinical trials involving treatments for different illnesses.
In short, this company is pulling out of the station... now.
And I recommend you get on board to capture the biggest possible rewards.
My Second Recommendation...
Has already launched a complete production, packaging, sales, and distribution program for approximately 300 applications of the magic molecule.
Including established retail operations across the country.
For example, it has the arrangement to sell all of its products to the Union of Health Care Workers as a buying club of 1.2 million members.
As a well-established cannabis company, this firm already has the essential infrastructure in place to get a "running start" with its newer magic molecule medicines.
It doesn't have to build its operations from scratch. Many of its business processes are already in place and working well.
It's as close as you can get to an established "green chip" in the new industry of making magic molecule medicines.
In short, lower risk from an established business line and organization coupled with the unbounded, upside potential of this virgin market.
Though it's still a small, young firm by most standards, over the last two years, it's blown past the S&P 500 by almost 800%!
And it's dirt cheap share price means you don't have to invest much to grab an early stake.
My Third Recommendation Is...
The only legitimate picks and shovels play in the space.
The company is actually an agtech firm, but it's created a machine that's producing a certain type of magic molecule which is currently being used by Johns Hopkins University researchers, and is commonly used by veterans suffering from PTSD.
And here's the rub ...
This machine can produce these molecules in a way that - when compared to the competition - cuts labor costs by 235% and increases profitablity by 25%. It's a game-changer of epic proportions, and the company is now gearing up to be the production technology of choice for what could soon be hundreds of magic molecule producers.
Anyone of these three companies could easily climb triple, quadruple, even quintuple digits.
In the process, they'll be filling gargantuan global needs... giving hope and help to hundreds of millions of people around the world... and making you big money.
Delaying Can Cost You Dearly
But here's something worth keeping in mind as you read this report...
When something new, different, even revolutionary as the magic molecule comes around, some investors are cautious. They prefer to "wait and see."
This is only natural. I saw that when I first started recommending cannabis stocks.
But every day you delay could cost you a lot of money.
Take a look at this short segment of Canopy Growth's stock chart.
(This is the same firm whose stock eventually went up 70,000%... and turned every $10,000 into $7 million).
If you invested $10K in June 2017, you could've walked away with a gain of about 400%.
Or $50,000.
But if you'd delayed investing until July 2017... one month later... your gain would've been just 300%.
Or $40,000.
$10,000 less than if you'd jumped on the opportunity right away.
And if you'd waited until November to invest, after the stock was becoming more widely known, you'd only have made $20,000.
$30,000 less than if you'd gotten in back in June.
I'm telling you this to show you that waiting can cost you a lot of money, tens of thousands of dollars.
That's why I hope you send for your two free reports right now.
And dive into them as soon as you get them.
So you can start profiting from three magic molecule picks.
Here's how to get your two reports:
Join My Inner Circle Here...
For a limited time, I'm granting new memberships to just 200 people to my invitation-only research service Green Chip Stocks.
If you're among the first 200 people to accept my invitation to try it, I'll rush you your copies of my two reports free: "The Magic Molecule: The Most Important Discovery in Half A Century" and "Three Magic Molecule Picks for Quadruple-Digit Gains."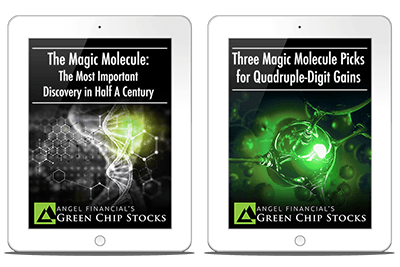 And if you're interested in profiting from what experts call "the most important discovery in half a century," I urge you to act now.
If You Wait, You Risk Missing out Completely
My confidential, member reports can get you started immediately...
I start you off with a bang with three actionable recommendations.
Then, as things progress, I keep you at the cutting edge of new developments with analyses and urgent recommendations for NEW companies as they IPO.
And even before they IPO.
You see, when things are moving this quickly, you have to be ready to act way ahead of time.
That means you have to know what could, or is about to, happen before it happens.
As a member of my Green Chip Stocks service, you'll have that kind of advanced intelligence.
You'll benefit from my personal network of industry insiders. The top people making key decisions. I talk to them and visit them constantly.
Then I tell you what they're thinking. And what they're (probably) going to do.
That way, when a new company IPOs, you're already fully informed about its strengths, weaknesses, and management team...
...so you can jump on opportunities immediately with full confidence.
And given the urgent need for this "magic molecule" medicine by hundreds of millions of people, I expect many juicy opportunities to pop up quickly.
I'll present each of them to you with detailed briefings at just the right time.
And the instant we need to make an adjustment — to protect capital or step on the gas — I'll let you know immediately.
But joining Green Chip Stocks gives you much more than helping you make a fortune from this magic molecule breakthrough.
I Scour Every Corner of the Market
...for what I call "virgin investing" opportunities. Opportunities that few, if anyone, is looking at.
That's why my members have also seen opportunities like these...
117.9% from Khiron Life Sciences
332% from Aleafia Health Inc.
545.8% from Innovative Industrial Properties
170.5% from Hannon Armstrong
178.5% from Captiva Verde
The world's greatest fortunes are built from the ground floor up.
But if you start at the point where a company or innovation is already in the news, you've left a LOT of money on the table.
Helping you "get a jump" on the next big innovations and "rock star" companies at the very beginning of their rise is what Green Chip Stocks does.
I do extreme research and due diligence to give you the opportunity to make big money on the biggest opportunities in the world.
That's Why You Also Get...
Urgent weekly updates: Once a week I update you on all of our current investments, including all breaking news, insider rumors, and more.
Invitations to private research trips: As a member, you'll be invited to join me on private research trips available to only a select few. You'll also be invited to attend member-only private investor dinners with analysts and entrepreneurs in the "miracle molecule" space and the other sectors I cover. Your opportunity to ask questions directly to the insiders who make the markets move.
You never have to worry about missing anything: Everything I write and send you can be found on the password-protected access to Green Chip Stocks web site: Urgent alerts, special reports, videos, and announcements.
Constant support: As long as you're a member of this community, you can contact me with any questions or issues you may have. My staff and I are always "at your service" to help you.
Invitations to Member-Only
Insider Events Like This One
This past January, I invited members to a private meeting with the top executives of a new start-up I have reason to think has huge potential.
It's one of the companies I'm recommending in my report.
And the event was fully booked almost immediately.
At the meeting, the executives presented their latest confidential research findings on their flagship "magic molecule" medicine to Green Chip Stocks members and some of the major league investors I know personally.
It was a small, very intimate gathering that gave members the chance to hear directly from the top people of a company they might want to invest in.
These are the kinds of hush-hush meetings you only read, or hear whispered, about...
I won't divulge the content of this meeting here, but fortunately, they allowed me to videotape the proceedings.
I'm editing the footage into a finished product now and will be sending it to Green Chip members... including you if you're among the first 200 to accept this invitation now.
And as the "magic molecule" industry develops, I'll be holding ultra-private meetings like this one regularly for our members. And you'll be on the invitee list if you act now.
If you want to make the most money with "fast companies" like this one, you have to get in at the beginning…start on the ground floor and ride the elevator up.
Membership in Green Chip Stocks gives you this kind of exclusive, early-in access through my recommendations and members-only events like this.
But You Don't Have to Take My Word for Any of This
Because I'm offering you this ironclad guarantee.
For the next six months.
My six-month guarantee is simple. If you sign up for Green Chip Stocks now — you'll have six months to try this service at zero risks to you.
If you're not 100% happy with your gains or our service, simply call us to cancel.
I'll refund every cent you paid, no questions asked. You keep the two reports and anything else you've received from us.
You'll walk away with everything you've paid... plus all the money you've made from my recommendations.
I can't think of a fairer or more generous guarantee.
And it fits perfectly with my goal at Green Chip Stocks — to help you build large and lasting wealth from innovative breakthroughs. You see...
Great Fortunes Are Built by Meeting a Great Need
When you think of the greatest fortunes ever built — Rockefeller, Carnegie, and Ford — you see they met great needs in brand new ways.
The need to fuel American industry. The need for steel to construct America's great buildings. The need for automobiles to give us the mobility and freedom of our country craved.
And that's why these fortunes — begun over a century ago — have lasted until this day.
(Many of Rockefeller's, Carnegie's, and Ford's heirs are still living off the wealth these engines of prosperity created).
The same is true of this new "magic molecule" medicine...
Billions of people suffer — and often die — from diseases like depression, alcoholism, opioids, PTSD, anorexia, Alzheimer's, and more.
300 million people around the world suffer from depression alone!
All because our current treatments for these diseases are woefully inadequate.
This is why the FDA has fast-tracked this medicine by granting it "breakthrough status."
The medical profession has been stuck for years working with "tools" that don't work.
This all-natural, single-molecule breakthrough cure does work. Study after study proves it. And the words of patients testify to it.
Just Listen to Robin Polk...
Robin had lived with unexplainable grief that no drug or talk therapy could ease.
"I felt the world had abandoned me. That I'd lost the right to exist on this planet."
So, she volunteered for a clinical trial at an Ivy League university lab where they were testing the efficacy of the "magic molecule."
Almost in the blink of an eye, her life turned around 180 degrees...
"That trial was the single most effective thing I've done for my health, and I had tried almost everything. We need to radically change how we think about [treating this disease.]"
And the cure has been permanent for Robin.
Stories like Robin's may seem like "magic"...or the workings of divine grace...
But the fact is, the efficacy of this breakthrough medicine has been replicated over and over again and recorded in rigorous studies published in peer-reviewed scientific journals.
So, multiply Robin Polk by millions and millions of other "Robins" with deep, incurable depression, alcoholism, and opioid addiction.
What does it add up to?
Fortunes piled on top of fortunes.
Again, Kevin O'Leary puts it best, "This could save [millions of] lives, cure depression, help alcoholism, get people off opioids — why wouldn't I want to be invested?"
Do You Want to Be Invested?
I hope so.
That's why I created Green Chip Stocks — for people just like you.
People who want to make a fortune and don't mind helping out the world in a big way at the same time.
Remember, the last time we saw something ALMOST this big, early investors made...
1,174% turning $10K into $117,400.
1,179% turning $10K into $117,900.
1,185% turning $10K into $118,500.
3,015% turning $10K into $301,500.
...and as much as 70,000%.
Which turned a $10,000 into $7 million!
With one stock.
But now is the time to act and I accept...
Only the First 200 People to Say "Yes"
And it's first come, first served because that's the only fair way to do it.
The only way to make certain you get in is to act now.
(These stocks are at the very beginning of their rise. Allowing too many people a bite at this apple right now will only distort the market and hurt everyone.)
If this kind of winning interests you, your first step is clear:
Click the "subscribe" button below now.
You'll be taken to a secure order form where you can review all the details before you make your decision.
(And even then, you'll have our two ironclad guarantees protecting you).
I'll rush you your two reports, "The Magic Molecule: The Most Important Discovery in Half a Century" and "Three Magic Molecule Picks for Quadruple-Digit Gains" as soon as I get your order...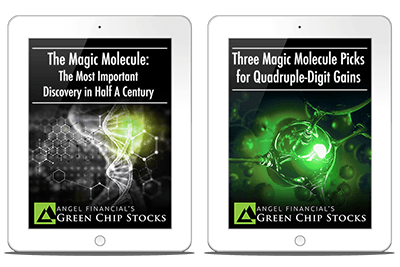 "The Magic Molecule: The Most Important Discovery in Half A Century.
"Three Magic Molecule Picks for Quadruple-Digit Gains"
Read them immediately. They're yours to keep with my compliments forever.
Then think about everything membership in Green Chip Stocks gives you.
I hope to get your "yes" to this invitation in the next few minutes.
And then meet you in-person at our next members-only industry insider event.
I look forward to hearing from you.
Sincerely,
Jeff Siegel
Investing Director, Green Chip Stocks
P.S. When I say things are moving fast, I mean it. My first "magic molecule" recommendation is already up 30% in less than a month. The biggest money will go to those who can recognize an opportunity and seize it immediately. Click here to accept this invitation.