PANDEMIC MILLIONAIRES
Discover how 5 disruptor stocks
could make you

permanently

wealthy,
as "the new normal" generates more millionaires
than any period in US history.
Can I tell you a secret?
Most investors think we're out of the COVID-19 woods...
They think the economy is making a "V-shaped" recovery...
They think the Fed has successfully prevented a big recession...
Of course... they're all dead wrong!
And somehow, you already knew that, didn't you?
Because despite seeing this big snapback rally, deep down, something feels "off" to you.
In a moment, you're going to discover exactly what that nagging instinct is telling you.
Look, I don't know about you...
But I simply cannot wait to remove my mask, STOP using so much hand sanitizer, and get back to "normal."
But the truth is...
Normal Is Dead—
and It's Never Coming Back
In fact, this once-in-a lifetime crisis just made it impossible for your job, your money, and your day-to-day life to go back to the old "normal."
It's been hard for all of us to adapt.
People refusing to shake your hand...
Neighbors treating you like you're a giant walking cactus, staying 6 feet away from you...
Not being able to visit your elderly parents...
Or not being allowed to hug your grandkids...
Sadly, these aren't the only things that have changed.
In the "New Normal," most Americans won't be getting back to work (at least not the way they used to).
Even visiting the doctor for a routine appointment will never look the same...
And something as simple as how we pay for things at checkout counters will look very different.
You've already seen all the plexiglass shields at the registers and the floor markings for where to stand... That's just the beginning.
COVID-19 has turned our lives upside down in ways once unimaginable. BUT this "New Normal" also has a silver lining.
So I strongly encourage you to give me your undivided attention for the next few minutes, and you'll discover how to turn these difficult and permanent changes into massive profits in the months ahead.
Yes, this crisis has decimated the American economy and caused wild market volatility that we haven't seen since 1929.
But if you act now, you still have time to prepare yourself for some of the most explosive gains you will see in your lifetime.
Because as a savvy investor you know...
Fortunes Are Forged
in the Fires of Crisis!
As I watched our way of life grind to a halt because of this pandemic, it reminded me how much life changed after the devastating 9/11 attacks...
Just think about your last trip through the airport...
Take your shoes off. Belt off, too...
Empty your pockets...
Take your laptop or tablet out...
Pour out your bottle of water...
Have your ID ready...
Arms up! Gotta pat you down.
The embarrassing, time-consuming security controls of today didn't exist before those heinous terrorist attacks.
It's hard to remember...
But there was a time when you simply showed up at the airport, passed through a quick metal detector, and hopped on your plane.
No pat downs, no full-body scans, no trying to remember how much shaving cream you can carry on.
That tragic event permanently changed the way we travel.
Now people are afraid to fly again but for a different reason.
Once people do start to travel again, what will the "New Normal" look like at airport security?
→ Mandatory N95 masks?
→ Body temperature checks?
→ COVID-19 vaccine certificates?
And it wasn't just air travel that changed post-9/11.
To this day, you need to show your ID, pass through a metal detector, and have your bag searched to enter any government building or even a football game!
When planes hit the World Trade Center, the world as we knew it came crashing down, leaving us feeling afraid and uncertain of what might come next.
Calling it "life altering" would be an understatement.
Now... imagine an event 1,000 times more widespread than 9/11.
September 11 Hit Two Cities
and Changed America Forever...
Coronavirus Hit 4,416 Cities Worldwide
None of us will ever forget exactly where we were and what we were doing when it happened...
And we'll never forget the innocent people who lost their lives.
September 11 hit two cities, shook us to the core, and made huge permanent changes to our daily lives.
COVID-19 caused an unprecedented global event that has shaken the world.
Half the world's population was ordered to stay at home."
That didn't just bring life to a standstill... It brought our economy to a screeching halt.
Millions instantly lost their jobs.
The restaurant industry took a 95% dive...
So did the airline industry...
Sports, trade shows, and conferences were canceled and stores were shuttered.
Universities were closed and thousands of students vanished from local economies... taking mom and dad's money with them.
A record-shattering 3.3 million Americans filed for unemployment within 30 days. Unemployment skyrocketed to nearly 15%. It was the highest number in American history since the Great Depression.
And that doesn't count the millions more still standing in line and waiting on hold for hours on end to file for unemployment benefits.
Unfortunately, many of these jobs, businesses, and entire industries are never coming back from the dead.
BUT... this crisis has also created massive opportunities.
I'm about to show you how you can double, triple, or even quadruple your money right now if you know how to move fast on the winners of the "New Normal" ahead.
Today I'm going to show you exactly how to cash in on the massive changes underway and the industries set to surge because of them.
Some of the coming gains could make Netflix, Apple, and Amazon look boring by comparison.
Because as is true with every crisis, this one is...
Giving You an Opportunity to
Create Massive Wealth
The coronavirus pandemic is already opening up massive opportunities to slingshot your portfolio to double or even triple its current value...
That means you could easily recoup your recent losses and rescue your portfolio if it's been through the wringer thanks to the "corona crash."
The crash wiped out the last eight-plus years of stock market gains in the blink of an eye.
Even with the rebound... most investors haven't made up those losses.
And if you own the wrong stocks now, there's more trouble ahead.
You see, thousands of businesses have already been forced to close their doors forever.
Thousands more are limping along and won't make it. COVID-19 just slammed the nail in their coffins.
Entire industries are melting down.
Many will take decades to recover.
Some never will. So...
Don't Fall for the "Automatic Recovery Myth"
Don't be fooled by the myth that if you just wait long enough, your portfolio or any given stock will miraculously recover...
Because it won't.
Take the airline industry. Globally, it's set to lose $84 billion over the next year alone. For comparison, it lost $63 billion after 9/11.
One analyst at Evercore said we should expect American Airlines to plummet to just $1 a share before this crisis is over.
And there are hundreds of stocks like this. Some will take years to recover, and others will go bankrupt and investors will lose everything.
Plus, there are dozens of industries now on life support, waiting for their final hour.
That's why you simply can't let your money sit around going nowhere in stocks that will take up to a decade to recover if they ever do!
Meanwhile...
A Handful of Industries Will Soar
In fact, their ride to market dominance has already started.
The five industries you're about to discover will be the champions of the post-COVID-19 "New Normal."
As our entire globe adapts to NEW ways of living, these companies will soar, making many investors rich... so rich they'll wake up feeling like they were born with a trust fund.
These industries are already exploding with jaw-dropping gains as they become part of our everyday lives.
Hi there, I'm Chris DeHaemer.
My friends and followers call me "Hammer."
If you haven't heard of me or seen my face, it's because I do my best to never appear on mainstream financial shows like you see on CNBC.
I don't need or want the publicity, and I hate the Wall Street game.
Wall Street is just an "old boy's club," most of whom should really be in prison for insider trading. They rig the whole game in their favor and I want no part of it.
That's why I've done things my way since 1996.
I've never played by the "normal rules" when it comes to spotting opportunities before most people have caught on. Being one step ahead of the fat cats on Wall Street has helped make my readers crazy rich.
My record says it all...
For 18 of the last 19 years, my portfolio has beaten every major market index. That's 95% of the time. Do you know anyone else who can say that?
How did I do it?
By spotting trends early and pegging the key stocks set to bank big profits while the mainstream financial news is either blind to or completely wrong about the story.
Like my predictions about cryptocurrency for example...
Back in 2017, before most people even knew what Bitcoin was, I gave my readers a heads up, showing them the smartest, safest ways to invest in Bitcoin.
When the rest of the world finally caught on and Bitcoin went vertical...
My Readers Pocketed a 1,065% Payday
I still get thank-you notes and emails from those lucky readers who pocketed 1,000%+ profits.
And that was just the beginning...
In 2018, Bitcoin shot up AGAIN, giving my readers a shot at another jaw-dropping 2,528% payday.
I also delivered a sweet 1,040% profit on another cryptocurrency, Ethereum.
We've done the same thing by spotting megatrends early in energy, marijuana, and 5G, to name a few.
Over the last few decades, time and time again, I've uncovered companies before they go ballistic... months and sometimes even years before the average investor or analyst takes notice.
And of course, the coronavirus pandemic is a once-in-a-lifetime event that shifted Earth on its axis and is about to spark several new megatrends.
Nothing will be "business as usual" anymore.
The "normal" we were so fond of and so comfortable with is gone.
And this is your chance to get in early on the stocks that are about to explode in our "New Normal."
How Do You Make a Killing
on the "New Normal"?
In the next few minutes, I'm going to give you a sneak peek into my analyst war room, where we're uncovering new opportunities each and every day as this crisis develops.
We've just pegged a handful of trends, industries, and companies set to explode as the world adapts to the "New Normal."
These companies fought tooth and nail for years (some for decades) to break into the mainstream but were only gaining popularity at a snail's pace.
Suddenly, these little-known technologies have gone from an "Oh, that's kind of cool" novelty to "We can't live without this!"
When you're lucky enough to catch the wave of a stock just before it breaks into the "can't live without it" mainstream... that is when you make a small fortune.
Just look at these previously little-known stocks that have already seen extraordinary 45%, 48%, and 262% gains very quickly as they broke into the mainstream during the pandemic...
Zoom.
Slack.
Citrix.
Zoom, Slack, and Citrix.
Get used to saying these strange new household names as they become just as essential for everyday life as your cellphone and your internet connection.
Before COVID-19, these little-known companies were strictly reserved for tech-savvy businesses that embraced remote work.
Their customer bases were growing slower than molasses runs on a winter's day...
Then COVID-19 hit.
Suddenly, knowing how to use these tools was mandatory for anyone working from home.
And it turns out these remote-working apps aren't just for work.
As we see many permanent changes to our very way of life, from schooling to finances to medicine to even our social life, they are becoming must-have parts of our lives.
As a result, Zoom added 2.2 million new users in just a few months. That's more new users than it added for the entire year of 2019!
Welcome to
"the Remote Revolution"
My neighbor's grandson celebrated his sixth birthday in quarantine...
Here's the sad story my neighbor told me:
He was so excited to have me at his birthday party... We bought the airline tickets and wrapped the presents months in advance.

But COVID-19 had other plans. So I called him to break the news.

Poor guy doesn't understand "social distancing." I'll never forget hearing his sad little voice asking me why I couldn't be there in person.

We were both heartbroken.

My daughter arranged a Zoom video call to celebrate his big day instead. It's not the same as being there in person, but it sure was better than nothing!
Zoom has become a "must-have" for connecting with family and friends.
My wife had a "social distancing cocktail hour" with her girlfriends the other day... via Zoom.
The neighbors tell me their 12-year-old is taking ballet lessons on Zoom.
And suddenly, everyone realizes Zoom meetings are much more efficient for work. No travel, no hassles, no germs.
Personally, I enjoy them a lot more than real-life meetings now.
I'm excited about all the ways I'll use Zoom to avoid sitting in traffic, traveling long distances for meetings if I don't have to...
And I'm not alone.
When the coronavirus lockdowns began, Zoom saw about 600,000 downloads... in one day!
Naturally, Zoom's stock took off and leads the market for remote team meetings. Let's see that chart again...
Zoom stock began its vertical climb, making a quantum 262% increase in a matter of months!
And it doesn't show any sign of stopping.
Investors know the "New Normal" means little-to-NO travel, more video conferences, and even gigantic industry trade shows going 100% digital!
On top of social and business use, Zoom has also become a must-have for students and teachers.
Millions of schools switched to teaching classes via Zoom when the pandemic shut everything down. And most colleges will offer students the choice to continue online learning even as schools open back up this fall.
That's why I think a 262% gain in Zoom is just the beginning.
If you had invested just $5,000 in Zoom at the end of January...
You'd have more than doubled your money in less than six months. That means in just six months you'd have...
Enough Extra Cash to Pay
Your Average Mortgage for a Whole Year!
Or forget the mortgage.
Pick up the boat you've been dreaming of.
Heck, you could gift a semester of college to your favorite child or grandchild. Donate it or take that much-needed luxurious vacation when it's safe to travel again.
Of course, Zoom is just one company fueling this new "Remote Revolution"...
Citrix (the tech company behind the popular video conference tool GoToMeeting) stock jumped 47% in just TWO months...
Slack soared 45% in just 30 days!
If you'd invested just $10,000 in all three of these stocks a few months ago...
$10,000 in Zoom would be worth $36,200.
$10,000 in Slack would be worth $14,500.
$10,000 in Citrix would be worth $14,700.
That means with those three investments alone, you'd be sitting on a:
$35,400 Profit in Just Six Months
Think about it...
On the flip side, you could have easily lost that much (and more) when the market tanked...
When the pandemic struck, the Dow declined by over 1,900 points in two days. It was the biggest drop in its 123-year history. But then we saw even bigger drops... of nearly 3,000 points... the following month.
It will pay to be on the winning side if (when) stocks take another dive.
We are navigating new territory here. Many stocks just won't bounce back.
I don't want you white-knuckling it, holding yesterday's winners, hoping and praying they'll recover someday...
I want to see you cashing in big on the "Remote Revolution." That's why I'm going to reveal my No. 1 top stock pick for you in just a moment.
And it's not any of the stocks I just mentioned. I have something that's a much better buy now. So read on.
Now, in case you might be thinking: Aren't these tech stocks just fads because everything is going back to normal soon?
My analysts and I don't think so...
The "Remote Revolution" won't stop anytime soon. This is a sea change in how we work, learn, play, and socialize.
And we see torrential downpours of cash on the horizon for my No. 1 "Remote Revolution" stock.
Think about this... Thanks to the shutdown, business owners have realized they can save an average of $11,000 per year per employee by having everyone work from home.
You've got to ask yourself...
Do you think business owners will be excited about paying the lease on that big office ever again?
Tim Huxley, chairman of Mandarin Shipping, stood firmly against remote work for years, until he realized — he was wrong.
"We realize that we can work more efficiently, that we can get the work... done in a more productive timescale. We've realized you don't need to be in the office from 9 a.m.–6 p.m. or until the boss leaves," Huxley said.
Contrary to the slacking off many business owners feared... many are now seeing record production levels thanks to tools like Slack and Zoom.
Some have already made the work-from-home policy permanent.
Twitter adopted a "work from home forever" policy...
Payment processing company Square followed Twitter's lead. It might even shut its physical offices.
Other tech giants like Facebook, Google, Salesforce, and Slack say they might not have employees back in the office until 2021... if at all!
Real estate investors see big trouble ahead with so many companies closing their offices and telling employees to work from home...
In fact, one Los Angeles billionaire predicts a "real estate apocalypse."
As a big commercial real estate investor, he's nervous... and for good reason.
Commercial real estate is getting clobbered, and I predict it will take decades to recover.
If you're in any commercial real estate stocks, consider getting out now before it's too late.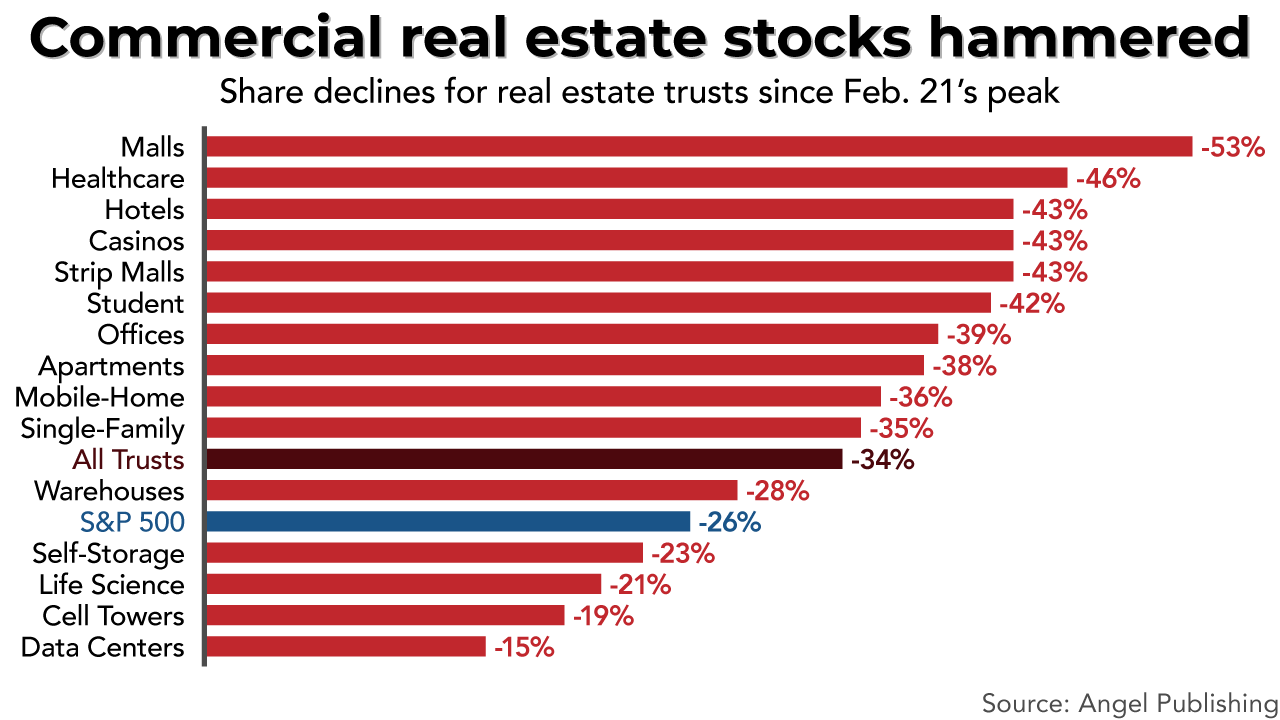 As employees flee office buildings, all these remote workers will need video conferencing and digital collaboration tools for the foreseeable future.
Clearly, work isn't going back to "normal"...
However, Zoom is not my pick for you today.
In a moment, I'll show you how to get in on an even more exciting high-growth stock that I predict will go even higher than Zoom.
The stock I'm going to reveal to you has seen 33% gains, going straight up in just 30 days.
And that's just the start of the long run I expect ahead!
I can't wait to share my favorite work-from-home pick that's ready to explode in the "New Normal."
And it's not my only play in the "Remote Revolution"...
We're seeing tectonic shifts in video replacing other face-to-face interactions too...
The Doctor Will See You Now...
on Your Smartphone
Picture yourself right now in your doctor's waiting room...
You're arm to arm with dozens of potentially sick people.
What if the person next to you is infected?
One cough or sneeze from the person next to you could make a simple visit to your doctor fatal thanks to coronavirus.
Not sure about you, but...
Personally, I'm NOT planning to visit my doctor anytime soon!
It's no wonder doctors' waiting rooms have been like "ghost towns"... and that trend won't end.
I bet most people will avoid their doctor's office like the plague for a very long time.
Which is why telemedicine, a once-back-burner industry, is suddenly exploding into a "must-have."
Telemedicine lets you meet with your doctor via video.
For years, red tape and government interference kept telemedicine from taking off.
Now, thanks to COVID-19, telemedicine is poised to blow sky-high.
Because the desperate need to allow necessary doctors' visits while promoting social distancing forced Congress to slash the outdated laws and regulations that choked telemedicine for all those years.
Suddenly, Medicare and private insurance companies are encouraging millions to meet their doctor online.
And once-hesitant doctors and patients rave about telemedicine for its efficiency, speed, and ease of use.
Phillip Taggart M.D. of Scottsdale, Arizona, says:
I can see the patients' medical records... from my home, any time of the day, providing immediate access to hundreds of patients a month who would otherwise wait for weeks to be seen by their primary-care doctor.
Turns out many routine visits can safely be handled via telemedicine, increasing efficiency and reducing waiting room times. Dr. Taggart says:
I can handle 85% of the medical problems that I saw in my office-based practice [with telemedicine].
And doctors think this long-awaited change is here to stay…
Dr. Ryan Arnold, an orthopedic surgeon in Omaha, Nebraska, says:
This crisis has supercharged interest and opportunity in telehealth on both the patient side and the provider side... It's going to be here to stay.
Just imagine...
No more risking your health in germ-infested waiting rooms.
No more having to wait for months to see your doctor.
Do you know the most exciting part about telemedicine?
It offers you the chance at...
Shocking 183% Gains
One telemedicine provider took a swift and steady ride straight up in recent months, with jaw-dropping gains of 183%.
That means if you had invested just $10,000 into this telemedicine stock on Halloween night...
Your $10,000 has grown to $28,300 in the months since — almost a triple!
How much higher could it go?
A lot higher.
This stock is at the forefront of a "Remote Revolution" in health care...
A revolution that only just started.
Just imagine what will happen to this telemedicine stock when 90% of all routine checkups and doctor visits are done remotely.
My No. 1 telemedicine pick is powering this fast-moving breakthrough.
Getting in now is like buying oil shares the day Henry Ford released the Model T.
That's how massive this opportunity is... and I'll show you exactly how to cash in on it.
Inside my urgent new report, "The Five Megatrends of America's 'New Normal,'" you'll get my No. 1 pick to profit from the booming telemedicine field.
You'll see all the details on why we're so bullish on telemedicine...
And learn why I'm looking for our next triple-digit (if not quadruple-digit) gains from this trend.
This is the ground floor of telemedicine, and you won't want to miss out on the explosive gains coming in the next few months.
I'll show you how to grab your free copy of this report with all the details on this stock in a moment.
But first, let me show you yet another unstoppable megatrend in our "New Normal."
The recent shutdowns exposed a big problem we've been ignoring for a while now...
Why Netflix Almost "Broke the Internet"
Another stock that COVID-19 launched sky-high won't surprise you...
Netflix.
Now, before we go one step further, let me be crystal clear...
I don't want you to buy Netflix... The big gains there are already behind us.
I want you to buy the company that will keep Netflix afloat!
With millions of Americans stuck at home...
While out of work or working from home...
Unable to go to bars or restaurants...
"Apple Pay, Google Pay, Fitbit Pay Seeing Massive Increases"
Or to the movies...
Or to hang out with friends...
They binge-watched Netflix!
But even that wasn't smooth sailing...
Some saw "Sorry, service unavailable" messages.
Videos took forever to load... or froze up...or showed up blurry.
Why?
Because governments have been forcing Netflix and other streaming services to restrict their bandwidth.
Bandwidth reduction mandates for Netflix, YouTube, and Amazon are already in effect in Europe.
Canada promptly followed Europe's lead..."Apple Pay, Google Pay, Fitbit Pay Seeing Massive Increases"
It's not just streaming services slowing down, either...
The week after stay-at-home orders went into effect, Verizon executives reported demands on bandwidth increased 75% over the previous week.
Millions of Americans are frustrated with slow connections as everyone is videoconferencing, streaming movies, and playing video games... all at the same time!
Simply put, our networks are overloaded...
We need a solution for faster internet, and we need it ASAP.
Luckily, it's been right under our noses for years.
You've probably heard of the new 5G networks being rolled out...
5G isn't just a bit faster than our current 4G network.
It's 100 times faster!
5G has been on the back burner for years, slowly making its way into testing phases. Until now.
Thankfully, Trump just fast-tracked the 5G rollout.
By signing the Secure 5G and Beyond Act, the nation will have official plans for a fully functioning 5G grid in "not later than 180 days."
This act provisioned at least $9.7 billion to launch the 5G industry.
With Americans now working from home under the "New Normal"...
Millions of people visiting the doctor from home...
Millions doing everything from shopping to socializing to attending school from home under the "New Normal"...
This is your chance to...
Make a Fortune From 5G Getting Fast-Tracked!
Certain 5G players, small and large, will make untold fortunes, minting new millionaires and even billionaires in the next months and years. However, you have to know which 5G companies will win big... and which will lose.
For example, I advised my clients to invest in 5G microchip maker Xilinx Inc.
It went up 24% in a month!
But 5G doesn't just require microchips for your new iPhone...
It requires an entirely new infrastructure, far more advanced than our current grid. Instead of the big, centralized cellphone towers we're used to, this new 5G grid will require many more tiny towers to repeat and bounce the signal.
This means thousands of these smaller, more advanced cell towers must be built ASAP to support our new 5G network.
And my 5G "rock star" stock is right in the middle of it all.
Inside my special report, "The Five Megatrends of America's 'New Normal,'" you'll find one red-hot rising star that other investors are overlooking.
I'll give you a link shortly to download your free copy.
In it, you'll also see that 5G wasn't the only new technology suddenly put on the fast track to wild growth.
Let me show you how the pandemic is giving new meaning to the phrase...
"Filthy Rich!"
Can you guess one of the fastest ways to spread a deadly pathogen through society? Turns out it's actually...
Cash!
Physical money is among the dirtiest, most germ-and-pathogen-infested items we touch every day.
Normally, that's no big deal.
But when a pandemic strikes? We seriously reconsider dirty cash.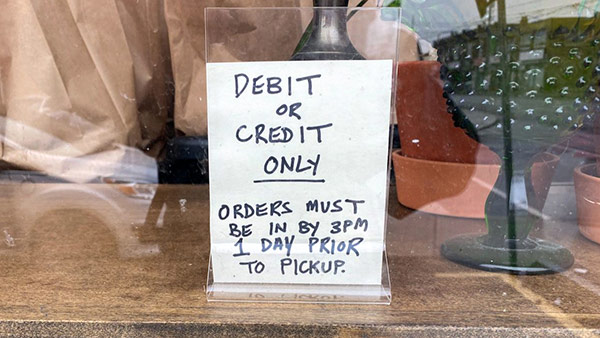 Some store owners have stopped accepting cash altogether.
And it's not just cash...
Imagine you're taking all your precautions to stay healthy.
Wearing a mask...
Staying 6 feet apart...
Using hand sanitizer...
Then you hand your credit card to the cashier at the grocery store...
When they hand your card back, did they just hand you a lethal pathogen?
That fear caused China to roll out its first centralized "digital currency.""Apple Pay, Google Pay, Fitbit Pay Seeing Massive Increases"
Apple Pay, Google Pay, Fitbit Pay
Seeing Massive Increases
"Touchless" digital wallet companies are soaring thanks to the pandemic.
People just don't want to touch cash, checks, or even cards anymore.
If you haven't used one before, Apple, Google, PayPal, Venmo, and even Fitbit let you check out without touching anything other than your own smart device.
One tap of your smartphone or iWatch to a payment terminal and BING! Your payment goes through.
It's no wonder PayPal stock is setting new all-time highs.
Just look at this surge in profits.
Once just a cool new thing for tech geeks and Generation Z, digital and "touchless" payments have elbowed their way into mainstream adoption.
And my readers are already making shocking gains on my favorite payment stocks.
You'll get my No. 1 stock to play the fast-growing digital payment trend in your free copy of "The Five Megatrends of America's 'New Normal.'"
If you are serious about getting filthy rich off the "New Normal," you'll want to make your move on my top digital payments stock soon.
I know you are probably champing at the bit to get your hands on this report, but before I tell you how to get all of my top picks, let me show you one last way coronavirus will change history forever...
And turn many entrepreneurs and investors into multimillionaires over the coming years..
$11,000 Ventilator Valve "Printed" for $3 in Seconds Flat
Did you hear the story about the young Italian engineer who saved hundreds of lives thanks to a printer?
See, the valves this man holds are necessary to run respirators for patients needing oxygen...
They cost $11,000 a pop and are manufactured in China...
They take up to three months to arrive.
What happens when the local hospital has 10 in stock... but suddenly needs hundreds or people will die?
All Hell Breaks Loose...
Until Entrepreneurs Save the Day!
That's exactly what happened in Italy when hospitals suddenly saw hundreds of COVID-19 patients facing certain death without oxygen.
The respirator valve needs to be replaced for every patient to prevent cross-contamination... However, the hospital didn't have enough and the manufacturer couldn't send them fast enough.
That's when Christian Fracassi decided to "print" several hundred himself.
Using a 3D printer, Fracassi was able to produce these expensive, complex valves in mere minutes...
And he produced them for $3 each... not $11,000.
He delivered several hundred 3D-printed valves to Italian hospitals (for free).
Within 48 hours, 3D printing went from a fun little gadget for printing plastic Yoda heads...
To a disruptive technology with hurricane force, uprooting medical manufacturing forever.
What if you or a loved one needed this valve or another lifesaving device?
What if you could "print" it yourself in your garage?
Turns out... you can.
A New York City couple printed hundreds of face masks for desperate, overrun NYC hospitals that ran out.
And these examples barely scratch the surface of what 3D printing can do.
3D printing has been around for over a decade now... but it never amounted to more than a cool fad for making plastic gizmos in your garage.
That has changed forever thanks to COVID-19.
Soon, 3D printers will be considered essential equipment for many businesses.
Just imagine you own a business that sells medical devices...
Suddenly, a factory in Asia that produces your core components shuts down due to another pandemic...
Your business is now dead in the water unless you have 3D printing, which offers a local, on-demand solution.
3D printing is poised to demolish traditional, just-in-time manufacturing and its supply chains.
Cheaper. Faster. Local...
3D Printers Send "Old-School"
Manufacturing to the Grave
With international supply chains shut down, 3D printing is entering the mainstream as people realize:
→ It saves time.
→ It saves money.
→ It means they won't be at the mercy of an unreliable supplier halfway around the world.
No wonder certain 3D printer stocks are exploding higher.
One of my top 3D stock picks saw a 63% surge... in ONE month!
The market is just waking up to the immense applications for 3D manufacturing...
3D manufacturing machines can produce parts with plastic, rubber, and even metal in minutes flat.
Larger printers can even produce automobile parts.
The possibilities are endless, and so are the opportunities to profit.
3D printing is about to disrupt the $12 trillion global manufacturing industry.
Because 3D printing is so much more agile, flexible, and fast, analysts agree it's only a matter of time before 3D printing replaces whole parts of the traditional manufacturing chain... and creates trillions in new wealth in the process!
3D manufacturing will "print" new millionaires and even billionaires.
Of course, savvy investors who understand which 3D players to pick are invited along for this thrilling and immensely profitable ride.
I expect my top 3D printing stock pick will be the Apple of 3D manufacturing.
So who's my 3D printing champion?
I'm about to share a link you can use to get your free copy of "The Five Megatrends Of America's 'New Normal'" instantly to find out.
Listen...
Most people who didn't buy Apple, Netflix, and Amazon watch those stocks ticking up and up every day and think:
If I Had Only Acted Early...
I'd Be Retired and Rich by Now!
Don't be one of those guys.
Nobody wants to be the only guy on the golf course who missed out.
That's why I love what I do.
Because nothing gets me more excited than seeing hardworking investors like you and me (not Wall Street fat cats) make killing after killing with smart, perfectly timed investments...
That's my mission as investment director of Bull and Bust Report.
And today is the perfect time for you to join. You have a chance to bag once-in-a-lifetime profits by cashing in on the "New Normal."
As you've seen, I've been ahead of some of the biggest investment trends and stories. Like the times I picked energy stocks that gave me and my readers 247%, 502%, and 759% profits...
And the times I hit 1,040% and 2,528% gains predicting the early cryptocurrency booms.
Listen, I don't mean to seem like a show-off here. I just want you to understand my predictions are always based on research... never on chance or, heaven forbid, luck.
Just take a look at a small sample of my triple- and quadruple-digit winners:
2,528% on Bitcoin.
351% on Entrée Gold Inc.
1,040% on Ethereum.
162% on Markland Technologies Inc.
515% on Palm Resources Pte. Ltd.
110% on Axon Enterprise Inc.
256% on Allied Nevada Gold Corp.
235% on FieldPoint Petroleum Corp.
131% on Richmont Mines.
247% on Africa Oil Corp.
268% on China Yuchai International Ltd.
150% on New Zealand Energy Corp.
243% on Cemex.
105% on Physical Rhodium ETC.
108% on SSR Mining.
502% on Plug Power Inc.
155% on Hi-Crush Inc.
251% on Unilife Corp.
759% on Petro Matad Ltd.
And you know what?
I think we're about to add a handful of big winners to that list with the stocks I'm sharing with you today.
If you've missed the boat before, I recommend you hop aboard now.
You're joining at the perfect time. But you've already seen how fast stocks move when they become critical thanks to the "New Normal."
My top picks are poised to become the market's next big winners...
And deliver massive profits from the unstoppable megatrends that will dominate our "New Normal."
And this is not a one-time event...
As the "New Normal" continues to unfold in the months ahead, I'll continue to uncover the smartest ways you can profit.
I eat, sleep, and breathe this stuff so I can bring you the next big things before they're hot!
That's why I'm inviting you to join my research advisory service... at zero risk to you.
The moment you accept that invitation, you'll get access to my urgent report, "The Five Megatrends Of America's 'New Normal.'"
Normally this retails for $79, but it's yours absolutely free when you start your trial membership today.
You'll get all the details of my top five favorite companies set to skyrocket in America's "New Normal," including their stock symbols, price history, and detailed instructions on precisely when to buy.
Just imagine investing a few thousand dollars in a handful of my "New Normal" stocks...
In as little as 30 days, you could be sitting on big double-digit gains like 47% on Citrix and 45% on Slack...
Or seeing triple-digit gains in as little as six months, as we've seen with Zoom and Xilinx.
You could even enjoy quadruple-digit gains as we did with my 1,065% and 2,528% trades in bitcoin or my 1,040% gain in Ethereum.
Imagine the excitement (and relief!) as you log in to your accounts and see jaw-dropping, hefty increases year over year from a handful of stocks that were perfectly positioned for the huge changes COVID-19 has thrust into the mainstream...
Instead of feeling your heart drop into your stomach when you see the Dow losing nearly a decade's worth of profits in a matter of weeks.
Here's What Awaits You Inside Your
Bull and Bust Report Trial Membership...
At the start of each month, you'll receive your monthly issue of the Bull and Bust Report with my newest stock recommendation. Plus, you'll get a comprehensive update on the market and our stocks.
You'll never be left wondering about the latest news or my current recommendations for any of our stocks.
Each update is the result of:
→ Hours of briefing from my team of private analysts.
→ Days of phone calls from my sources in New York, Silicon Valley, and around the world.
→ Months of reading between the lines of data releases, research studies, and patent rulings.
→ And is all backed up by my decades of experience.
And that's not all...
Because this opportunity is unfolding so fast and the markets are moving so quickly, I want to be able to get in touch anytime I find a new way to profit from the "New Normal."
And that's why you're also getting...
Full Access to My Urgent Trading Alerts Service
Because the world will continue to change rapidly over the coming weeks and months, it's important you be the first to know about the moves I'm making.
That's why you'll get a confidential alert from me whenever I decide it's time to buy, sell, or double down on a recommended stock.
These alerts contain absolutely everything you need to know, including:
→ Why the stock is primed for a big move upward or why it's time to lock in profits.
→ My recommended "buy up to" price (pay special attention to this).
→ Where I see the stock moving in both the short and long term.
So when you give Bull and Bust Report a try today, you'll get:
→ Your weekly Bull and Bust Report bulletin (sent by email every Friday). Inside, you'll find an update on my existing holdings and the latest developments on my watch list.
→ Exclusive email alerts giving you notice of upcoming buys and sells when I simply can't wait to include them in my monthly bulletin.
→ Full 24/7 access to our exclusive members-only Bull and Bust Report website, packed with my latest analysis, advice, and recommendations, plus bonus reports and other educational materials.
→ A free copy of my special report, "The Five Megatrends Of America's 'New Normal,'" with my top picks to profit from the "New Normal." You've seen how fast some of these stocks have already taken off. That's why I strongly recommend you act now to get in on my newest recommendations before you get left in the dust.
PLUS, I also want to give you...
Another Free Gift to Help You Profit from
One of the Biggest Trends of 2020 and Beyond
As I mentioned earlier, 5G is one of the biggest opportunities of this decade. 2020 will be the tipping point as this technology explodes onto the scene.
That's why I want you to dive a little deeper into 5G, and I'll give you several additional stocks you can profit from.
When you accept this invitation to try Bull and Bust Report, you'll also receive my exclusive report "The 5G Profit Kings."
It shows you three more ways to profit from 5G in addition to the "New Normal" stocks I'll be recommending.
It shows you how you can bank 1,000% gains on a handful of cell tower titans.
It's free as a second thank-you gift simply for giving Bull and Bust Report a try.
Accepting this invitation should be a no-brainer, but I'll make it even easier for you...
You're Protected by My Six-Month
"Every-Penny-Back" Guarantee
Your Bull and Bust Report trial membership is completely risk-free. So you have nothing to lose and everything to gain.
When you sign up right now, you're 100% protected by my ironclad "every-penny-back" guarantee — for SIX months!
That's right, you get six full months to test-drive Bull and Bust Report... kick the tires and make sure you're happy.
If in that six months I haven't helped you boost your family fortunes and shown you multiple ways to cash in on this opportunity of a lifetime...
Just give us a call, and I'll ensure you are refunded every penny of your subscription.
Right then and there. No questions asked. No hassles.
I can make such a bold promise because I know how happy people are once they join us.
Here's what just a few readers of my Bull and Bust Report have to say:
Dear Hammer, I'm up about $50,000 in one year on some of your recommendations.
— Warren D.
An absolute winner for me. In 2 days, the price shot up like the sky is the limit. Thanks for the suggestion. Subscription price is paid back.
— Nancy N.
Made a total profit of $97,500. That was the biggest profit I have ever made. Thank you very much for the great work you have done. Keep it up!
— Fred L.
Up $21,000 in less than a week! Keep the very, very good recommendations coming!
— Cameron P., Kansas
Thanks so much for turning me onto this pick. I got in late at 47 cents but have been up 336% as of today.
— Michael F., Pittsburgh
Why Readers Consider Bull and Bust Report
an Investment and Not an "Expense"
So the only question you likely have left is "What does Bull and Bust Report cost me?"
With this invitation, you can join me for a small fraction of the regular cost. But before we talk details, I want you to think about this...
The small fee is only an "expense" if you do nothing with all of the reports, alerts, monthly issues, and market guidance you get.
On the other hand, if you read my research and put my stock recommendations to use...
Truthfully, the newsletter is an investment with a sky-high ROI.
Just imagine if you put $5,000 into just one of my recommended stocks...
And that ONE pick delivered a 50% gain...
That would be a $2,500 gain... enough to pay for your service more than 100 times over.
Buy a few stocks... get in on one of my next 1,000%-plus winners... and it's really time to celebrate!
You could be setting sail on that boat you've always dreamed of...
Or paying for a child's or grandchild's entire college tuition...
Or opening the door of that beachfront vacation home your spouse has talked about for years.
Get the picture?
Good.
Because with just a few mouse clicks, you can join me in the most exhilarating wealth-creating opportunity of our lifetime.
Normally, Bull and Bust Report is a small investment of $199 for a 12-month membership.
But you don't even have to invest anything close to that today.
For a strictly limited time and as part of my effort to help as many people as possible profit from the "New Normal"...
I'm letting you in the door for 50% off the regular price.
That means it's just $99 per year.
That's just $0.27 per day. That's like "couch cushion" money.
Remember...
Your money, your job, and your life will never be the same in the post-COVID-19 world.
Work, health care, manufacturing, payments (and dozens of other industries I'll tell you about in the days ahead) have changed PERMANENTLY!
Dozens of businesses — even big, well-known names — will go bankrupt in the next six months, unable to pivot and adapt fast enough.
Other stocks that have been big winners will fall behind.
And a new group of winners will lead the pack.
When Wall Street and the public catch on, these "must-have" stocks will go vertical and create one of the biggest crops of millionaires in years.
We have already seen 45%, 47%, and 262% gains in a matter of months.
Much bigger wins are ahead.
Right now, this massive wealth-creation opportunity is sitting right in front of you...
Will you make the right moves to cash in on the "New Normal"?
It's entirely up to you, my friend.
Click "Join Now" below to claim your trial membership to Bull and Bust Report and download your digital copy of "The Five Megatrends of America's 'New Normal'" and "The 5G Profit Kings" instantly.
Both reports are yours to keep whether you stay on as a member or not, so grab them now and get on board early...
Click the "Join Now" link below to begin your trial membership of Bull and Bust Report right now.
I'm Christian DeHaemer, the editor of Bull and Bust Report. I can't wait to see you become permanently wealthy with my guidance.
Just click on the button below, and you'll be taken to a 100%-secure order form.
Click here to join right now, before it's too late.
Yours in profits,

P.S. Listen, I don't have a crystal ball... and yet I've been right on the money most of the time.
My portfolio has seen everything from 108%–502% and even ballistic 2,528% gains... and my readers saw these same gains.
As for those average Joes who follow the herd, blindly following investment advice from their financial planner or, God forbid, the "experts" on the evening financial news?
Well, you can guess how much they made lost.
Just remember...
Normal is dead. A "New Normal" is here...
And the rules have changed.
Join me now to cash in on the most exciting opportunity of our lifetime.