The Next Big Thing Is Here...
The Great American "Tech Reset"
We are now living through the MOST powerful and
tectonic wealth-creating event since WWII...
and it's your No. 1 way to get rich now.
Meet the four stocks that hold the key to this
fast-emerging $100 trillion market (way bigger than
5G... blockchain... and cloud computing combined).
Dear Reader,
The biggest, most unstoppable megatrend of the decade is now clear.
And it's not 5G.
Not cloud computing.
Not even blockchain.
This is bigger than all of those massive industries combined.
I was convinced this would be one of the biggest trends of the decade...
And in January, I pegged this as my No. 1 way to get rich in 2020.
Then the pandemic hit...
And it was like someone shot adrenaline straight into the heart of this industry.
Adoption rates have soared with millions of people abandoning the old way of doing things.
And my top picks went ballistic.
You see, they're perfectly positioned to dominate during the "new normal" in America.
So this is probably your LAST CHANCE to get in on the ground floor with a handful of stocks I think will be some of the biggest winners of the decade...
And mint a new round of millionaires.
Look, five or 10 years in the right stock at the right time are enough to make you a fortune. Consider...
Tesla IPO'd at $17 back on June 29, 2010. Ten years later, it's worth over $1,000 per share. Smart investors had a chance to get 7,971% richer.
Amazon shares soared from $117 in July 2010... to $3,164 in July 2020. That's an eye-popping 2,605% gain.
And Apple? Up from $35 in July 2010... to $425 in July 2020.
Google? Up from $233 in July 2010... to $1,482 in July 2020.
Netflix was another game-changer. Its share price jumped from $16.80 in July 2010... to $489 in July 2020.
That's a 2,810% increase in 10 short years.
You could have turned $5,000 into $145,500...
Or $10,000 into $291,000...
Or $20,000 into an incredible $582,000.
Imagine being half a million dollars RICHER just for getting in at the beginning of the next big thing.
Here's my prediction...
Ten years from now, we'll look back on charts like the ones I just showed you with huge triple- and quadruple-digit profits for my top picks today.
And the four stocks I'm buying with both fists today will make folks who get on board now filthy rich.
If You're Kicking Yourself for Missing out on the
FAANG Boom of the Last Decade...
I Have GREAT News...
Look, most people didn't get in on the ground floor of Facebook, Apple, Amazon, Netflix and Google (otherwise known as the FAANG stocks).
That's OK.
Some of the smartest people I know — millionaires and successful CEOs across America — made the same mistake.
But don't sweat it. Because I'll tell you the same thing I'm telling them...
Today, right NOW, is your second chance to strike it rich. What I'm giving you access to today is a chance to lock in your retirement dreams.
A $5,000 investment could realistically turn into $125,000...
And $20,000 could morph into half a million dollars.
In fact, the Great American "Tech Reset" is already underway.
The pandemic has given it a dose of pure adrenaline that no one expected.
On July 16, 2020, The New York Times reported that the pandemic has propelled momentum in its favor like no other single event has.
And there is no going back.
Forbes says the extraordinary opportunity I'm revealing today tips the scales at a whopping $100 trillion...
I'm calling it the biggest tech megatrend of the 21st century.
This Opportunity Is 100 TIMES Bigger
Than What Came Before It
A new crop of tech companies are leading this massive revolution.
And the handful I'm going to tell you about today are fast emerging as the new tech elite of the 2020s.
They are taking advantage of a rare intersection of three powerful megatrends changing our world:
The rise of e-commerce. (Bye-bye, retail.)
The growth of digital payments. (So long, cash.)
The advance of new, fast-moving financial technology. (Who goes to an actual bank branch these days?)
All three of these unstoppable trends are making traditional ways of doing things obsolete.
And they are creating a close-to-$100 trillion market.
And my intelligence says a revolutionary tech "supergroup" is gaining a stranglehold on this mammoth market. Its members are destined to become the stock market's true leaders.
Not just for 2020 but for the next decade.
I call them the "MVPs."
And they are the new FAANG stocks for the 2020s.
These four emerging-tech titans have seized first-mover advantage in the fastest-growing and most lucrative niche since the dawn of the internet.
Barron's says, "They're beating the tech giants at their own game. They look virtually unassailable."
The Wall Street Journal has crowned them "the new champs in town."
When I leak their details in a few minutes...
Do yourself a favor and seize this opportunity with both hands.
Every minute you delay could mean thousands of dollars in lost profits.
The changing of the guard is underway now. And the stock market is waking up to this reality.
In fact, since the March 23 market low, the combined gains of my MVPs have trounced the FAANG stocks by almost 2 to 1!
The FAANG stocks have had an amazing run since the crash, but my four MVPs delivered a massive 108% total gain in just four months!
Take a moment to process that.
The MVPs are already beating the pants off the market AND crushing the old champs, too.
And the latest tech revolution — perhaps the biggest of all time — has barely gotten into first gear!
Because in the near future, every dollar you spend at Walmart or Starbucks...
Every penny you pay Amazon, Netflix, or Spotify...
And every red cent you spend around the globe…
Will begin flowing through this ingenious technology.
Let Me Remind You What Can Happen When a Powerful Force Disrupts a Lucrative Industry...
I'm reminded of one of the biggest stock market successes in modern history: Microsoft. It was one of the PC revolution's true pioneers.
If you invested in Microsoft back on March 13, 1986, when it first went public, your $1,000 investment would be worth $1.6 million now.
This is what 1,600 times your money looks like. Incredible, right?
The potential scale of the "New Tech MVPs'" opportunity is on par with this.
According to my calculations, the gains could even be bigger over time.
If you take immediate action once I reveal the suspected winners a few minutes from now...
You could realistically have a shot at growing your personal account by $150,000 or more. That's a conservative estimate.
Plus, you won't have to wait 20–30 years to reap the rewards.
The "New Tech MVPs" have the very real potential to deliver an extraordinary wealth booster shot over the next 18–24 months.
Missing a Major Tech Breakout Once Hurts... Missing It TWICE Is Inexcusable
Not so long ago, the fabulous FAANGs could do no wrong.
As kings of their respective domains, these five tech firms contributed more to the raging decade-long bull market than almost anyone else out there.
Talk about smashing expectations.
Amazon stock is up more than 2,605% over the last 10 years...
Apple is up 1,114%. Netflix and Google shares have surged over 2,810% and 567%, respectively. And Facebook is up 567% since its IPO.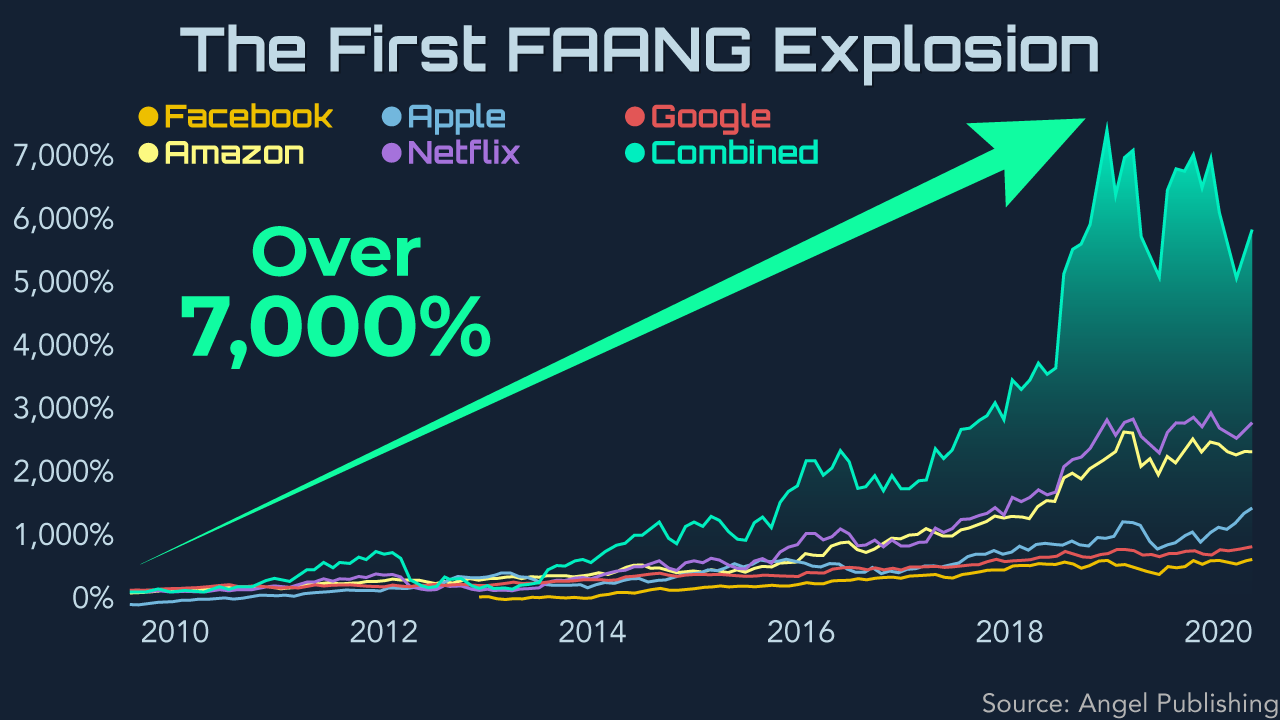 It got so crazy that advisers started basically saying to just buy the FAANG stocks and let the market take care of the rest.
But after this phenomenal run, dark clouds have started gathering.
See, these juggernauts have gotten SO big and SO dominant that they are now in the crosshairs of politicians from both the left and the right.
Angry consumer groups and workers wanted to get their kicks in too.
All of a sudden...
Amazon is facing a storm of criticism over worker safety, has provoked President Trump's ire, and is battling attempts to unionize its workforce.
Google is the target of antitrust allegations by the Department of Justice. And ad revenue is expected to DROP this year for the first time in history according to eMarketer.
Facebook is losing revenue thanks to an advertiser boycott by hundreds of major brands. And regulators around the world are gunning to put constraints on the company.
Netflix is warning about future growth, the first sign that a slew of new streaming services from Disney+ to NBC's Peacock to AT&T's WarnerMedia could doom its future.
The bottom line?
The future holds more regulation... slower growth... and more competition for the FAANG giants.
Now, let me be clear...
I'm not saying these big boys will disappear anytime soon.
But research indicates they are NOT your best bets for the biggest, fastest growth from here.
Besides threats from regulation and competition, these stocks have sky-high valuations.
These titans have gotten SO big that the days of triple- and quadruple-digit gains are over.
You need to look elsewhere for your BEST chance to turn a single $5,000 investment into $50,000... $75,000... $100,000... or more.
And I know exactly where you'll find it.
Get Ready for the Tap-&-Go Revolution
Let me draw your attention to a sneaky little development...
One that hasn't been getting nearly enough attention.
Little by little, it's becoming rarer to see dollar bills or loose coins changing hands.
People have been talking about the emergence of a cashless society for years.
Well, it's finally happening.
A whole new generation of consumers who don't carry a physical wallet or purse is emerging. They barely ever have any cold, hard cash, either.
Take a look...
Cash's slice of the overall pie is shrinking — fast.
Today, cash is only used for 3 in every 10 transactions, down from 6 in 10 a decade ago. Moreover, it is forecast to fall as low as 1 in 10 transactions within the next 15 years.
Think back to the last time you paid for something in a shop or a café.
Did you pull out a $20 bill and wait for the clerk to open the register and give you change?
If you did, you're in the minority.
It's far more likely you simply waved your card or smartphone, and presto...
The payment went through without a single note or coin changing hands.
Soon, the phrase "cash is king" will be one of those old-timey sayings your kids can't understand.
That's because cash — tangible paper money — will be as much of an anachronism as landline telephones... or that frustratingly slow dial-up connection on AOL that used to drive you crazy.
Today, the majority of transactions are moving to Tap & Go — either by card or smartphone. Consider:
Approximately 64% of food merchants offer Tap & Go at checkout.
A full 81% of fast-food outlets offer it too.
So do 92% of drugstores and pharmacies.
I don't know if you've gotten yours yet, but card issuers are delivering a flood of contactless cards to consumers that you don't have to swipe or insert to use.
You just pay with a simple "tap" of your card.
Visa, for example, will issue more than 100 million contactless cards in the U.S. by the end of this year.
In further proof we've reached a major tipping point...
Economists believe the U.S. will go cashless within the lifetime of millennials.
Forbes calls it "a once-in-a-generation shift in the financial services industry."
Simply put, these are the early days of the biggest technological shift you'll see this decade...
What if you could tap into this unstoppable momentum?
Today, I'm giving you a chance to make a potential fortune in the Tap-&-Go Revolution sweeping across America.
I've identified four companies whose proprietary "plug-in" technology enables these sales to occur seamlessly and instantaneously.
While almost no one was looking, this MVP supergroup has created a near-monopoly in the $100 trillion payments market.
That's way bigger than all those hot tech opportunities you've been hearing about.
5G... driverless cars... crypto... and streaming video.
Add them all together, and you STILL don't approach anything near the size of this opportunity.
Now that the pandemic has given this industry a turbo charge…
Now that serious profits are starting to flow...
I wouldn't be surprised if their stocks go up five times... 25 times... or 75 times from here.
If it happens to one MVP stock, you could become wealthy.
If it happens to three or four, your life will be changed forever.
Now, of course, nothing in the market is guaranteed...
But the potential to profit from the "New Tech MVPs" supergroup is too great to ignore.
So How Did We Get Here?
Cash has been around forever — or so it seems. But that's not so.
It's simply part of a continuum that's played out across centuries.
From barter to precious metals like gold, cash enjoyed its heyday only to be replaced by debit and credit cards... and now by Tap & Go.
Why? Cash is costly to maintain.
Financial Times estimates that cash costs 1.5% of a country's GDP to "count it, distribute it, and print it." Digital currency eliminates all kinds of wasteful spending.
Did you know that in the U.S., the Bureau of Engraving and Printing creates about 38 million notes a day?
Each $1 and $2 bill costs $0.08 to make...
Every $5 bill costs $0.15...
And every $10, $20, $50, and $100 bill costs more than $0.16 to produce.
That's $2.7 million a day just to print paper money. That's bonkers!
Going cashless means there's no need to pay for costly printing... no need for computers to count it... and no need for bank vaults to store it.
Done properly, it can also eliminate the twin evils of counterfeiting and money laundering.
I'll bet you've seen another sign of the move away from cash happening with your own eyes...
There are fewer and fewer tellers working in your local bank.
Soon, the ATMs that dispense cash will disappear from our neighborhoods.
Even the standard credit card transaction is on its way out.
Why bother inserting a card into a reader and waiting for confirmation?
Or inserting a debit card and entering your PIN when you can do the same thing INSTANTLY with a contactless card or phone?
Whether you like whipped cream with your Frappuccino... or Swiss cheese on your sandwich...
Payments at Starbucks and Subway are increasingly mobile, contactless, and cashless — just scan your phone and go.
Even the big retailers are seeing the light.
Costco rolled out Tap & Go last August, and the company is ecstatic about the results so far.
"For both the customer and us, it's better because it's faster. Plus, from a safety standpoint, it's encrypted and more secure," says CFO Richard Galanti.
The Tap-&-Go Revolution is just picking up steam.
Pretty soon, it will be UNSTOPPABLE!
Here's a Fun Fact:
Can you guess what happened when McDonald's started experimenting with touch-screen order kiosks?
In one outlet, they found the average touch-screen order was 30% higher than those placed at the counter.
Analyst Peter Saleh says this shift to kiosks and mobile ordering could help the chain regain nearly $2.7 billion in lost sales.
So expect to see many more kiosks popping up inside your local fast-food joint.
And no, they don't accept cash.
So Long, Swiping. It's All About Tap & Go These Days.
Whenever I'm in New York, I make a point of traveling by subway.
It's often quicker and definitely cheaper than taking a taxi or an Uber.
New York boasts the largest subway system in the world, with 472 stations currently in use. But step underground, and you could be forgiven for thinking it was stuck in the Stone Age.
Trains built in the 1960s still roar down the subway tracks, and parts of the signal system date back to before World War II.
That's not all.
The outdated, flimsy MetroCard was introduced nearly 30 years ago.
While cities like London and Chicago embraced tap cards and smartphone payments, New Yorkers had to stand at turnstiles, swipe their MetroCard, and pray they didn't get the dreaded message:
No more.
The New York Times reports that Gotham is finally getting a modern Tap-&-Go fare system that will make other cities jealous. It's introducing a contactless payment system that accepts credit cards and smartphone payments.
With shops on Main Street... the World Wide Web... and now old-time transit systems across the country going cashless...
That's your tip-off that something big is underway.
"The Cashless Society Has Arrived"
— The Wall Street Journal
The Tap-&-Go Revolution is spreading far and wide.
Nowhere is it further along than in Sweden.
Cash constituted just 2% of all payments in Sweden in 2015, according to Sweden's central bank. Over half of the country's bank branches no longer keep currency on hand or take cash deposits.
Most surprisingly of all, most bank branches no longer have ATMs!
The Economist picked up on a humorous sign of the times:
"ONLY tourists pay in cash, says the young barista in Espresso House, a Swedish coffee chain... in Stockholm. 'They don't understand we don't use that anymore,' she [says and] rolls her eyes."
South Korea is a close second to Sweden in terms of the growing dominance of Tap & Go.
The central bank has set a 2020 target date to phase out coins.
They'll vanish from circulation — forever.
And let's not forget about the elephant in the room: China.
The Wall Street Journal reports that mobile payments in China have surged to $9 trillion a year...
Using cash and credit cards is practically obsolete.
QR codes are changing the way people pay for everything from smartphones to groceries to online dating!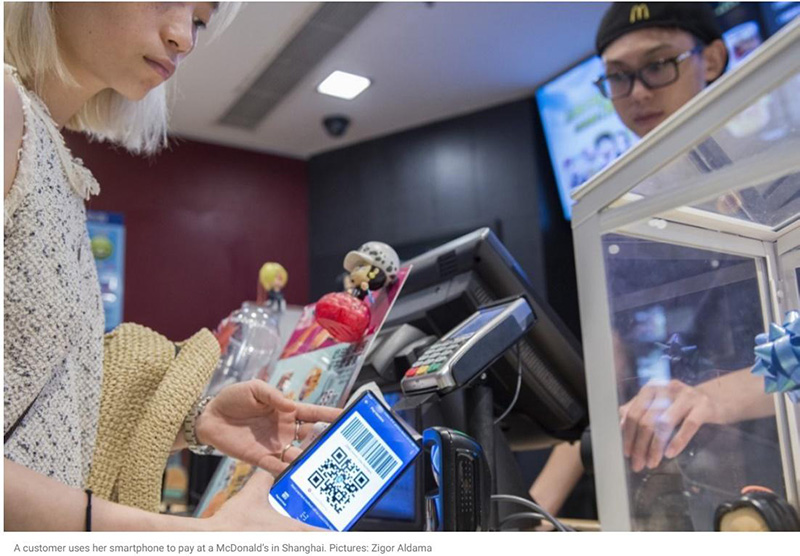 Up until now, the U.S. has been a minnow in the Tap-&-Go ocean.
But that's changing.
Soon — very soon — your smartphone will be all you need to buy what you want, when you want, where you want.
Morgan Stanley was right when it said:
"Mobile payments promise to merge one of the oldest tools of society — money — with one of its newest: smartphones."
Don't be surprised to find that in less than five years, money as you know it will be a thing of the past.
(The pandemic is making us afraid of carrying "dirty dollar bills.")
And you know the four MVPs I mentioned earlier?
They are the SAME companies set to dominate this massive $100 trillion industry — at home and abroad.
And this could be your last chance to get on board before these stocks go absolutely ballistic.
Like grabbing a slice of Apple before it shot up by 1,114%...
Amazon before it skyrocketed by 2,605%...
Or Netflix before it zoomed up by 2,810%.
Here's a surprise, though...
You won't find a single one of the usual suspects on my exclusive list of top buys today.
"Sorry, FAANGs — We Can Do It Better"
Back in 2013, all the buzz around Silicon Valley was about the "mobile wallet." Rumor had it that Apple and the other tech giants were about to muscle in on the financial industry's turf with digital payments.
Tim Cook, Apple's CEO, teased analysts when he said, "I think it's just getting started."
Wall Street analysts believed a major disruption was on the way.
But when Apple Pay arrived 18 months later, there was no sign of a revolution.
Instead of building a revolutionary new payments system itself, Apple made a huge mistake...
It "outsourced" the project to the MVPs, a powerful group of tech titans who knew the payments landscape like the back of their hands.
Not that Apple executives ever admitted defeat.
They said iPhone users could now "start making payments with the touch of a finger."
And they were right. But what they DIDN'T say was even more telling.
Behind the scenes, my four MVP companies had designed an ingenious system to siphon off profits from practically every digital transaction made around the world.
The "New Tech MVP" companies are busy cornering a $100 TRILLION market for themselves.
Even if they were to mop up a tiny quarter of 1% of this gargantuan amount...
Which is very possible...
That's $250 billion straight into their pockets.
To give you some perspective...
That's more than DOUBLE Google's annual revenue...
And more than 10 times what Netflix will bring in this year, too.
The changing of the guard is here — from the old FAANG to the "New Tech MVPs."
Too bad the big boys didn't realize...
By handing this essential back-end business over to the MVPs, they were handing over the keys to the biggest, most lucrative market segment of the next five years.
Bigger than 5G... electric cars... streaming media... and crypto. COMBINED.
Those keys are now in the hands of the "New Tech MVPs"...
My research shows they are perfectly positioned to rake in billions and billions of profits beginning to flow worldwide.
Remember, the Tap-&-Go Revolution Is Still in Its Early Stages
For investors, that could mean another historic run.
As reported by Fortune magazine:
The world of real-time payments is no longer a pipe dream of the near future. In many respects, it's already here — and the financial system is now braced for an unprecedented wave of innovation that will change the way consumers and businesses interact.
As someone who's already delivered wins of 1,040% and 2,528% in the fast-changing world of currency investments...
I've never felt so strongly about anything in my life.
You Could Say I Have a Knack for Discovering the Next Big Thing
Hi, my name is Chris DeHaemer. (My readers call me Hammer.)
Maybe you've heard of me but probably not. I tend to shun the normal media outlets.
You see, I've done things my way since 1996. I've never played by the normal rules when it comes to spotting obscure, out-of-the-way opportunities before fat-cat Wall Streeters.
I've developed a proprietary charting technology that ID's superstar stocks early in their development — sometimes energy stocks, other times real estate, but these days spotting major tech breakouts is my sweet spot.
When I uncover an extraordinary opportunity, I consider it my personal mission to get the message out to nontechnical folks who might like to participate.
Like you.
My record says it all...
For 18 of the last 19 years, my portfolio has beaten every major market index. That's 95% of the time. How good is that?
Heck, over the last 15 years, from 2002 to 2017, only 1 in 13 large-cap fund managers, only 1 in 19 midcap managers, and only 1 in 23 small-cap managers were able to outperform their benchmark index.
I want you to know I've helped people like you make a fortune in the alternative cash market before.
Starting in 2017, my proprietary system signaled something unusual happening in the cryptocurrency market.
I was able to exploit this anomaly for serious profits.
In fact, my readers had a chance to earn a 1,065% payday on Bitcoin in 2017...
Plus an even bigger 2,528% Bitcoin payday in 2018.
That's not all. I also delivered a super-sweet 1,040% profit on Ethereum last year.
Because of my insider credentials, I'm able to give my readers extras they can't get anywhere else.
Here's one example...
I set up a deal for anyone who invested $100 in Ethereum to get an extra $10 worth for free.
Very often, I'm the only analyst chasing these big news stories...
Both here in the U.S. and around the globe.
For example, I served up a 759% gain on Petro Matad, a Mongolian company most people have never heard of.
And we enjoyed a 411% stock explosion on Africa Oil at a time when most stock pickers were staying away from it.
We jumped right back in after taking a breather... and bagged another 381% gain.
What do my followers think of stellar gains like these? Cameron P. from Kansas is a good example:
"Up $21,000 in less than a week! Keep the very, very good recommendations coming!"
People like Cameron are NOT professional investors. They don't have access to any special technology, and they wouldn't dream of staring at a PC screen for hours each day.
These are regular men and women... teachers, firefighters, and small-business owners.
You'd think they have nothing in common...
But you'd be wrong.
They are all eager to get advance notice of the next big thing.
And "The Four MVPs of the Tap-&-Go Revolution" could be my juiciest set of recommendations yet.
I'm excited just talking to you about it.
While the talking heads at Fox News and CNBC are falling over themselves talking about 5G... cryptocurrencies... and self-driving cars...
They're missing the TRUTH about this one.
It's WAY BIGGER than all those opportunities — combined.
You've taken an important first step toward upgrading your retirement dreams by reading this report today.
Stopping there would be a costly mistake.
If you miss out on claiming YOUR share of the Tap-&-Go Revolution sweeping America and the world...
You will regret it for the rest of your life.
It's Vital You Understand What I'm About to Say Now...
Last time we were in a situation like this was February 5, 2013.
That's when CNBC analyst Jim Cramer coined the term FANG.
He picked the four most promising tech companies out there — Facebook, Amazon, Netflix, and Google — and he bundled them together.
Apple was added later, and FANG became FAANG
Can you see how this tech supergroup went on to dominate everything before it?
Did you cash in on their combined 4,667% run since 2013?
Unfortunately, most folks missed out.
That's why I'm talking to you today.
Based on my research, today, we are roughly where we were in 2013.
Only we're talking about a far BIGGER $100 trillion opportunity...
To everyone's surprise, the old FAANGs have handed control of the lucrative payments opportunity to a new supergroup called the MVPs.
And the pandemic is only ACCELERATING THIS TREND
This is precisely why you need to build your investment positions in the "New Tech MVPs" today.
They've established a virtual "lock" on the lucrative digital payments market, both at home and around the world.
Honestly, they're the closest thing out there to a "New FAANG."
If you wait, you may still make a profit.
But it will be too late to experience truly life-altering gains.
Introducing Not One... Not Two... Not Three... but FOUR MVP Stocks That Could Make You 1,000% Richer
If you'd like to supplement your retirement nest egg with $50,000... $100,000... up to $150,000 in extra cash...
Doesn't it make sense to grab a small slice of the one, two, or three companies most likely to dominate the Tap-&-Go space for years to come?
Based on the intelligence I've dug up on my own over the past 12 months...
And from my close contacts in the financial industry from New York to London to Shanghai...
I've identified what I believe are the top four MVP stocks to dominate now that the Tap-&-Go Revolution is picking up serious steam here in America, as well as the rest of the world.
These firms are primed to sweep up billions of dollars in profits because of their proprietary technology...
The possibilities are mind-blowing.
Like I said, their business model is based on collecting a "cut" of every digital transaction that comes through their system.
My calculations lead me to believe that's somewhere between a 1% and 2.5% cut on every single transaction.
Now, with hundreds of billions of dollars moving from cash to Tap & Go...
And seeing how the MVPs are already established in nearly 200 countries worldwide...
I predict this crop of "New Tech MVP" companies will mint new millionaires faster than the old FAANGs ever did.
This isn't pie in the sky.
Let me remind you of the potential gains you could pocket when a brand-new technology sweeps over the mass market.
I've pulled up this small sample...
It shows you how much YOU could have earned on a few recent tech disruptions.
See one you wish you'd snagged before the price went ballistic?
Based on all my research, I predict it's about to happen again. My No. 1 MVP stock recommendation could easily double, triple, or perhaps even more.
And you get FOUR of my favorite stock plays in your free special report "The Four MVPs of the Tap-&-Go Revolution."
Here's something else you should know...
What frustrates me is how insiders always try to keep the best deals for themselves.
The average guy is shut out. He has almost no chance.
That's simply not fair.
So, a couple years ago, I decided to change all that.
Now, as investment director of Bull and Bust Report, I'm perfectly placed to deliver everything you need to experience breakthrough profits for yourself.
As world-beating tech opportunities move their inventions from corporate boardrooms and "beta test" labs to a highly lucrative marketplace...
Only a true "insider" like me can keep you plugged in to the most explosive developments at the exact right time.
I've been ahead of some of the biggest investment trends and stories.
And I've made some of the biggest gains imaginable.
Just take a look at a handful of my triple- and quadruple-digit winners:
2,528% on Bitcoin (first big crypto win)
351% on Entrée Gold Inc.
162% on Markland Technologies Inc.
110% on Axon Enterprise Inc. (formerly Taser International)
256% on Allied Nevada Gold Corp.
235% on FieldPoint Petroleum Corporation
131% on Richmont Mines
247% on Africa Oil Corp.
515% on Palm Resources Pte. Ltd.
268% on China Yuchai International Ltd.
150% on New Zealand Energy Corp.
1,065% on Bitcoin (second big crypto win)
105% on Physical Rhodium ETC
108% on SSR Mining (formerly Silver Standard Resources)
502% on Plug Power Inc.
155% on Hi-Crush Partners
243% on Cemex
251% on Unilife Corporation
759% on Petro Matad Ltd.
1,040% on Ethereum (third big crypto win)
Here's another reason I joined one of the world's leading financial research firms, Angel Publishing.
We don't take advertising dollars.
We don't get paid to make recommendations.
And we certainly don't follow in the footsteps of the mainstream investment media.
We only work for our readers.
Our commitment is to you. Only you.
And you're joining at the perfect time.
If you missed out on the truly massive gains from the first FAANG breakout, here's your second chance.
I'm serving up the "Next Tech MVPs" on a silver platter.
In my professional opinion, this is the BIGGEST, BEST, AND MOST INDISPUTABLE moon-shot opportunity you'll see this decade.
I encourage you to get "skin in the game" before the wider world sees what's happening.
Let's do this...
Go ahead and give my research advisory service Bull and Bust Report a risk-free try today.
The moment you join, you'll get access to a special report called "The Four MVPs of the Tap-&-Go Revolution."
It carries a hefty $47.95 value, but it's absolutely FREE when you accept a trial membership.
Inside, you'll get the names of all four innovative companies powering the Tap-&-Go Revolution, including their stock symbols, price history, and detailed instructions on how to buy in for a tiny fraction of their true value.
All of these firms are vacuuming up market share in the $100 trillion payments market.
If my prediction is correct — and I've been right countless times before...
This opportunity just got much bigger.
Soon, you won't even need a physical device to get connected. You'll be able to tap and go ANYTIME, day or night, ANYWHERE you can think of, just with your smartphone.
No matter what happens...
I guarantee you the MVPs will be right there in the background...
Applying their unique technology...
Ready to capture a "kickback" on each transaction.
Now, before I go on any more about this explosive opportunity...
About how the Tap-&-Go tsunami can make you richer than your wildest dreams...
I want you to know that these MVP stocks are just one example of the many breakthroughs I'll be helping you profit from over the next 12 months.
Each time I come across a new breakthrough opportunity...
You'll get a confidential "buy" alert from me via email. It will contain absolutely everything you need to know:
Why the stock is primed for a big move UP — and soon.
Why NOW is the time to get positioned.
My recommended "buy-up-to" price (pay special attention to this).
Where I see the stock moving in both the short and long term.
And of course, when I think it is time to sell.
It's never been easier to join me in this exciting venture.
Here's How It All Works
At the start of each month, you'll receive my newest recommendation, plus a comprehensive stock update. You'll never be left wondering about the status of any stock in our model portfolio.
Each day in between, I'll be phoning my contacts in Silicon Valley, New York, and around the world...
As well as digging into the latest data releases, research studies, and patent rulings to keep you one step ahead of the average Joe.
The instant you join, you'll get your members-only password to Bull and Bust Report's exclusive website. That's where you'll find my most recent recommendations, all past alerts, every single update, free bonus reports, and a link to our model portfolio track record.
Anytime you want to check the price of one of the stocks I've recommended, simply log on and you'll see updated prices for all our picks.
Now, I have a special surprise in store for you.
Within 60 seconds of pressing the "Order" button...
You'll also receive a special bonus report from me that will show you how to profit from a second massive tech revolution underway.
It's called "The 5G Profit Kings: Banking 1,000% on These Three Cell Tower Titans."
It's free as a second thank-you gift simply for giving Bull and Bust Report a try.
By now, you've no doubt heard about the 5G technology that will soon change everything around you.
Not only will 5G be required if you want lightning-fast connections on your phone...
But it's also a huge leap that will enable world-changing disruptions like self-driving cars, virtual reality, remote surgery, and top-secret military applications.
In fact, the Trump White House recently labeled 5G a national priority for America.
You can see why...
China and the U.S. are locked in a covert head-to-head battle to launch their 5G networks.
So far, China has outspent the U.S. by $25 billion, according to Forbes.
This has U.S. officials worried.
Forbes continues, "The U.S. National Security Council has warned if China is first in 5G, it 'will win economically and militarily.'"
That's not acceptable.
So you know the first thing America needs to get ahead in this race?
Hundreds of thousands of new cell towers!
No, not the ugly 4G ones you see lining the highways — those metal monstrosities reaching for the sky.
5G antennae will be tiny — about the size of a small refrigerator you might find in your Holiday Inn room.
But instead of seeing one giant cell tower every few miles, they'll be practically everywhere.
That's because a 5G signal can't travel far.
So you'll be seeing one every few blocks.
This opportunity smells of MAJOR MONEY to me.
The rush to own shares of 5G tower and antenna companies is on...
Because they're only starting to get built now. Once they pick up traction, you should experience an avalanche of profits.
CNBC says, "The 5G rollout has cell tower stocks in 'raging bull market mode.'"
Today, in your special bonus report called "The 5G Profit Kings: Banking 1,000% on These Three Cell Tower Titans"...
I'll give you urgent details about not one, not two, but THREE under-the-radar tower companies sweeping up the rights to build and OWN this key infrastructure.
Talk about a terrific business model...
Once you build a tower, you just add another antenna when you pick up a new client, so the margins are terrific.
Wouldn't you like to become a dominant landlord in America's most PROFITABLE new industry?
Don't let the chance for life-changing profits pass you by.
When you accept a risk-free trial to my Bull and Bust Report...
I'll rush you detailed information on my top three "5G landlord" companies whose stocks are primed for a price explosion.
Next to the "New FAANGs," which you'll also be getting right away...
These "5G landlords" are the next-closest thing I know to a lock on the market as America rushes to embrace game-changing technology.
Full details are coming your way once you accept a risk-free subscription.
Six Months From Now, You May Have Missed It...
If there's one thing I've learned over two decades in the financial industry...
It's that by timing your investments properly, you can make a fortune quickly.
When it comes to the Tap-&-Go Revolution...
I could go on and on about why you need to own a slice of the "New Tech MVPs."
These are the surest things I know.
But rather than take up more of your time today...
I'd rather send you my brand-new report, "The Four MVPs of the Tap-&-Go Revolution."
Inside, in black and white, you'll find my reasons why I'm so bullish on the four super MVP technology buys for 2020 and beyond.
In fact, I've just learned that one of the MVPs has opened up its platform for CBD merchants. That's the naturally occurring chemical in the marijuana plant. As of today, this MVP will be able to tap into the phenomenal growth of the cannabis industry.
Another Way to Tap Into the Explosive Marijuana Opportunity...
Bloomberg says it's "become one of the first U.S. payments platforms doing business with CBD providers, just as the industry is booming."
If you live in a state where it's currently legal or will be soon...
You'll know this is a BIG deal.
Coffee shops sell CBD lattes... spas offer CBD facials... and beauty companies are scrambling to release lotions with CBD or hemp oils in their formulas.
All it takes is 60 seconds to reserve your FREE copy right now.
Remember, last time a technology supergroup took the market by storm...
Amazon stock zoomed up 2,605%...
Apple rocketed up by 1,114%...
And Netflix shares exploded by 2,810%.
These are the very same types of spectacular gains on offer today.
Your timing is great because we're in the early stages of the Tap-&-Go rollout.
Now, as you get set to join me...
I'd like to share with you what a few readers of my Bull and Bust Report have to say:
"Dear Hammer, I'm up about $50,000 in one year on some of your recommendations."
— Warren D.
"An absolute winner for me. In 2 days, the price shot up like the sky is the limit. Thanks for the suggestion. Subscription price is paid back."
— Nancy N.
"Made a total profit of $97,500. That was the biggest profit I have ever made. Thank you very much for the great work you have done. Keep it up!"
— Fred L.
"Up $21,000 in less than a week! Keep the very, very good recommendations coming!"
— Cameron P., Kansas
"Thanks so much for turning me onto this pick. I got in late at 47 cents but have been up 336% as of today."
— Michael F., Pittsburgh
And how about John Richardson, a retired Marine in Florida...
He brings in an extra $3,922 each month. Now he spends his time restoring his old Corvettes and volunteering at the VFW.
The four MVP stocks I'm revealing today give you that one-in-a-million chance to hit it big. Really big.
So do one thing for me, won't you?
Give my investment advisory a try today.
If I am correct — as I have been countless times before — the stocks of the four MVP companies I mentioned today should see a major upward price movement...
Possibly starting a few days from now.
In the meantime, every 30 days, I'll present a feast of new and exciting breakout opportunities to sink your teeth into.
How much does it cost?
That's the best part.
Normally, Bull and Bust Report costs $199 for a 12-month membership. That's a bargain considering the gains I've been churning out for my members.
But luckily for you, I just struck a sweet deal with my publisher.
Today you get everything shown below for 50% off.
You pay our special new-members price of only $99 (or just $179 if you choose the two-year option).
So please don't hesitate. Begin enjoying all this in just two minutes:
Full 24/7 access to our exclusive members-only Bull and Bust Report website, jam-packed with my latest analysis, advice, and recommendations, plus bonus reports and other educational materials.
Your latest Bull and Bust Report bulletin, sent by email every Friday. Inside, you'll find an update on my existing holdings and the latest developments on my watch list.
Exclusive email alerts giving you advance notice of upcoming buys and sells when I simply can't wait to include them in my monthly bulletin.
And of course, FREE access to your TWO special bonus reports.
The first, "The Four MVPs of the Tap-&-Go Revolution," highlights the tech supergroup primed to conquer all as the new Tap-&-Go Revolution picks up steam. It's already happening... Barron's says the MVPs are "beating the tech giants at their own game."
Your second free report is called "The 5G Profit Kings: Banking 1,000% on These Three Cell Tower Titans." Inside, you'll find my top three picks for exploiting the 5G revolution — for extreme profits.
You may as well at least take a peek at both of them.
These special reports are yours absolutely FREE — simply for agreeing to take Bull and Bust Report for a test-drive today.
Each has a list price of $47.95, so you've already scored a major bargain by getting them FREE today.
Better yet, you can keep them both, with my compliments, even if you decide later on that membership is not for you after all.
Still on the Fence? Finally, FINALLY... My Six-Month "Every-Penny-Back" Guarantee
Let me make it a no-brainer...
I'll give you valuable insurance in the form of my six-month every-penny-back guarantee.
Take SIX MONTHS to test-drive Bull and Bust Report... to kick the tires and make sure you like what you see.
If after a full six months I haven't helped you boost your family's fortunes and provided a comfortable cushion for retirement...
Simply give us a call, and I'll ensure you are refunded every penny of your subscription.
Right then and there. No ifs, ands, or buts.
Of course, I fully expect you will have the chance to become UP TO $150,000 RICHER thanks in part to the four MVPs that are dominating the digital payments revolution...
The bottom line is that Tap & Go can make you fabulously WEALTHY.
That's a fact. I have ZERO doubt about it.
But you'll need to go about it wisely... and act fast.
Rest assured, you have six months risk-free to make a final decision.
It rarely happens that a reader cancels, but I'm giving you that choice.
Because it's the right thing to do.
I want you to know I'm 100% committed to making you PERMANENTLY RICHER — beginning right now.
So can I rush you your two free intelligence briefings right now?
The first thing you should do is set aside 15 minutes...
Find a quiet place...
And soak in all the exciting details of "The Four MVPs of the Tap-&-Go Revolution."
We're on the brink of something big.
I don't think you'll EVER have another chance to get a piece of a $100 trillion market at such incredibly low stock prices.
Remember, the last time a technology supergroup took the market by storm...
Amazon stock zoomed up more than 2,605%...
Apple rocketed up by 1,114%...
And Netflix shares exploded by 2,810%.
I predict it's about to happen again, and SOON, with the "New FAANG" stocks I'm recommending today.
The time for talk is over. Now it's time for action.
This is Christian DeHaemer, signing off.
Next time I talk to you, I hope you will be a member in good standing.
Just click on the button below, and you'll be taken to a 100%-secure order form where you can review everything one last time.
Yours in profits,

Christian DeHaemer
Investment Director, Bull and Bust Report

P.S. Everyone watching today deserves a nice reward. Grab my TWO "tech breakout" special reports while they're available. They're absolutely FREE when you accept a six-month risk-free trial to Bull and Bust Report.
The first tells you how to access "kickbacks" as the Tap-& Go Revolution sweeps across America... and the second details my top three picks for becoming incredibly wealthy as a "landlord" in the 5G rollout.
What are you waiting for? Do it now.