The U.S. Government Just Printed $2.2 Trillion in "Stimulus" Money, Paving the Way for America's Newest Round Of:
"Bailout Millionaires"
The last time this happened, a tiny sliver of the stock market roared, minting millionaires in short order...
America's top trading vet Chris DeHaemer showed a small circle of folks how to bank 3,000% from just a single trade in this market corner...
Today, he's releasing a new round of "bailout millionaire" picks to help you score quadruple-digit gains from this historic event...
Dear Reader,
President Trump just approved a $2 trillion stimulus package to "bail out" the economy from the pandemic.
And that's just the start...
As Americans cash "stimulus" checks of $1,200 from Uncle Sam...
One corner of the market is set to create a new round of millionaires, perhaps faster than anything we've ever seen before.
In fact, an eerily similar event happened back in 2009, when the federal government spent trillions to "bail out" America during the global financial crisis.
One overlooked sector of the market SPIKED... throwing off HUGE winners like 6,694%... 8,729%... and 23,673%.
Minting millionaires in the process.
Most people weren't paying any attention to it.
But the folks that did had the chance to capture massive gains within a very short timeframe.
And now, it's set to happen AGAIN. It's already starting.
In fact, with the government flooding the market with trillions of dollars, it's all but GUARANTEED.
A new wave of "bailout millionaires" is set to rise from the ashes of this coronavirus crisis.
And this time around, YOU could be one of them.
I'm talking about the opportunity to rake in quadruple-digit gains in the next 12 months.
Because the last time this money-making phenomenon occurred in 2009, in the aftermath of the historic banking crisis...
I recommended three stocks from this ONE overlooked corner of the market for my readers to buy.
The first stock went up 351%...
The second stock jumped 354%...
And third stock launched a whopping 3,000%.
If you had put just $5,000 into each of those three trades, you could've made an incredible $190,250.
Just think about everything you could do with those profits you could buy a foreign sports car, pay for a wedding, pay off your house, and put your kids or grandkids through college.
And this time around, with trillions of "stimulus" dollars flooding into the economy, the profits stand to be MUCH bigger.
Already, we're looking at a $4 trillion deficit, for this year.
Add another $3 trillion in borrowing — as House Democrats are proposing — to get us through the Christmas season, and we could be looking at $7 trillion in extra money printing. This year alone.
And then there's 2021.
"While the economic response has been both timely and appropriately large, it may not be the final chapter," says Federal Reserve Chairman Jerome Powell.
We've "printed" trillions of dollars out of thin air to "bail out" the economy, prop up bankrupt companies, and fund entitlement programs that are no longer sustainable.
Today, we're racking up so much debt that anytime you read a statistic about it online or in the newspaper, it's already out of date.
And we have no hope of ever being in the black again without some kind of Orwellian intervention.
The Federal Reserve has made it abundantly clear that it's willing to print as much money as possible to reduce the severity of the coronavirus crisis.
But this is pure madness!
We'll have real negative interest rates and massive currency depreciation as far as the eye can see, an environment that could drive gold to record heights over the next few years.
That's why you absolutely must own gold and high-quality gold investments.
As Business Insider says:
Gold spikes to a nearly seven-year high as investors flee to safety amid coronavirus worries.
And it's only going higher.
How high?
Bank of America says that gold will hit $3,000 over the next 18 months.
But as you're about to see, the coronavirus isn't the only force that is launching the price of gold to dizzying heights.
There are three massive triggers in play here — any one of which could send gold to new heights.
I've shown my readers how to profit from this exact setup before...
I recommended buying gold stocks back in 2009 on the heels of the financial crisis.
At the time, they were completely unloved. And most people wouldn't touch them.
But I told my readers to build a grubstake in three junior gold stocks...
The price of gold began to take off.
And each stock that I recommended started to climb higher and higher.
Entree Gold popped for a 351% gain...
Nevsun Resources bolted for 354%...
Allied Nevada Gold Corp jumped a whopping 3,000%...
That's a total of 3,705% gains... from just three trades.
My readers had the chance to bank life-changing profits.
And now a similar setup for exploding gold stocks is happening again. But this time, the gains stand to be much bigger and faster.
How do I know?
Hi. My Name Is Chris DeHaemer.
And I'm NOT a gold bug. I don't bury it in my backyard.
As world-famous investor Paul Tudor Jones recently said, "[Gold] is just an asset that has its time and place. And that time is now."
See, my goal is to make my readers money wherever I can, finding the best possible reward with the least downside risk.
For the last 20 years, I have flown all over the world, following up on investing ideas for my readers.
From Cuba to the Middle East, Africa to Mongolia, there's no distance too far or idea too contrarian for me. If I think my readers might be able to make some money with it, I'm on it!
And you should know, I am an avid contrarian. I don't care what the pundits on CNBC or Fox Business are saying.
They're not finding returns like 759% on an oil stock, I recommended to my readers after the trip to Mongolia.
Or, after a trip to Kenya, my readers could have potentially banked 318%, 105%, 117%, and 411% on four different positions.
Just imagine, what you'll be able to do as gold and silver continue to run up...
This is one of those times when people get rich! You can sit it out, or you can jump aboard the money train...
It's up to you.
Hi-Crush Partners — 155% gains.
Plug Power — 502% gains.
Africa Oil — 411% gains.
Cove Energy — 117% gains
Weyerhaeuser Company — 85% in four trading days.
Petro Matad — Sold half for 759% gains in 10 months.
GigaMedia Limited — 1,150% gains.
Palm Resources — 515% gains.
.Unilife — 251% gain in five weeks
And my office gets letters from readers all the time, who brag about how much money they've made with my suggestions.
They say:
Up $21,000 in less than a week! Keep the very, very good recommendations coming!
— Rachel J.
Dear Hammer, I'm up about $50,000 in one year on your recommendations... Once again thanks.
— Steve S.
I made a total profit of $97,500. That was the biggest profit I have ever made. Thank you very much for the great work you have done.
— Jennifer P.
I retired on one stock Chris recommended.
— Mark R.
But nothing, I've brought any of my readers is as exciting or as well-timed as this explosive new bull market in gold.
I think we could easily see a gold jump to as much as $5,000 per ounce very quickly.
Some indications suggest it could be as much as $10,000, $20,000, or even an unbelievable $65,000/ounces — if Bloomberg Business is correct!
To take advantage of this once-in-a-lifetime opportunity in gold...
I've created a special situation report that covers all of this in explicit detail, including exactly how you can start investing right away.
It's called, "Three Gold Stocks That Could Make You a 'Bailout Millionaire.'"
In the report, I detail how to safely and easily leverage a gold run-up without taking any undue risks with your money.
In just a moment, I'm going to reveal to you how you can get a free copy of my report BEFORE it is available to the general public.
But first, I want you to understand why I predict a huge spike in the price of gold in the next 12 to 18 months.
Trigger #1: The Largest Stimulus Plan in History
Congress passed a $2.2 trillion "bailout" package. The biggest EVER in history. Bigger than the 2008 banking "bailout" and 2009 recovery act, combined. Of course, with $23.5 trillion in debt, our government doesn't have the money to pay for all this. But that's not a problem for the Federal Reserve. After cutting rates to 0%, it quickly opened the door to unlimited quantitative easing and is now "printing" $125 billion a day!"
And the U.S isn't the only one trying to "stimulate" themselves out of this mess. Governments around the world are spending trillions to rescue their countries from the pandemic's devastating effects. As governments destroy the value of their currencies, it only makes gold more and more attractive.
Trigger #2: Negative Interest Rates
For the first time, negative-yielding government debt has risen above the $15 trillion mark.
MarketWatch says, "This is ultimately an admission of defeat, as a traditional means of bringing excessive debt under control have failed."
The trillions from portfolio managers, pension funds, and insurers looking for a return will drive gold to all-time highs.
As more and more countries move to negative interest rates, those who look to gold for safety are doing so as fast as they can. Even investors, who typically avoid gold are turning to the precious metal for protection. Which brings me to:
Trigger #3: China and Russia's MASSIVE Buying Spree
Central banks all over the world are ditching American dollars for gold. They are stacking gold in their vaults by the pallet. China and Russia are buying gold because they both want to have a hedge against their U.S. dollar holdings. They know the dollar is all but done, and when it collapses, they want gold to ensure they are insulated from the crash. China has increased its gold supply by 210% over the past decade. And Russia has quietly boosted its supply 388% since 2006, becoming the world's largest buyer of gold.
Here's the thing...
When the market is in chaos and the economic outlook is bleak, investors find a safe-haven in gold.
But, today's economic conditions are unprecedented.
Any one of these three triggers could skyrocket the price of gold.
And if more than one trigger explodes, we could see prices running up $100, $200... even $500 a day!
Today, in 2020, I believe we are at the start of one of the most incredible gold bull markets we will see in our lifetimes - even bigger than the previous ones.
As world governments blunder into negative interest rates and currency debasements, gold will likely double... triple... even quadruple in value.
This year alone, gold has been one of the world's best performing assets. It's up more than 29%. But, few investors are interested.
And this is exactly how gold bull markets begin, while no one is paying attention. By getting in now, all the biggest returns are still well in front of you.
This is why I own physical gold...
And it's why I believe a handful of carefully selected gold stocks could massively amplify the returns you make in gold... including the three incredible opportunities that I have for you today.
As you probably know, junior gold stocks can soar during a gold bull market.
If we're going to see the kind of gold bull market like I believe we are, investing even a small portion of your portfolio in these stocks could help to ensure you live a comfortable and carefree retirement.
It could help you achieve a "bailout millionaire" status in short order.
These stocks could simply explode.
Remember, the price of gold more than doubled in the years after the 2008 financial crisis...
Better still, the three best-performing gold stocks shot up as much as 6,694% (Golden Road Resources), 8,729% (Regis Resources), and 23,673% (Northern Star Resources).
Just $1,000 into each would've made you as much as $67,940, $88,290, and $237,730 respectively.
Not only are those gains unlike anything most investors pocket in their lifetimes, but you have a very real chance to pocket them starting now.
During gold's last bull run from 2009 to 2011, I led my readers to gains of 351%, 354%, and even 3,000%.
But this time around, I expect to dwarf those gains.
Because this could be the most profitable bull market this sector has ever seen.
What does this mean for you?
Well, it means getting in at the start of a multi-year bull run that stands to produce some of the easiest profits you'll ever see in your life.
The U.S. economy is in shambles and the dollar is not to be trusted...
And precious metals will be the safe-haven everyone flees to.
In order to take advantage of the move, you can buy physical gold. That will pay off for you, but it's not the way to get rich!
If you want to leverage the coming gold run-up by 300% or more, you need to find a place to leverage your investments.
And with gold, you can easily do exactly that without any risky options or crazy margin buying. I've explained exactly how to do just that in my new report:
"Three Gold Stocks That Could Make You a 'Bailout Millionaire.'"
I would like to send you a copy of the report FREE of charge.
I'll give you a sneak preview right now.
You see, when gold prices run-up, gold miners can leverage that run-up by substantial multiples.
The reason is pretty clear: each dollar over cost the miner can sell gold for is pure profit.
So, if it costs a miner $1,000/ounces to pull gold out of the ground and it can sell it for $1,200/ounces, it makes $200/ounces in profit.
If the price of gold goes to $1,400/ounces, the miner's profits go up 100%!
What do you think a 100% jump in profits would do for the share price of a stock? 50% bump? 100%?
Sure, the investor holding physical gold made 16%, but as it says in Entrepreneur Magazine, "Profit is the only number that matters."
You Have to Buy the Right Miners!
Just like any investment, you can't just go buying up miners willy-nilly and expect to make a profit.
You have to be more strategic. You have to understand the mining operations, the management, the balance sheet, and cash flows.
How much debt does the miner have?
How much gold does it have on the ground?
How much will it cost to pull the gold out of the ground?
How long will it take to start mining the gold?
How experienced is its management team?
How strong are the miner's financials?
If you just start buying up gold miners, you'll win some and lose some. At the end of the day, your returns will reflect that.
In my report, "Three Gold Stocks That Could Make You a Bailout Millionaire,'" I get into the nitty-gritty of my favorite three miners, and why I expect them to see a meteoric rise in the stock price as gold starts the bull run of a lifetime.
You can get a FREE copy just for trying out Christian DeHaemer's Bull and Bust Report.
My readers have had the chance to experience gains like:
Royal Gold — 151%
First Majestic Silver — 201%.
Endeavour Silver — 242%.
Bitcoin — 2,479%.
Ethereum — 1,040% in just seven months.
Axxon Enterprise — 110%.
Golden Minerals — 94%.
And many, many more...
These are the kind of ideas that have generated millions of dollars in profits for me...
And my friends, family, and just about everybody else around me because I'm passionate about sharing the gains I'm making myself with others.
My point is, scouring the world for great business and investment opportunities, and sharing them with a group of like-minded folks is what I love to do.
So if you're interested, I urge you to get in now.
Normally, a year subscription to my Bull and Bust Report would run you just $199, and it would be worth every dollar!
That said, the opportunity with gold and the importance of protecting yourself against the coming financial crash is so critical that I have persuaded my publisher to slash the price by $100 to just $99 for an entire year's subscription.
That means you get:
12 monthly issues of Bull and Bust Report: Each month, I will explain where to put your money for the greatest upside with the least downside risk. Like the investments I've made and recommended throughout my career, these investments will give you the opportunity to make 100% gains... 500% gains... even 1,000% gains, in companies as I've recommended in the past. I will help you grab a share of that wealth no matter what's happening in the stock market!
Regular portfolio updates: You'll never be out in the cold when you follow one of my recommendations. My staff and I keep up on each and every stock I recommend and let you know when to keep buying, when to hold, and when to take your outrageous profits.
Email alerts: When there is a critical development in the market that requires your immediate attention, you will receive an email alert with all of the information you need to exploit it. Whether it's an immediate sell, a chance to buy into a position at a ridiculously low price, or anything else... you will have the information in your email inbox within seconds of us sending it out. You can rest assured you'll never miss a chance to profit or protect your position by reading emails I send you.
Readily available customer support staff: If you need anything from us, anything at all, our trained customer support staff is available to you from 9:30 a.m. to 4:30 p.m. EST. While our support staff can never give personalized investment advice, I want to assure you that you will be speaking with trained professionals when you call. You can rely on us to help you, step-by-step, to get the most out of your subscription to my Bull and Bust Report.
A free copy of "Three Gold Stocks That Could Make You a 'Bailout Millionaire'": In this report, I explain how you can leverage the coming run-up in gold without using any risky futures contracts, options, or margin debt. People who follow my recommendations in this report could easily make 300%+ more profits than by just owning gold. I explained earlier exactly how I do this by using gold miner stocks to leverage increases in gold prices. However, it's critical for you to buy the right mining stocks. In this report, I offer my three favorite gold miners, explain exactly why they are my favorite, and give you buy and sell price recommendations you can take to the bank!
If that were the end of it, it could be worth 10 times the regular subscription rate of $199.
But, because I believe this information is critical for you to have right now, I have convinced my publisher to give you over 50% off the regular subscription price.
On top of that, I am also going to help you make HUGE gains with gold's little brother...
Silver!
Silver is an overlooked metal. However, if history is any indicator, it is about to jump by as much as 400% or more.
You see, in June 2003, the silver-to-gold ratio hit 79.01-to-1.
That same month, silver started a bull run that lasted until February of 2008. The price of silver started at $5.82 and ended its bull run 377% higher, at $21.97.
In November 2008, the gold-to-silver ratio hit 80.48-to-1 and started a bull run that took investors from $11.29 an ounce to $51.33 an ounce in April 2011.
That was a 454% return, which is impressive. However, sharp investors who knew where to invest could have reaped a massive 1,200% return in AG.
In October 2019, the gold-to-silver ratio hit 83.8-to-1, and silver prices have more than doubled since then.
The opportunity to leverage the next silver run-up is so big that I have decided to include a second report with your membership to Bull and Bust Report.
You'll get a copy of "80-to-1: The Magical Silver Profit Ratio," for just trying Christian DeHaemer's Bull and Bust Report...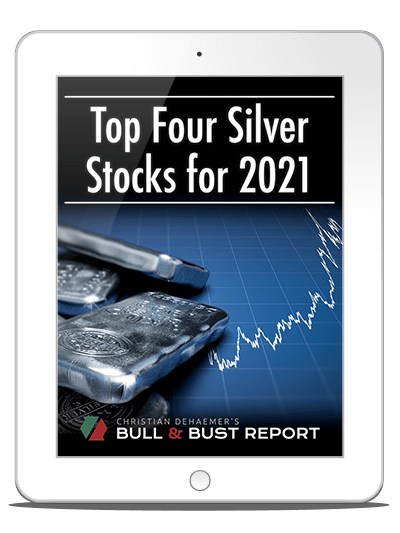 And you get it all for 62% off the normal subscription rate.
Again, you'll get everything:
12 monthly issues of Bull and Bust Report with the most exciting plays today, delivered each and every month.
Complete portfolio monitoring with the buy, sell, and hold updates.
Flash alerts to notify you of important and time-sensitive information you need to know to maximize profits.
Access to our professional customer service staff to help with anything you need during all market hours.
A free copy of "Three Gold Stocks That Could Make You a 'Bailout Millionaire,'" which gives you my three favorite gold mining stocks that will leverage your gold profits 10 times, 20 times... even as much as 50 times the run-up in gold.
A FREE copy of "80-to-1: The Magical Silver Profit Ratio." In this report, you'll discover the best way to invest in the bull market in silver, just set off in October 2019 by an 80-to-1 gold-to-silver ratio. The last two bull rides this ratio set off lasted four years, eight months and two years, five months respectively, so there is plenty of time to jump on this bull. If history is any indicator, investors could profit as much as 1,300% or more... Do NOT miss this run!
And you get it all for the unbelievable price of just $99.
On top of that, I'll do something unheard of...
I'll Guarantee Your Profits!
No one can guarantee you make money on an investment. It would be illegal and unethical for me to do so.
However, I will give you a full six months to test and invest based on my recommendations.
If you don't make money with the timely commodity plays, I show you in the included FREE reports and with the cutting-edge plays I will deliver to you each and every month via the Bull and Bust Report newsletter...
Simply send a quick email or give our professional customer service staff a quick call, and we will cheerfully refund every single penny of your subscription fee.
I always say the proof of the pudding is in the eating, and if you don't agree that this is the best $99 you've ever invested, I don't want to keep your money.
Keep in mind, during the refund period, you will have access to everything. You'll gain access to the reports immediately, you'll get each and every flash alert, all of the monthly issues, and you'll have access to our customer service line.
And if you decide to cancel, which I am sure you won't, you get to keep everything as my way of saying thank you for giving me a shot.
I can do this because, frankly, people very rarely take me up on the offer for a refund.
I Can't Keep This Offer Around Forever...
The market is volatile. You know that.
Silver and gold are already starting to move...
What happens if one of the triggers I mentioned goes off and gold starts climbing $20 to $50, or more a day?
The simple fact of the matter is...
There comes a time when I won't be able to offer the same kinds of profits I see for you right now.
When that time comes, you'll be locked out.
And that time could be here any day. When one of those triggers goes off, the result will be fast and dramatic.
There won't be time to get in at that point... you need to be in and prepared BEFORE any triggers go off.
You have a full month guarantee, so you truly have nothing to lose.
What's far more likely is that you'll win and win big!!!
So go ahead and subscribe now, while you have the chance to climb on the gold and silver bull and achieve "bailout millionaire" status!
Good Investing,

Christian DeHaemer
Investment Director, Bull and Bust Report