Forget Batteries, Solar, and Renewables...
America's Next Energy Revolution Will Be Powered by "TriFuel-238"
Discover the "Quantum Leap" technology that could hand early investors an exceptional windfall of as much as 46,018%
Dear Reader,
Never before has a world-changing scientific discovery been met with so much silence.
At a secure facility on the outskirts of Virginia...
Seven white-jacket analysts and sharply dressed Economics MBAs stood frozen, at a loss for words.
Numbers flashed across a screen. And what they revealed plunged the entire room into disbelief...
Because for the first time in human history, real renewable energy was now available — cheaper than a cup of coffee from a rest stop.
All thanks to an ugly, contorted metal rod...
Now poised to ignite an energy revolution around the world.
It's not solar, wind, or anything else that needs Mother Nature to function...
Or anything like the scarce coal, oil, or gas we rely on today.
Instead, it's a groundbreaking invention that has the potential to power us for years on end.
A breakthrough piece of technology — set to claim the lion's share of a gigantic $1.9 trillion opportunity...
And hand investors what could be a once-in-a-lifetime windfall of as much as 46,018% in the years to come.
All Because a Single Ounce of this
"Contorted Metal Fuel"...
Could Power Your Home for a Year!
The immense power it holds is hard to grasp.
A rod of this "twisted" fuel no bigger than 35 nickels could power your entire home for 15 years...
A stack of this fuel as big as 105 nickels contains enough of an "electric kick" to power your home for LIFE!
And a foot-high pile of this mind-blowing substance, enough to cover a baseball mound...
Could power EVERYTHING in San Francisco.
Homes. Businesses. Hospitals. Schools. The whole deal.
A 47-foot pile could fuel all of California...
And every home in America could be powered by an amount of what I call "TriFuel-238" that would fit on this small river barge... with room to spare!
The power "TriFuel-238" holds is nothing short of incredible.
A single pound of this twisted fuel could propel your car for almost seven years...
Keep a Ford F-150 pickup running for 249,180 miles...
Get you from coast to coast on roughly 0.4 ounces... from D.C. to Beijing on just 0.6 ounces more...
And Circle the World
10 TIMES OVER

on Just Over 2 Pounds of Fuel!

But this is just the tip of the iceberg...

"TriFuel-238" could generate power for the cars of the future...

Run entire gigafactories and fuel-chugging steel plants all on its own.

It could power military bases for weeks... sail transport ships around the world...

Lift billions out of poverty and empower even the most remote communities that live miles from conventional power.

Forget Musk and his "Powerwall" batteries... and Mark Zuckerberg investing billions in new energy sources.

This is going to blow their bets clean out of the water!

And it has nothing to do with wind, solar, or any renewables.

It's not some "new oil," liquid gas, diamond battery, or hydrogen fuel cell...

Or practically any other technology you're hearing about right now!

"TriFuel-238" is something radically different.

And no other fuel comes close.

"TriFuel-238" is 40,835 times more powerful than natural gas...

It's 67,389 times more potent than gasoline...

And it packs a punch that hits 78,171 times harder than coal.

But "TriFuel-238's" immense power isn't really the "big deal."

The fact is this isn't an energy story — it's a breathtaking TECHNOLOGICAL advancement.

And thanks to the scientists I mentioned earlier — and their work on this incredible technological achievement...
"TriFuel-238" Is About to Undercut Every Other Form of Energy on the Planet...
Wind, Solar... and Even Traditional Nuclear, Oil, Gas, and Coal!
I'm not just talking about this fuel in its raw form either...
According to numbers from the U.S. Energy Information Administration...
After sourcing, building, and labor... after all costs are factored in...
"TriFuel-238" comes out king — the cheapest of them all!
It beats the competition bloody — while being completely emission-free.
And with President Biden setting goals to achieve a "carbon pollution-free electricity sector by 2035"...
Plus earmarking $40 billion to push clean energy...
My research points to "TriFuel-238" becoming the world's go-to energy solution...
And the demand for this incredible fuel being out of this world.
Because its rock-bottom energy cost will see energy corporations save billions — and their bottom lines erupt!
And for the tiny, 13-man operation that's behind this revelation...
Which is lining up deals for this patented technology as we speak...
Just a crumb of the eventual demand I expect it could soon generate...
Has the potential to see its currently dirt-cheap stock price explode!
So it's no wonder Nobel Prize-nominated investor David White calls it...
"A game-changing technological advancement."
Because it's about to completely rewrite the global "energy generation" rules!
So it's no surprise...
A Horde of
America's Most Prestigious Hedge Funds

Are Silently Loading up on Shares of This Tiny Tech Company's Stock!

I'm talking about the likes of Rockefeller Capital Management...

Morgan Stanley and Merrill Lynch...

Bank of America... and even the $6.2 trillion Vanguard Group!

Who have all greedily snapped up hundreds of thousands of shares while prices are low.

And they're joined by trading legend Jim Simons...
Someone Bloomberg states has no equal: "[Not] Warren Buffett, George Soros, Peter Lynch..."
A god amongst investors.
And now this stock-picking genius is one of the mega-money investors going in on this barely known energy-tech stock.
Of course...
This has all unfolded while you've been kept in the dark.
But today that changes for good.
As I reveal every juicy little detail behind the coming "TriFuel-238" revolution:
I'll break down the masterpiece engineering breakthrough that made it all possible...
Reveal the colossal $48.78 billion cash-grab opportunity that lies before the ingenious company behind this wonder fuel...
And show you how to grab all the urgent details on its bargain stock.
Look, I truly believe what's about to unfold here could hand you the investment opportunity of a lifetime.
In fact, I've never been so certain in my life.
Because...
This 13-Man Operation Now Sits at the
Heart of the Incredible $1.9 Trillion Energy Revolution That Has the Who's Who of Investing on High Alert.
I'm talking about world-renowned billionaires like Jeff Bezos...
Titans of industry like Bill Gates...
Legendary investors like Ray Dalio...
And super-entrepreneurs like Jack Ma...
Who've all invested at least $2 billion of their own money to get in on this energy race...
Alongside the largest investment firm on the planet — BlackRock Inc., with $8.67 TRILLION in assets under management.
And it's not just private investors. Governments worldwide are getting in early...
With the U.K, South Korea, Russia, and China already ponying up a combined total of over $149 billion to get ahead in this "energy revolution."
Even the "princes of oil" themselves see the writing is on the wall...
As the Saudis and United Arab Emirates unload a staggering combined $100 billion to stay ahead.
The rest of the world is racing to invest, and it's crystal clear the time to invest is now.
All told, what I'm about to reveal to you is a colossal $1.9 trillion "all-in" opportunity for America...
Which explains why the U.S. government has raced to pass legislation to guarantee America stays ahead of the game.
In fact...
Former President Trump's "Final Act" Was to
Ensure

This Kind of Technology

Succeeds.
On January 5, 2021, just days before his tenure was over...
Then-President Trump signed Executive Order 13972...
Which placed "TriFuel-238" at the heart of ensuring the "national security, energy security, and economic prosperity of the United States."
And even in these times, when Republicans and Democrats are at each other's throats over just about everything...
President Biden has committed to making this executive order a mainstay of his administration too.
In fact, the Department of Defense and the Pentagon are already funneling resources into this red-hot energy sector.
And after rewriting U.S. Public Law 109-58...
The Government Is Now Unloading an Incredible
$775 Million per Year

Into Operations Like "TriFuel-238's."

And the "smart money" knows when the government piles in, just a handful of stocks can hand you an investment home run.

Just take a look at the solar energy sector.

After the U.S. government funneled as much as $770 million into solar companies in 2016...

SolarEdge's stock went on a nearly unstoppable run.

And had you gotten in early, you could have banked amazing 2,658% gains off of SolarEdge stock.
Enough to turn $1,000 into a $27,580 one-stock windfall.
It's a similar story for Sunrun too.
Had you jumped in early, after the U.S. government unloaded another $460 million into solar energy...
You could have raked in another 1,981% in gains.
Enough to turn $5,000 into $104,050.
And then there's Enphase Energy...
Had you gotten in on the ground floor and scooped up Enphase Energy stock in 2017 — again, after the government unloaded millions into the solar sector...
You'd have been sitting pretty after the stock soared and made off with life-changing 25,404% gains.
Enough to Turn $1,000 Into a
$255,040 Windfall...
and Snowball a $5,000 Savings Account
Into a $1,275,200 Fortune!
That's the wealth-altering power of getting in early on the right energy tech stocks.
And why I almost busted up my keyboard racing to put together every little detail for you today on this tiny energy tech upstart.
The time to get in is now — while most people haven't even heard of "TriFuel-238" and still have no idea this little company behind it even exists!
Now, will this tiny tech company behind "TriFuel-238" hand out Enphase-level returns?
Naturally, nothing is guaranteed when it comes to investing.
But with the ironclad agreements they already have in place and the U.S. government support that I'm about to show you...
As well as being perfectly positioned to dominate not just U.S. energy production...
But the entire global energy scene...
The writing is on the wall.
"TriFuel-238" will be a force to be reckoned with — it will be recognized around the world.
Because nothing comes anywhere CLOSE to the incredible power it holds.
Not any existing fuel source or hot new energy tech you might be hearing about like hydrogen fuel.
And mark my words: When the media catch on, this ground-floor opportunity you have right in front of you now...
Will all but disappear.
Which is why I don't want to waste another minute.
And why I'm going to reveal everything I've uncovered about this "twisted" fuel...
As well as the genius tech company behind it...
And show you...
How You Can Get Your Hands on Its Little-Known Stock Right Before It Soars...
and Hands You as Much as 74x, 109x, and Even 460x Your Money.
Now, I want to be clear...
Past performance is no guarantee of future success...
But the projections I'm sharing for this stock are WITHOUT any "Green New Deal."
I'm not counting on that bloated "wish list" becoming a reality.
However, with "TriFuel-238" being completely emission-free, it's undeniable...
Should the Green New Deal be passed at any point within the next two years, whether you love it or hate it...
It would be like rocket fuel for this incredible energy technology.
But even without that happening, early investors here could be in for record-breaking returns...
In fact, I've never been so certain of anything in my life.
Because this company's energy tech is so breathtakingly cheap...
You can bet billion-dollar energy companies will be queuing around the block...
Eager to get a hold of this "homegrown" American fuel — the moment it rolls off the factory floor.
So mark my words — "TriFuel-238" is going to become mainstream in the U.S.
Not just in a decade from now...
Or even in five years.
I'm convinced that "TriFuel-238" will start going mainstream in a matter of months!
Because I've uncovered a dirty little secret now hanging over some of the biggest energy companies in America...
A "Silent Energy Crisis" That's Teeing up This Little-Known Tech Company for a Multibillion-Dollar "Take-all" Opportunity.
You see, 23% of America's entire energy supply is now in a desperate situation.
According to a director at the PIRA Energy Group, America's power production is suffering from something known as...
The "Aging Out" Problem
Approximately 74% of all U.S. coal-fired power plants are now at least 30 years old...
Yet the average plant runs for only 40.
And this aging of almost three-quarters of our mainline energy supply...
Could spell the opportunity for a staggering return of as much as 74 times for "TriFuel-238's" early investors as I'll show you shortly.
Last year, 36 coal plants closed their doors...
Leaving the rest of our aging energy network to pick up the slack for 3.6 million families.
By the end of 2021, more than one million American homes will see their coal energy capacity expire.
Over 9.7 million will see it gone by 2025.
And if nothing's done to halt America's accelerating "silent energy crisis"?
67.8 Million American Men, Women, and Children Would Be Left
Helpless Without Power.
That's 1 in Every 2 Family Homes
That's every other neighbor on your street. Every other friend or family member you know.
Of course, right now, natural gas is picking up the slack...
But for how long?
There are not enough gas plants in America to cover a loss this big...
And if you think energy companies will just build new coal or gas power plants, think again.
The U.S. Energy Information Administration has already declared that virtually all new U.S. power plants built in 2021 will be carbon-free!
Meaning no energy company in America is looking to build any new fossil fuel plants.
Plus this isn't something a few solar panels can fix either.
The power that's expiring is baseload power.
Which is another way of saying it's power America NEEDS at all times to function — not just when the sun shines or the wind blows.
So given McKinsey Research reports America's "electricity demand [is set] to double until year 2050"...
You can see how this could all rapidly unfold into a crisis.
Now, the government isn't going to let that happen...
And this, my friend, is where your eyes should start lighting up.
Because the energy companies know that to save America from its "silent" energy crisis...
They'll need to produce a mammoth amount of energy to make up for our dying coal's energy void.
And with the information I've seen... the patents and incredible "dried-ink contracts" I'll soon reveal...
I'd bet my bottom dollar the company behind "TriFuel-238" is about to hit this out of the park...
And turn this crisis into a $7.9 billion-per-year home run!
As its breathtaking technology becomes the next big go-to fuel for these energy companies...
At a Price That, According to the U.S. Energy Information Administration, Is a
Mind-Blowing 49.6% Cheaper

Than Coal!

It's an incredible 17.9% cheaper than natural gas too!
"TriFuel-238" is so powerful and so cheap...
That the same $10 million spent on coal today... that powers roughly 103,179 homes...
Could power an almost unbelievable 4.36 MILLION homes nationwide!
That's an astounding 422 times MORE power from the same amount spent on coal!
And "TriFuel-238" could do it all, for an entire century, while producing ZERO carbon emissions.
Meaning it's not going to die outright when we need it like our crippled coal supply is about to.
So it's a complete no-brainer! It's the cheapest, most efficient way to solve this crisis!
This is why, in a moment, you're going to see hand-signed agreements from four of America's biggest energy corporations...
Which categorically prove how huge "TriFuel-238's" imminent rollout is going to be!
So when "TriFuel-238" takes over for coal...
You're going to want to be in this company's little-known tech stock...
Because this 13-man operation could bank an incredible $7.9 billion per year in royalties — thanks to its sole rights to its fuel!
And for a tiny company making a little over a million in revenue right now, that's an almost-unheard-of 745,238x leap in cash!
Meaning This Tiny 13-Man Operation
Could Be About to Serve Early Investors as Much as 74X Returns!
Turning every $1,000 invested into $74,523...
And every $5,000 into a $372,619 windfall!
And I have to tell you... I'm being conservative here.
The returns here could easily go higher — much higher.
With the exclusive patents this company has over the "TriFuel-238" technology I'm about to reveal...
Covering the U.S., Europe, South Korea, and even China of all places...
Along with its deals with four of America's largest energy companies, which could spark a U.S.-wide "TriFuel-238" rollout at any moment in 2021...
AND global opportunities practically gushing with cash potential...
What's coming down the pike for this tiny company could whip up a stock-buying frenzy...
Sending its per-share price soaring to nosebleed levels of as much as 460x if the stock price moves as much as I expect it to.
I'm talking about enough upside to turn a $3,000 stake today into what could be a staggering $1,380,564 fortune in the coming years.
A "set for life" level of wealth.
How can I be so sure?
Because it's virtually the same story as what happened with wind energy stocks when their turbine energy first started eating into fossil fuel plants.
TPI Composites, a turbine blade manufacturer, jumped 464% in one year as wind power made its early takeover.
Vestas Wind Systems has soared 4,882% since November 2012.
And Broadwind Inc. rocketed a gigantic 34,672%. Those are 346x gains in a little over three years.
That's enough upside to turn a $5,000 stake into over $1.73 million!
And the insanity of it all?
Wind didn't even do a good job!
Wind turbines are, to this day, only available roughly 34% of the time — only when the wind blows.
A University of Chicago study shows wind turbines are making electricity significantly more expensive too!
So when you consider how much cheap, clean, nonstop energy "TriFuel-238" can provide for years on end...
When this wonder fuel hits the mainstream...
Can you imagine how high the stock in this tiny tech company from Virginia could soar?!
My projected rise for "TriFuel-238's" little-known company could make wind stock gains look like pocket change.
But look: These kinds of returns are for those who are prepared to act now, get in on the ground floor, and hold on for the long term.
That's why I'm going to show you how to get your hands on every detail you need to potentially profit off this tiny tech company in Virginia in just a moment.
But before I do that, it's vital I explain a bit more about this massive breakthrough...
So you can understand everything that's about to come.
And to Do That, I Need to Take You Back
to Where This All Began.
Paris, France, May 1896...
Where, in his office, physicist Henri Becquerel sat alone...
When a strange substance, no bigger than his hand, did something peculiar...
Something he had no idea would change the world.
During an experiment, Becquerel watched as an old photo plate behaved like a picture had been taken...
Like the old film negatives that were made into old photographs...
But in Becquerel's case... there wasn't a camera around.
To his surprise, he discovered this bizarre material was "energetically active" — without a single source of power — and he didn't waste a moment letting the world know.
From that day onward, a global frenzy to unlock that compound's incredible potential ensued.
This takes us to 1939, before the chaos of the Second World War...
As scientist Frédéric Joliot-Curie penned a letter to his Soviet colleague Abram Ioffe...
Detailing a scientific revelation.
He knew how to harness this strange substance... how to tame its incredible power.
He laid out the plans for a power-generating machine that could alter the world forever...
And it spread like wildfire — even as far as Chicago...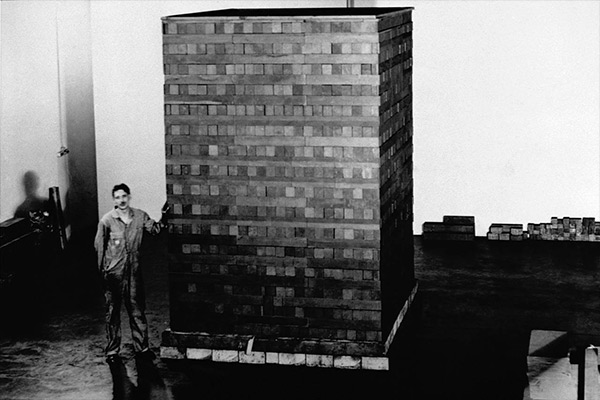 Where it's now 1942.
Enrico Fermi, inspired by Curie's plan, developed the first energy-producing machine — fueled by this strange substance.
And the world was left stunned.
Energy was unleashed like magic from a standing block the size of two men, all without ever burning fuel.
There was nothing like this anywhere else in the world — and investment soon followed.
Research accelerated, and by June 27, 1954, the world's first commercial power plants driven by this incredible fuel came online.
First in Asia...
Then in the United Kingdom in October 1956...
And America followed in 1957.
The energy was consistent and reliable. It lasted for years on end.
It Was Like Humanity Had Almost Ushered
in a "New Age" of Energy
But then it practically vanished overnight.
As cheap coal grew and oil production doubled... this incredible fuel was forced out of the picture.
It simply couldn't compete on cost...
Companies and nations once interested in this incredible fuel chose to spin up coal and oil plants — for pennies on the dollar.
Investment slowly fell...
And advancements in this incredible technology were relegated to research labs and pages in Ph.D. papers...
That is...
Until now.
Today, "TriFuel-238" Is Set to Bring This "Forgotten Fuel" Back Into the Limelight...
Placing the tiny Virginia company behind it front and center on the world stage.
And when I reveal what "TriFuel-238" is... frankly you're going to find it hard to believe.
In fact, you might not think this is real.
But after you see the live test data...
The astonishing technological breakthrough making this possible...
And the landmark deals that show major energy companies are already turning to "TriFuel-238" in droves...
You'll be as convinced as I am that the company behind "TriFuel-238" is destined for the annals of history — and that investors who pass up this opportunity are foolish.
See, what I've described to you today can be summed up as...
The "next generation" of nuclear fuel.
Now, don't mistake this for the nuclear energy of the past.
"TriFuel-238" couldn't be further from it.
Yes, it creates abundant energy around the clock...
But as you've seen today, it's 42.9% cheaper than coal... over 40,835 times more powerful than natural gas...
And most importantly — thanks to this breakthrough — it's now one of the safest forms of energy on the planet.
As safe as solar, hydropower, or wind.
All thanks to the fact that "TriFuel-238" runs an incredible 1,632 °F cooler than old nuclear fuel!
That's 420 °F cooler than a coal plant and as much as 1,872 °F colder than a natural gas plant.
Plus, thanks to the fact that "TriFuel-238" can cool down to room temperature in only 50 seconds, a complete reactor failure is now nearly impossible.
The truth is with "TriFuel-238" now available... old safety worries could become a thing of the past.
The fears people once associated with nuclear fuel would no longer hold true.
So combined with the incredible deals this company is racing to line up — deals I'll reveal to you soon...
This 13-man tech operation is setting up a "grand-slam" opportunity for early investors.
Something that if you miss, I believe you may regret for the rest of your days.
So let me quickly explain "TriFuel-238's" incredible energy breakthrough that makes this new fuel as powerful as it is.
Before I show you where the real money — and your potential profit windfall — is going to be made.
And It All Starts With This Obscure Black-and-White Photo Right Here
What you're looking at is an image of a "TriFuel-238" rod if you had sliced it in two.
As you can see, there are three unique layers — black, white-black, and gray...
And it's this aspect of "TriFuel-238" that literally makes all the difference in the world.
You see, old nuclear fuel looks like this...
Fragile jet-black pellets, no bigger than your fingernail...
Each painstakingly loaded into 13-foot, hollow metal rods...
Which are then assembled into a housing about the size of a huge fire log...
A normal nuclear reactor takes 193 of these fuel assemblies, containing millions of fuel pellets...
And since the dawn of nuclear energy, this has been the "de facto standard."
But the reason we've used coal and gas instead of this "old" form of nuclear energy is simple...
It's expensive!
Because...
The Industry Has Struggled to Overcome This Simple yet Fundamental Problem
Q = ṁh (Tout - Tin)59
It all comes down to this equation.
Now, don't worry.
You don't need to have a degree in mathematics or even grasp this equation at all.
All you need to understand is that "Q" is the amount of energy produced by the nuclear fuel in a reactor.
And all the figures to the right are the components that lead to the energy output.
For the Last 79 Years, Since the First Reactors Came Online, Scientists Have Tried to
Increase "Q" by Making Everything Hotter — Much Hotter
But the problem is, because of this fundamental thermodynamic equation...
Their search for more energy quickly hit a wall.
You see, when things get too hot, the reactors hit their safe limit.
At which point the entire old nuclear reactor shuts down and no energy is produced.
This is why progress has all but stopped with old nuclear energy.
Because old nuclear hasn't been able to make more power without just "getting bigger" and investing billions in reactors.
So no one could afford it, especially since coal and gas were cheap...
That is... until now.
It Wasn't Until One Tiny Company Looked at This Fundamental Equation...
And Did Something Nobody Else Had Ever Done
It jacked up "h" in that equation I showed you...
By altering the nuclear fuel fundamentally — on a molecular level.
And as you might remember from your old algebra lessons...
When something changes on one side of the equation, the other side follows too.
And in this case, when this tiny company boosted "h," the "heat transfer coefficient"...
Which is a complex way of saying how much energy is released from every inch of the fuel...
It sent Q — the energy output of a nuclear plant — through the roof!
This company's radical shift from old nuclear fuel is its landmark energy breakthrough...
And it's what crowns "TriFuel-238" the most powerful form of fuel in the world.
A straight swap to "TriFuel-238" could see nuclear reactor power in almost every home in Baltimore...
AND the simple switch could see these reactor owners generate as much as $144 million more in revenue per year.
PLUS — independent tests by Siemens' leading energy researchers have categorically proven "TriFuel-238" is cheaper than oil, natural gas, and coal.
It even beats wind and solar too — making "TriFuel-238's" "next-generation" nuclear THE cheapest form of energy on the planet.
Which Is Why This Little-Known Company Already Has a Potential $11.59 Billion in Deals!
Exelon is an energy behemoth in 48 different states and the largest nuclear operator in the U.S.
A switch over to "TriFuel-238" would make its costs plummet by roughly 46%...
Banking it as much as $8.58 billion in extra cash every single year.
And that's exactly why this nuclear behemoth has raced to partner with the company behind "TriFuel-238."
For "TriFuel-238's" founders, though...
Exelon's easy switch here could spell an incredible $1.73 billion per year in business.
An amount of cash that could propel "TriFuel-238's" tiny company skyward!
Exactly how high? I'll show you in just a moment.
Because Exelon isn't the only deal "TriFuel-238's" tech company now has in its sights.
The Company Behind "TriFuel-238" Has Also Partnered With Southern Company...
A Fortune 500 Energy Titan With
9 Million Customers
And Southern has seven colossal coal plants that are getting older every single day.
But get this...
Aging power plants like these can actually be "retrofitted" for "TriFuel-238"...
Meaning they don't need to build new plants...
Any old coal plant can generate power from "TriFuel-238" with a simple upgrade.
Does Southern know this? You can bet on it...
Because in their own words, these energy giants are doing everything they can to "prepare for [the] introduction of ["TriFuel-238"]..."
They're gunning to get the inside track on "TriFuel-238."
Because if they play it smart and retrofit their aging coal plants for this revolutionary nuclear fuel...
Southern could save itself a fortune like Exelon...
And see the geniuses behind "TriFuel-238" pocket a further $590 million per year!
Plus, it has six nuclear sites...
Which could all be switched over to "TriFuel-238."
Add on the money Southern Company could keep from easily switching its nuclear fleet to "TriFuel-238"...
And that's a total of $2.62 billion more in potential yearly revenue for "TriFuel-238's" tech founders courtesy of Southern!
But that's not all.
Two More Energy Giants Have Inked Partnership Deals With the Firm Behind "TriFuel-238"
And they operate 15 nuclear reactors combined.
Meaning the obvious switch to "TriFuel-238" could save them a fortune... and add as much as $2.58 billion MORE onto this Virginia tech company's books...
But when you add all this together... all the revenue this tech upstart could stand to make...
You see "TriFuel-238's" minuscule company is staring down a colossal $6.93 billion income opportunity as we speak!
Just from replacing aging coal and upgrading "old" nuclear to safer, cheaper, and powerful "TriFuel-238."
And if "TriFuel-238" overhauled all the power generation for these four energy giants?
Well...
That'd add up to a mouthwatering $11.59 billion per-year cash-grab opportunity for "TriFuel-238's" company!
And for this tiny American operation making a respectable $1 million per year to date...
Hauling in an extra $11.59 billion in revenue would spell...
An Outrageous 10,933-Fold Increase in Cash!
That's a stratospheric leap!
Right about now you might be thinking such a big takeover would take years... or that it wouldn't land all of these deals.
So let's be conservative here and say "TriFuel-238's" tiny company claims a meager 1% of everything so far.
That still works out to an extra $115.9 million in revenue.
Now, it's entirely possible this could happen.
Don't forget low cost was the reason coal and gas were America's go-to standard for baseload power...
And why fossil fuels have generated over $180 billion in revenue for so long.
But now "TriFuel-238" is the king of cheap, "always-on" energy.
Which is why everything I've researched points to this being a walk in the park for "TriFuel-238"...
Why I believe it'll seize what is a fraction of the current coal and gas energy empire...
And hand you a potential fortune.
But look — I believe this is just "TriFuel-238's" maiden voyage.
After its initial rollout to four of America's biggest companies...
After the retrofitting of America's aging coal plants...
The opportunity could be sky-high. Which is why I'm certain...
There's nothing stopping this 13-man tech operation from claiming America's entire crippled coal empire...
And banking another $9.13 billion per year in cash!
Add this cherry on top of "TriFuel-238's" potential revenue "pie"...
And the little-known creators of this incredible fuel are looking at an opportunity for $20.69 billion in revenue — just waiting to be claimed!
Look, even if only a conservative 1% of everything I've shown you comes through...
It still nets this tiny tech company a 19,518% quantum leap from where its revenues are right now.
That's Enough to Skyrocket Every $1,000 You Stake Here Today Into as Much as $196,180...
And Every $3,000 Into as Much as $588,540!
But everything I've just mentioned could be small fry compared with what could come.
Because in all honesty...
"TriFuel-238" is too big to be contained by American borders.
And the scale of its true potential is nothing short of monumental.
As we speak, the global call for more nuclear energy is getting louder.
And I don't believe it'll be long before the story of "new nuclear" and "TriFuel-238" begins to break.
You see, the Intergovernmental Panel on Climate Change...
The International Energy Agency...
The U.N. Sustainable Development Solutions Network...
And the Global Commission on the Economy and Climate...
Have ALL called for tripling nuclear energy, demanding over 1,000 new reactors worldwide.
And with everything I've shown you today...
I believe without a shadow of a doubt that "TriFuel-238's" cheap and potent fuel could be at the heart of it all.
In 2019, construction began on six new nuclear reactors. Three in Russia, two in China, and one in South Korea.
By the end of 2021, there will be 13 more.
2022 will bring about the creation of 10 more reactors and 2023 will bring another 11.
And combined, this is an incredible 294 million megawatt hours (MWh) of energy coming online.
Given that "TriFuel-238" could see countries score more cash — while making nuclear incredibly safe...
There's No Doubt in My Mind These Nations Will Be Lining up to Get Their Paws on America's Powerful New Fuel...
And Land "TriFuel-238's" Founders Another Potential $3.2 Billion Supply Deal.
Then there's "TriFuel-238's" unique ability to entirely replace coal.
Across the world, some 837 coal plants are now more than 30 years old.
And given the average coal plant lasts 40 years, these aging plants are now ripe for a "TriFuel-238" takeover too.
Germany, Europe's largest coal consumer, has stated it's willing to commit over $44.5 billion to phase out its coal plants.
And the U.K. and Canada have agreed to phase out their coal power by 2030 too.
"TriFuel-238" could easily take it all.
Yet even if "TriFuel-238" controls a mere 10% of that market — just eight retrofitted coal plants worldwide...
It Could Still Take Home $2.3 Billion in Revenue Per Year!
Plus what about nuclear plants operating today that could effortlessly upgrade to "TriFuel-238"?
France generates three-quarters of ALL its energy from nuclear reactors.
And the company behind "TriFuel-238" has partnered with nuclear giant Framatome...
France's SOLE nuclear supplier.
A takeover in France spells another potential $5.84 billion opportunity...
A European nuclear reactor takeover would spell another $8.4 billion opportunity...
And a takeover of 135 reactors in Asia — across China, Japan, India — well...
That's
ANOTHER

Cash-Gushing
$9.96 Billion Opportunity!

Look, I'll say it again.

The reason coal and gas have been America's — heck, the world's — go-to standard for baseload power is that they were the cheapest energy around.

But now "TriFuel-238" kicks them to the dirt!

This is why I'm utterly convinced "TriFuel-238" will succeed and why my heart races when I think of all the opportunities "TriFuel-238" has to take over.

Landing just one here has the potential to hand you life-altering returns.

Honestly, the moment "TriFuel-238" is rolled out to reactors, which is expected at any moment in 2021...

And this company begins to see a flood of cash land in its bank account...

I'm convinced this tiny company's stock has the potential to explode.

But look, I'm sure what you really want to know is how high could this go?

Well, the answer might surprise you...

Because when you uncover a red-hot opportunity like this and get in before the mainstream has any idea it exists...

The returns can be incredible.

And the wealth you stand to make could be life-changing.

Again, Broadwind Inc. skyrocketed 34,672% off of wind energy.
An early $5,000 stake in the stock could have handed you $1.73 million in a little over four years.
Enphase Energy shot skyward thanks to solar's mass adoption, handing out 25,404% gains.
A $5,000 stake in Enphase before the media switched onto it could have handed you a $1,229,200 fortune!
And what about Plug Power, whose little-known fuel cell stock has soared as high as 46,906% since April 2013!
That's enough upside to have turned every $1,000 you invested into as much as $470,060...
And every $5,000 into a $2.35 million windfall.
In just over seven years!
I Assure You Not a Single Analyst Worth Their Salt Has Uttered a Word About the Genius Company Behind "TriFuel-238"...
And What's Coming Its Way Could Fund Your Entire Retirement and so Much More
You've seen how solving America's silent energy crisis could see this tiny tech operation make $7.4 billion per year...
It could bank another $11.59 billion thanks to its incredible deals with four of American's biggest energy suppliers...
Another $9.13 billion is entirely up for grabs from a U.S. coal takeover.
And all in, the global opportunity here could hand "TriFuel-238's" creators as much as a staggering $20.66 billion in revenue per year...
Add that all up, and this little Virginia upstart is staring down an eye-watering opportunity of as much as $48.78 billion in revenue.
That's an absurd amount of cash for a company currently making just over $1 million in revenues.
And with the cheapest, most reliable fuel on the planet, bar none, there's nothing stopping it from claiming it ALL.
But look, I like to underpromise and overdeliver.
So let's say this tiny tech company lands just 1% of everything it's setting up to collect.
What Could That Mean for Investors?
As Much as 46,018% Upside!
Enough to turn every $1,000 invested into as much as $461,180...
And every $3,000 invested into what could be an unshakable $1,383,540 fortune.
And if it lands just 5% of everything I've detailed today, those who listen to what I say here could be whistling on their way to the bank!
Because that sort of win could see a $500 grubstake become over $1,151,450...
And a $1,000 investment becomes a potential $2,302,900 dream!
That's a Potential Multimillion-Dollar Retirement Fortune — All From
This Single Stock...
And You're Right Here on the Ground Floor the Moment Before It's About to Unfold
Look, I believe it goes without saying — gains like this are the exception, not the rule.
However, I truly believe you only ever get a few chances like this in a lifetime...
Moments when you're able to get in right at the start of a company before it races to an industry-wide takeover...
And hands you the type of returns most investors can only dream of.
I truly believe this is the kind of opportunity "TriFuel-238" — and the tiny 13-man upstart behind it — could set you up for today.
I can show you everything you need to get started, but you must be prepared to act fast — before the opportunity is gone.
I fully expect "TriFuel-238" to blow right through the conservative 1% figures you've seen today...
As it takes the energy industry by storm and provides clean, cheap energy to America and then the entire world.
When that happens, which I believe it will, its stock could tear to the upside...
At which point the best opportunity to get shares for what could be pennies on the dollar will be all but gone.
This is why I insist you let me send you a copy of my brand-new research report today, absolutely FREE of charge...
That will give you every little detail on the genius tech operation behind "TriFuel-238."
So you can secure your chance at a fortune today.
I call my report...
"The Undiscovered Tech Company
Behind the Coming 'TriFuel-238' Revolution"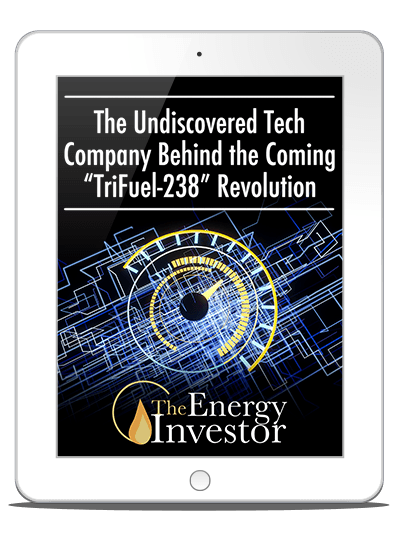 Inside, I'll go deeper on the deals I've literally only scratched the surface on today.
I'll walk you through exactly why you could see incredible short-, medium-, and longer-term profits from this Virginia operation...
And I'll give you the stock tickers and investment information on a silver platter...
All so you can secure your opportunity for a potentially incredible retirement future today.
But look — your opportunity to make money is conditional on you acting and getting in on this tiny company while its share price is this low.
You see, the fuel tech masterminds behind this company...
The nuclear industry legends and Ph.D. geniuses alongside former high-ranking officials from the United States Department of Justice ...
They all share one thing in common.
As we speak, they're loading up on shares of this small stock.
They've purchased 13,881 shares in the last three months...
And 206,339 more in the last year.
A total value of $1.23 million.
And there's not been a single sale!
Those with the most intimate knowledge of what's coming down the pike for "TriFuel-238" are buying up stock by the truckload.
That's why I urge you — if you want to secure your opportunity at what could be a life-changing sum of money...
You cannot delay.
Because the "TriFuel-238" nuclear revolution and the incredible returns it could hand you...
May only be the tip of the spear.
I Believe a Fundamental Reshaping of
Energy Is Unfolding... Right Now...
Before Our Very Eyes
A change that will be as transformative as the internet or smart devices.
And I'm confident those who are willing to act...
Could be minted millionaires or even multimillionaires in the years ahead.
As we speak, money is pouring into energy technology, moving faster into the sector than ever before.
Over 540 of the richest investment houses on the planet have invested $52 TRILLION and counting...
Including BlackRock, JPMorgan, and Warren Buffett's Berkshire Hathaway alongside many more.
And they're joined by 167 of the most powerful companies across the globe — including oil giants like ExxonMobil and BP.
In short, I believe they see what I see...
That the future is one that embraces new energy technology and eventually leaves oil and gas behind...
Which is why I'm convinced you and I stand at a tipping point in investment history...
Where those prepared... those who act to stay ahead of the coming breakthroughs in energy technology...
Could be handed untold levels of wealth.
And those who don't could miss the opportunity of a lifetime.
It all begins with "TriFuel-238" and the tiny company behind it.
But Look, Who Am I to Say Any of This? Well, Let Me Introduce Myself
Hi, I'm Keith Kohl.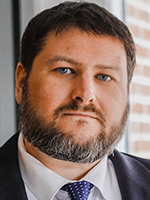 A chief investment publisher and energy tech sleuth here at Angel Publishing...
A first-in-class investment research firm that caters to almost 50,000 readers across the globe.
And I've built a reputation for unearthing the lucrative energy stocks the world is absolutely clueless to...
Exactly like the "TriFuel-238" opportunity I'm sharing with you today.
These are companies that can change everything you ever thought to be true about investing.
Just like when I showed my readers how to bank, 114% in 49 days...
And then further 286%, 478%, and 574% gains...
All on a single stock, Brigham Exploration.
My knowledge of the energy tech sector saw my readers get in on the fuel cell boom...
Helping them scoop up shares of Ballard Power Systems — a stock that's gone up as much as 702%.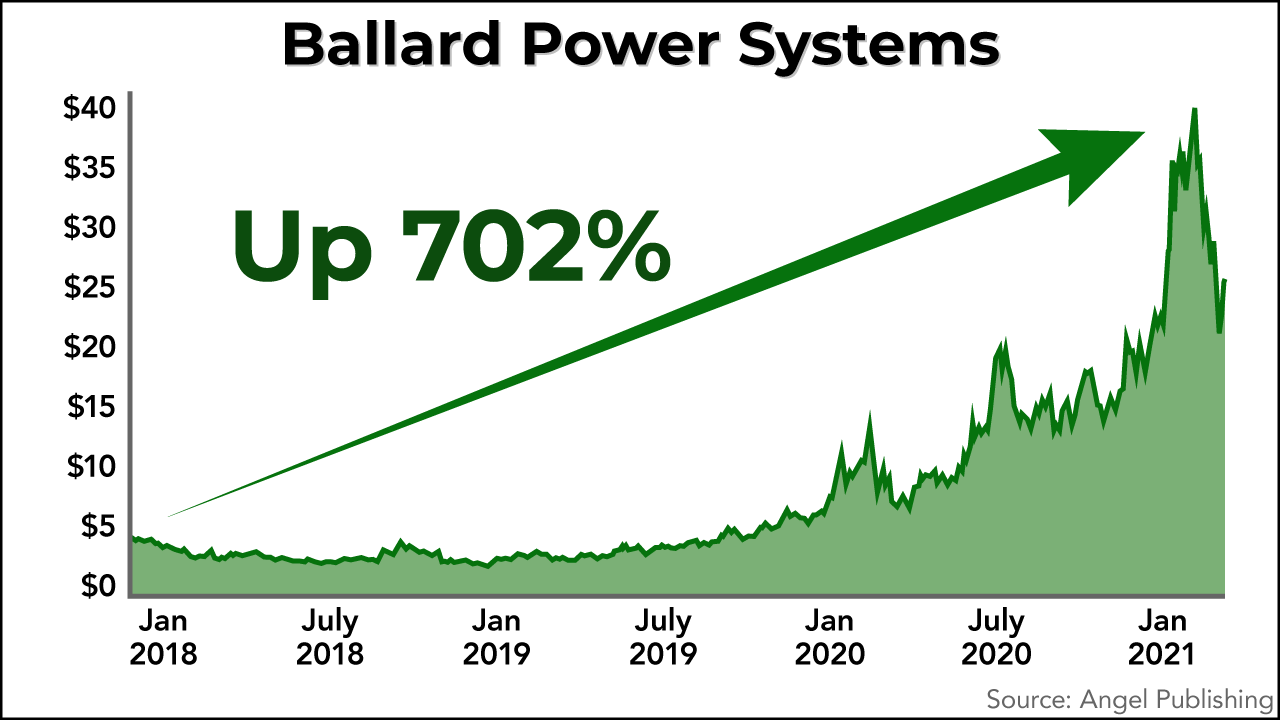 And they were some of the first in on the lithium battery tech run, stocking up on shares of Lithium Americas Corp...
A stock that has soared 2,786% from where they had the chance to get in.
Over the long run, my average returns crush the S&P 500 by an incredible 78%.
And my readers will be the first to tell you the rewards you can reap when you're banking those kinds of gains...
"Bought the wife a new car!"
— Jordan P.
"Keith I'd like you to know exactly how much I've appreciated your coverage over the years. I sold my position on NOG in Feb 2010 for gains of 216%, 1/3 of my position in BEXP in 2011 for gains of 361%, and sold the rest of BEXP in Oct of 2011 for gains of 743%. Now I'm holding a large portion of your newest pick with unrealized gains of 365%. Thank you."
— Sly M.
"Just wanted you to know how much I appreciate the hard work you do in finding those great companies for your readers. I am up 252%, 161%, and 101%. You've made a believer of me."
— Kris M.
"Your insight has been great. NOG, Gran Terra is up about 230% in less than a year."
— R. Manning
Look, I'm telling you all this to show you I'm no schmuck when it comes to energy.
Frankly, I don't know anyone with a better track record.
And today, I can quite easily tell you these past wins pale in comparison to what I'm predicting for the tiny company you have the opportunity to get in on right now.
Look, it sounds cliche, but there's simply no other way to say it.
I'm telling you this stock has the potential to provide the greatest investment payday of your life.
And I'm utterly convinced the greatest investment opportunities you'll ever see will unfold in energy tech over the next 24 months.
This is why I'd like to invite you to join me inside Energy Investor...
So you can become one of the intelligent few who ride this incredible profit wave and potentially transform your life — starting today.
Everything you need to begin your journey is inside my report: "The Undiscovered Tech Company Behind the Coming 'TriFuel-238' Revolution."
And I'd like to send it to you immediately so...
You Can Be One of a Small Group That Can Get in on This Potential $3,000–$1,380,564 Opportunity — and Have a Chance at Achieving Returns That Could Be Beyond Most Investors' Wildest Dreams.
And this report is all yours completely free when you accept a risk-free trial of my flagship energy investment research service, Energy Investor, today.
Energy Investor is where I share every last detail of my most cutting-edge energy technology research.
It's your unfiltered line into the world of energy tech investments that fast-track you into some of the most lucrative opportunities on the planet.
And the moment you join me inside Energy Investor, you'll receive your report detailing everything I've uncovered from months of researching "TriFuel-238," along with:
12 Monthly Issues of Digital Energy Investor Newsletter Issues
Each bursting with new and exciting research on the hottest energy and energy technology companies on the planet.
I promise you will not find the details inside these issues anywhere else in the world!
Timely Model Portfolio Updates
Up-to-the-minute analysis on each of my recommendations. So if a big opportunity comes across my desk, you'll be the first to know.
If something changes that could affect any of the model portfolio plays, you'll be informed immediately via my flash alerts. I've put this in place so you can be rest assured that plays are constantly in the green and any wealth in my recommendations is safe...
Meaning you stay up to date on all the latest breakthroughs and innovations LONG before the public market.
Unlimited Access to the Private, Members-Only Website
Your online command center for all your tech profit information.
Here you'll be able to view all our back issues and reports and stay up to date on all the cutting-edge energy tech opportunities I uncover — with complete and unrestricted 24/7 access.
I want to see you succeed. And I want you to watch your wealth grow.
That's why if you have any questions or problems whatsoever, you can give Energy Investor's support staff a call and receive immediate and courteous assistance Monday through Friday between 9 a.m. and 5 p.m. EST.
As you can see, when you join me inside Energy Investor, you'll instantly unlock access to a wealth of fortune-compounding research.
And with such information at your fingertips, I think you can understand why I regularly charge $249 per year for access to this kind of research.
But today you won't pay anything close to that.
You see, 2020 changed my perspective on life. And I'm sick and tired of seeing everyday Americans lose out while the financial elite keep getting richer.
I've had enough of watching brick-and-mortar family-run stores closing their doors while these fat cats cash in every day.
So I've decided to do something about it to level the playing field, so to speak.
Which Is Why Today You Can Get Access to Everything Inside Energy Investor
for an Entire Year...
Plus Immediately Get Your Hands on Your Free "The Undiscovered Tech Company Behind the Coming 'TriFuel-238' Revolution" Report...
For only $99 today.
That's an incredible $150 discount off the regular $249 cost...
A 60% savings on a service that gets you in on a potential return of up to 460x.
And all you have to do to get all that is click the "Subscribe Now" button below.
Plus, if you join me in the next few minutes, I'll also send you two bonus energy tech reports most investors would pay hundreds of dollars just to get a look at.
Fast-Action Bonus #1 — "The Billionaire's Battle: How to Invest in the Next Phase of the Lithium Revolution"
As you saw earlier, my readers have profited handsomely from our lithium stock plays....
Getting them in on a stock up 2,786% to this day.
But as far as I'm concerned, the gains they've seen so far may only be the tip of the iceberg.
Demand dynamics for lithium are soaring. That could quite literally force prices to rise.
And right now, the uber-rich like Tim Cook, Warren Buffett, and Richard Branson are racing to grab exposure to lithium stocks...
Alongside one of the richest men on the planet, Elon Musk, who's likely also looking to bank a fortune from what could soon be an enormous profit wave.
Mark my words, it won't be long until this lithium story hits the news.
Meaning you still have a "ground-floor" opportunity to get in before the surge and capitalize on this potent lithium profit opportunity...
Right alongside these billionaires!
Second to "TriFuel-238," this is a play you DO NOT want to miss...
Which is why I'll give you every sneaky little detail on one lithium producer set up to profit from this explosive opportunity.
Every last detail you need is in your FREE report titled "The Billionaire's Battle: How to Invest in the Next Phase of the Lithium Revolution."
And it's yours free when you click the "Subscribe Now" button below and join me inside Energy Investor today.
That's in addition to...
Fast-Action Bonus #2 — "The Energy Cloud's 'Financial Plumbing'"
By now, you've likely heard of the internet of things (IoT).
And the soon-to-be $198 billion "internet of energy" industry could quickly become the sector that revolutionizes our future the most.
Billionaires like Bill Gates, Jeff Bezos, and Michael Bloomberg have already invested as much as $1 billion into technology that will accelerate the "internet of energy."
And I'm certain they're looking to make a steal off of the coming "internet of energy" boom.
Look — most investors have no idea this sort of investment even exists. It's not a stock or a bond. It has nothing to do with IPOs either.
Yet with the virtually unknown investment I'd like to share with you in this report...
You could lay your claim to the energy infrastructure of the future right here today.
I'm convinced this could be like winding back the clock to right before the Rockefeller oil empire existed and collecting royalties on every oil pipeline!
And every little detail I've discovered on this radical new investment is yours free when you join me in the next few minutes.
All you have to do to get it is click the "Subscribe Now" button below...
And do so in the next few minutes to secure your place inside Energy Investor today.
That's not all, though.
I'm Also Going to Let You Take an Entire Six-Month Trial of My Energy Investor Research Service — at
Absolutely Zero Risk

to You

Look, I'm so confident in what subscribing to Energy Investor can do for you that I want to make something crystal clear...

In the unlikely case you're not entirely blown away by my service and the wealth-compounding opportunities it gets you in on...

You won't have to pay for it.

Seriously. If you're not 100% delighted with everything you receive when you join Energy Investor, I ask — no, I INSIST — that you call us up and ask for a full and complete refund.

At ANY time in the first six months.

No questions asked. We'll happily give you back every cent you've paid for the subscription.

And I'll let you keep all the reports I'm sharing with you as a thank-you for trying out Energy Investor here today.

Also, I'm a man of my word.

And I'm so confident in my process, expertise, and every single one of my recommendations...

That I'm going to extend a second, more powerful pledge to you here today.

When you join Energy Investor in the next few minutes, if I don't deliver multiple opportunities to invest in groundbreaking technology companies in the next year...

I will personally see to it that you receive another year of Energy Investor — completely free of charge.

Look, I'm almost certain I won't have to do that.

But...
If You Don't See AT LEAST A DOZEN Groundbreaking Stock Picks Within Your
12 Months — You'll Get Another Year Absolutely Free.
Look, you've seen the opportunities the genius company behind "TriFuel-238" is lining up today:
The "silent energy" crisis that could hand it $7.9 billion.
The incredible deals it's lining up with four of America's main energy players, which could hand it a fortune.
The U.S. coal and nuclear takeovers that are almost a done deal.
The potential global nuclear and coal takeover bid that could see this company haul in another $20.66 billion in revenue.
There's an unprecedented level of opportunity in front of the company behind "TriFuel-238," all just waiting to be had.
And for this genius company's stock...
Even a 1% claim on everything you've seen today...
Could turn a $3,000 grubstake into a life-redefining $1,383,540 fortune.
This is truly the most one-sided trade I've seen. Ever.
And You Can Get in on It
Within the Next 15 Minutes

When You Click the "Subscribe Now" Button Below...
And Join Me Inside Energy Investor Today
But you should know this is all happening with or without you...
And honestly, the way I see it, you only have two real choices here today.
Option 1: You exit this page and try to forget everything you've seen here today.
Months from now, you'll watch as our entire energy infrastructure moves over to a new generation of nuclear energy...
With "TriFuel-238" at its heart.
Every time you switch on a light or touch your phone, you'll be reminded of the opportunity you passed up on here today...
The chance to finally land the kind of money that could see you forget about any debts and potentially set you up for life.
Instead, you'll be taunted as you read how "TriFuel-238's" tiny company has soared — how its stock climbed for months on end.
And you'll regret missing out on the chance you had...
As you hear incredible stories of the "TriFuel-238" investors who said yes to the opportunity you turned down today.
Or there's Option 2...
Where you make the obvious choice and take advantage of the once-in-a-lifetime opportunity you have today...
Where you join me and the fellow like-minded investors who recognize how energy technology is reshaping the world as we know it...
Who sees the world-altering role "TriFuel-238" and many future energy tech companies have to play...
And collect the kind of returns that change your fortunes for good... and could truly see you never worry about money again.
You have nothing to lose.
Take my six-month, 100% money-back-guarantee offer that sees you risk nothing, claim your free report, and test-drive Energy Investor today!
Click the "Subscribe Now" button below...
And get in on the coming "TriFuel-238" opportunity that history will never forget.
I'll see you on the inside.
Sincerely,
Keith Kohl
Investment Director, Energy Investor