"The breakthrough we've been waiting for to end the pandemic." — Forbes
"The COVID Killer"
This Nasal Spray Might Not Just Be the End of COVID-19...
It Could Be the End of ALL Viruses!
Here's why it could make you up to $103,400 or more...
Dear Reader,
This might be the biggest medical breakthrough we've ever had.
A small company has produced a nasal spray with the power to stop COVID-19 symptoms in just seven days.
That's right, in just one week!
In fact, many believe it's better than the vaccine, as you'll see in a minute.
That's why I'm recommending a small biotech company — with this COVID-killing nasal spray — for immediate purchase.
I'm predicting this company's stock will easily rise more than 1,000% within the next 12 months... maybe more if it gets fast-track approval.
In fact, those gains could be a drop in the bucket. You see, COVID vaccine-maker Moderna is up over 2,068% since March 2020.
That turns every $5,000 into $108,400.
But here's the thing...
Moderna's market cap is $155 billion. This nasal spray company is very tiny in comparison.
It only has a market cap of $20 million.
Which means the profit potential here is enormous!
So you can see why I'm so excited about our small biotech company that's developed a nasal spray to fight COVID.
Forbes recently said, "This nasal spray may be the breakthrough we've been waiting for to end the pandemic."
It also said that "all public and private sectors should be putting their full weight behind [a] nasal spray as quickly and forcefully as they are with vaccines."
It's easy to see why this nasal spray is better than the COVID vaccines.
For starters, there's the fear, anxiety, and pain of getting stabbed with a needle.
In fact, over 52% of unvaccinated adults in America have a fear of needles.
You don't have that with a nasal spray.
That's why Scientific American says the nasal spray is "likely to be more popular for the millions of people who don't like needles."
Second, you don't even need to leave your house.
You can use the nasal spray yourself — at home!
Better yet, it's more effective than any vaccine — just a few sprays up your nose daily until the symptoms disappear.
And it's faster too, because after a week, you're done!
It can also be mailed directly to your home, unlike the vaccine.
And it doesn't have to be refrigerated.
Are you starting to see the massive potential here?
I believe this is going to be in every medicine cabinet in America.
It's going to be even more common than aspirin.
And it will make early investors an absolute fortune.
Think Moderna's Rise Was Big?
THIS Is Much BIGGER.
I've already shown you how big Moderna's rise was...
It soared 2,068% in under 16 months.
That could have turned every $5,000 into $108,400.
Or how about Novavax...
It's also developing a COVID vaccine.
Its stock has soared as much as 4,310% since the start of the pandemic.
That could have turned every $5,000 into $220,500.
That's enough to buy the car you've always wanted...
Take that tropical vacation you've been excited about...
Or build the retirement home of your dreams.
But the biotech gold rush is definitely not over — not by a long shot!
Why?
Because COVID is here to stay.
The lethal "delta variant" is just the start.
New COVID variants are popping up all across the world.
In fact, there are over 12,000 variants circulating right now!
They will continue to trigger outbreaks of the virus.
And the vaccines are not as effective against these new variants.
In fact, over 125,000 Americans who have received the vaccine have already gotten COVID!
"The world is nowhere near the end of the pandemic," says Dr. Larry Brilliant.
Dr. Brilliant is a world-renowned epidemiologist who was part of the WHO's team that helped eradicate smallpox.
He says the delta variant is "maybe the most contagious virus" ever, and "unless we vaccinate everyone in 200 plus countries, there will still be new variants."
So the demand for treatments that fight off new COVID variants is only going to keep growing.
According to The Wall Street Journal, the Biden administration is investing more than $3 billion on developing treatments for COVID.
This is good news for biotech investors.
And it's even better news for investors in this nasal spray company.
Because scientists predict this spray could be effective against multiple COVID variants, including new variants that pop up in the future.
Why?
It's all thanks to a secret ingredient
called "Alpha-2B."
"Alpha-2B" is a powerful, all-natural immunity booster.
Just spray it up your nose, and it triggers a response in your body that helps you fight off infections.
See, when a virus like COVID enters your body...
"Alpha-2B" tells your immune system to produce more of a specific type of protein that fights off the virus.
It's your own personal bodyguard against the world's most lethal viruses.
As Dr. Angela Rasmussen, a virologist and research scientist at Columbia University, says:
"[Alpha-2B is] like a fire alarm and a sprinkler system all in one."
It keeps you from getting sick, and if you're already showing symptoms of COVID, it stops the virus dead in its tracks.
Landmark Study Confirms "Alpha-2B's" Effectiveness Against COVID
A breakthrough study was conducted by The International Journal of Infectious Diseases.
At the beginning of the pandemic, 77 COVID patients were treated with this nasal spray...
And the results are stunning.
All 77 patients fully recovered — WITHOUT getting severely ill!
That's right! All of them.
Better still, it sped up the healing process. Patients showed improvement as early as day seven!
And this was BEFORE a single vaccine was released to the public!
But here's the best part...
The U.S. National Library of Medicine found that it stops the virus from spreading.
That's right! It can stop an outbreak before it even has a chance to begin!
Forget the Needle:
"Alpha-2B" Stops COVID Dead in Its Tracks!
The COVID vaccines can't hold a candle to "Alpha-2B."
Because remember, it doesn't just stop COVID. It stops all strains of the virus from spreading.
The vaccines were only designed to attack a specific strain of the coronavirus.
But "Alpha-2B" is an immune system strengthener.
It's not targeting the virus directly.
"Alpha-2B" puts your entire immune system's defense on high alert, triggering it to release a specific type of protein that fights off the virus, no matter the strain.
And it works FAST. It makes symptoms disappear within just seven days.
With the COVID vaccines, you have to wait weeks until you're fully immunized. For instance:
Pfizer's vaccine takes five weeks and two doses.
Moderna's vaccine takes six weeks and two doses.
Johnson & Johnson's vaccine takes two weeks and one dose.
But this new nasal spray only takes seven days to work.
And once the virus is eliminated, you can stop taking it!
That's why there's simply no other treatment like it on the planet!
You don't even need a medical professional to administer the treatment.
You can just use this at home!
It's an inexpensive and noninvasive treatment that's easy to acquire, take, and store.
That's right — you can just store it in your medicine cabinet!
I'm telling you, "Alpha-2B" is going to be huge. It's going to be everywhere soon. And it's going to make early investors RICH.
So why should you believe me?
Hi, I'm Keith Kohl.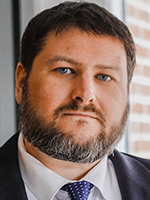 I've been a professional investor for my entire adult life.
If you know me from any of my popular investment advisory services such as Energy Investor or Technology and Opportunity, you know my team and I have a knack for uncovering breakout stock stories...
And getting them to you before anyone else on the planet even hears about them.
I'm talking about a consistent stream of winners for over a decade, like:
65,400% on Bitcoin
1,696% on iRobot
212% on Prana Biotechnology
2,319% on Ethereum
162% on OmniVision
4,991% on Universal Display Corporation
And many, many, more
Now, with a track record this impressive, you may be wondering why I would even bother writing investment research for Main Street investors like you.
After all, with returns like this, I could drop the 9-to-5 and live out the rest of my days on a remote island somewhere.
I could keep all the profits and intel to myself.
But the truth is that would probably drive me a little crazy — and frankly, it would make me a whole lot worse at what I do...
Because publishing research like this has its perks.
For one thing, it helps me get my name out there...
And name recognition is critical for building a network like mine. You'd be surprised just how often great stock ideas come my way without me having to even lift a finger...
Or how often companies contact me looking to show off their latest tech.
More importantly, though, writing advisories forces me to develop my ideas and do my due diligence.
Not only am I accountable to 50,000 subscribers who regularly look to me for wisdom...
But the simple act of writing out my thoughts on the market every day forces me to be a better investor.
It exposes my bad ideas so I can throw them away...
And it shines a light on the great ones so I can share them, like I'm doing today.
Again, I could go on for an hour showing you my winning stock recommendations...
But I'm not one to rest on my laurels. And I'm not here to waste your time.
This investment opportunity is a far more urgent matter.
Biotech is hands down the hottest, most lucrative sector on the planet, and that's not just because of COVID.
The global biotech market was worth $752 billion in 2020...
And it's expected to reach $2.4 TRILLION by 2028.
Never before has so much money been poured into one sector of the economy.
And it's turning little-known companies into household names virtually overnight.
We've already seen it happen with Moderna, which exploded 2,068%...
And with Novavax, which jumped 4,310%.
But the company behind this breakthrough nasal spray I've been telling you about is going to top them all.
As I said before, it's the biggest medical breakthrough we've ever had.
"Alpha-2B" Doesn't Just Stop COVID-19...
It Also Stops Its Variants and a
Host of Other Lethal Viruses.
Not only do scientists expect "Alpha-2B" to boost your immune system to treat COVID and its variants...
It also protects against other deadly viruses, including:
Influenza
HPV
Hepatitis B and C
SARS
MERS
Ebola
Dengue fever
West Nile virus
Zika
That's a whole list of viruses that don't have effective treatments...
And most of them don't have vaccines.
That's why I'm bullish on this little-known stock.
If all goes as planned... it not only prevents one virus outbreak — but all of them!
That's why it has the potential to be bigger than ALL other vaccines.
But the window of opportunity on this won't be open for much longer. You need to get in RIGHT NOW if you want to bank the biggest gains.
That's because...
FDA Trials Are Already Starting
Phase 1 trials for "Alpha-2B" are already underway.
So we're right where we want to be — on the ground floor.
This is where you have the potential to see the largest gains.
Because right now, this tiny biotech stock trades for less than $1.
But very soon, it could trade for multiples of that.
Mark my words, this is going to be BIG. As in "retire now" big.
How do I know this?
Because this tiny biotech is the ONLY company on the planet harnessing "Alpha-2B" as a treatment for viruses.
There's simply no other competition.
The company is already on its way to worldwide domination.
Nothing is standing in its way of making an absolute fortune off of "Alpha-2B."
Remember, clinical trials already indicate that "Alpha-2B" works fast: It can make symptoms disappear within just seven days!
It's easy to acquire: You can get it mailed to your house.
It's easy to store: You can just put it in your medicine cabinet.
And it's easy to use: You don't need a doctor — you can do it yourself.
Are you starting to see why I am so confident this is going to produce huge gains?
"Alpha-2B" Is Backed by an Elite,
World-Class Team of Scientists
The company behind the spray is absolutely loaded with the top pharmaceutical talent in the world.
They're the best in the business.
They've served as executive leaders of multibillion-dollar pharmaceutical companies including Pfizer and Novartis.
And they have a history of making and selling breakthrough drugs.
They've been responsible for dozens of successful FDA-approved treatments, such as:
Camptosar — Pfizer's treatment for colon cancer, which made around $903 million in one year!
Sutent — Pfizer's treatment for stomach cancer, which made around $600 million.
Enablex — Novartis' treatment for an overactive bladder, which made around $190 million.
But "Alpha-2B" could top them all.
Because not only does it treat COVID — it treats a whole host of deadly viruses.
Never before in history have we seen such a powerful medicine.
Until now.
And remember, FDA trials for "Alpha-2B" are happening as we speak.
When Trials Are Complete, This Stock Could Absolutely EXPLODE!
But there's another reason why it's critical you act quickly.
"Alpha-2B" could receive Emergency Use Authorization from the FDA...
Just like Moderna's vaccine did.
Which means it could be put into production TOMORROW... without having to go through the full FDA approval process!
So you'll want to get in now while you still have a chance to make astronomical gains.
You saw how much money was made on Moderna...
Now imagine the kind of profits you could see from a solution with the potential of treating not only COVID and its variants...
But every single one of these deadly viruses, including:
The flu
Hepatitis B and C
HPV
SARS
MERS
Ebola
Dengue fever
West Nile virus
Zika
I expect this to be the most popular treatment on the market.
THIS is the breakthrough medicine we've been looking for.
If you want to be a part of this, you should strike while shares are still trading for around $1.
The windfall potential here is off the charts.
A $1,000 stake could turn into $21,680.
A $5,000 stake could become $108,400.
And $10,000 has the potential to turn into $216,800!
This is something that could set you up for the rest of your life.
I'm talking about early retirement, a brand-new beach house, and a nest egg for your children or grandchildren.
So please, let me show you exactly how to
get the name, ticker symbol, and trade details
for this tiny company ASAP!
As I mentioned earlier, my name is Keith Kohl.
I'm the senior technology and biotechnology analyst at Angel Publishing, one of the fastest-growing independent investment research firms in the world.
If you're familiar with our firm, you know we've been on top of virtually every major investment trend for the last 20 years.
We called the housing bubble in 2008...
We were telling people about Tesla before it even IPO'd.
And we were even on top of cryptocurrencies as early as 2013.
In fact, we were turning people on to Bitcoin when it was just $16 a unit!
More recently, we told our readers to buy Ethereum for a 2,319% gain...
Marijuana company Canopy Growth Corp. before it shot up 3,015%...
And telemedicine company Teladoc before it skyrocketed 2,481% during the COVID pandemic.
Every day, we identify megatrends like these and show you the best opportunities to profit.
Crypto, marijuana, 5G, 3D printing, renewable energy, cloud computing... you name it.
Every major investment trend over the last 20 years, we've been on top of...
And we're just getting started!
Which is exactly why I'm revealing everything you need to know to capitalize on this truly groundbreaking opportunity in my brand-new report.
It's called...
"COVID Killer: Cashing in on the Tiny Company Behind 'Alpha-2B'"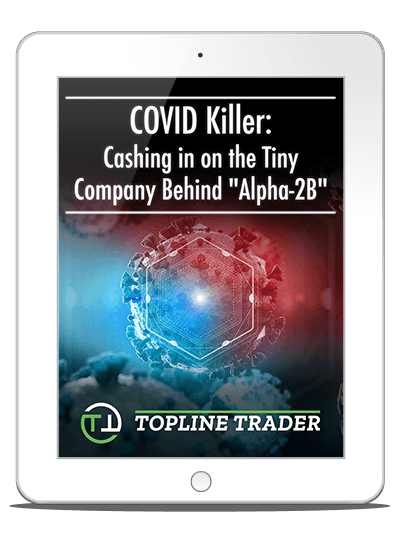 Better yet, I'm going to offer this report to you for FREE.
Inside, you'll learn everything you need to know about the company behind "Alpha-2B"...
The blockbuster nasal spray that could end not just COVID but ALL viruses ravaging mankind!
You'll receive the company's name and ticker symbol...
A rundown of its management team and partnerships...
And important "catalyst" dates we're focused on that could drive this stock higher.
Because this is a small company with a market cap of just $20 million, it's critical you follow my strict buy-up-to price recommendation and, as always, don't invest more than you can afford to lose.
Again, I am offering you this report at zero charge.
But due to the company's small size...
I also must limit the number of copies of the report I distribute.
I want to make sure everyone has the chance to secure shares of this stock while it's trading at a microscopic fraction of where I believe it'll soon be.
So I'm only going to be sending copies of my "COVID Killer" report to members of my premier research service:
Topline Trader
And I can only accept 450 new members today.
So what is Topline Trader?
It's a weekly trading advisory service targeting high-level technology opportunities...
Opportunities like nanotechnology, robotics technology, and, you guessed it, biotechnology.
I founded Topline Trader with the understanding that we are living in unprecedented times...
Times of unfathomable technological advancement.
And the potential for these kinds of innovations to change the world has become increasingly clear... and so has their potential to make smart investors RICH.
So every week, my team and I scour these advanced technology industries for explosive profit opportunities and share them with people like you.
We deploy proven investment techniques to pinpoint stocks in these industries with the most explosive upside potential and minimal risk...
Stocks just like the company behind the groundbreaking "Alpha-2B" nasal spray.
We also utilize detailed trading strategies around development in these industries for explosive, short-term profits.
For instance, one of our core strategies leverages a private network of over 250 scientists and doctors.
We use the information they give us to regularly trade biotechnology stocks.
By pairing a proprietary calendar of critical biotech events...
With a data-based "Chance of Success" score...
We can help set you up to find events that will send little-known biotech stocks soaring in a matter of hours.
The best part is you don't need a Ph.D. in chemistry or physics to participate in any of our strategies. We're here to break it all down for you in simple, easy-to-understand terms.
In short, over the course of my career, I've established a track record that speaks for itself.
I've pointed my followers to some of the most profitable investment opportunities on the market.
And my calls have led to enormous investor returns like:
637% on Ethereum
136.36% on AVT Inc.
143% on Mastech Digital
159% on Kodiak Oil & Gas
92.24% on Iridium Communications
146% on SolarEdge
161% on Brooks Automation
134% on Intelsat
126% on MassRoots Inc.
I could go on for a while longer, but you get the idea...
If you stick with us and follow my intel, you're going to be setting yourself up for an ongoing stream of moneymaking opportunities.
Now, let me be perfectly clear...
I'm not a fund manager looking for fees. I'm not a broker looking for commissions.
I make money when YOU make money. That's it. Few in my industry can say the same. But I wouldn't have it any other way.
I cover the entire world of technology and over the past several years, I've built an incredibly strong network of connections in the industry.
I'm talking about hundreds of doctors, scientists, and high-profile CEOs.
Not only do technology companies let me know when they're developing new products, but I often get to experience these innovations well before they hit the market.
That's why I've been able to tip off my dedicated readers to a steady stream of winning technology stocks.
Again, I could go on for hours about my successful track record, but I don't want to take up any more of your time than I need to.
So here's a short list of my recent winners to give you an idea of what you can expect from a service like Topline Trader:
212.86% on Prana Biotechnology Ltd.
157.43% on Envision Solar
79.42% AND 82.80% on OmniVision Technologies
138% on Teradyne Inc.
112% on Ballard Power Systems
227% on ProShares UltraShort
169% on MeetMe
As you can see, I've been showering my readers with success for many years, but I have to admit:
"Alpha-2B" is about to put all of them to shame. I'm convinced this could be one of the biggest recommendations I've ever made.
That's why I've written the special report, "COVID Killer: Cashing in on the Tiny Company Behind 'Alpha-2B.'"
I can tell you right now that getting in on this stock is like getting in early on Biogen, before the FDA approved its drug for multiple sclerosis called Avonex.
And its share price skyrocketed from $2 to $335.
That's a huge 16,650% gain.
That turns every $10,000 into $1.6 million.
Or like getting in on Amgen before the FDA approved its blockbuster drug Epogen, which treats anemia...
And its share price grew from $0.90 to $227.
That's a 25,201% gain.
Good enough to turn every $10,000 into a whopping $2.5 million.
Many folks who had the vision to take action on those companies ended up multimillionaires. Now you have the opportunity to do the same with "Alpha-2B."
Again, I'd like to send you this report with all the information you need to know about the "COVID Killer" free of charge.
And all I ask in return is that you sign up for a risk-free trial of my weekly advisory Topline Trader.
Your membership will guarantee you a front-row seat to all the brand-new innovations and inventions we're covering.
And my readers will tell you better than anyone what a wild (and profitable!) ride my research services can be:
I'm just writing to say that I absolutely love this service... It looks well set to turn my pension scheme from $277,000 into about $2.2 million on EVOK. Your service is worth its weight in gold and please do quote me on that!
— Paul B.
Your insight has been great: My stock is up about 230% in less than a year.
— Kim M.
Just wanted you to know how much I appreciate the hard work you do in finding great companies for your readers. Currently, I'm up 252%, 165%, and 101%. You've made a believer out of me.
— Kris M.
I really enjoy Keith's commentary and his stock calls have been pretty much dead on. This has been the best money I've ever invested.
— Glyn T.
I [recently] sold for a gain of $9,300. It was my first big hit in the 3 months that I have been trading. You made it happen. Thank you.
— Rich C.
Nothing makes me happier than hearing my readers' success stories... especially extraordinary ones like these.
That's why I make sure I put out only the absolute best investment opportunities I find.
Every single month, I bring my readers at least one new company that's in the process of changing the world just like the company I've been telling you about...
The one detailed in our free report, "COVID Killer: Cashing in on the Tiny Company Behind 'Alpha-2B.'"
This report will set you up with the name, ticker symbol, and all of my research on this virus-killing nasal spray.
As soon as you sign up for your trial of Topline Trader, I'll rush the report right to your inbox.
You could be ready to profit in seconds.
But these are just a fraction of the many opportunities and benefits you'll receive when you join our community of investors at Topline Trader today.
As soon as your membership is confirmed, you can expect:
Weekly Issues of Topline Trader. Each issue is loaded with new and exciting research on the hottest technology and biotechnology companies on Earth.

I will introduce you to a high-tech company in at least one of these issues every month.

You'll get the name of the company, specific buy instructions, the works...
Regular Portfolio Updates. In these updates, I'll break down what's happening with each of our stocks. You'll receive up-to-the-minute analysis on each recommendation.
Unlimited Access to Our Private, Members-Only Website. The moment you join, you'll receive a secure username and password to access every single trade alert, weekly issue, portfolio update, and research report.
Access to VIP Member Services. This is a dedicated service ONLY for our highest-level subscribers. You get Monday–Friday access to our English-speaking member services team, located in our Maryland office... PLUS 24-hour access by email. Don't hesitate to reach out. You can contact them at (877) 303-4529.
And that's still not all. You'll also receive immediate access to three exclusive bonus reports:
Bonus Report #1:


"The Biotech Investor's Guide to FDA Fast Lanes"
The FDA approval process can be incredibly slow. Even the FDA itself knows this, which is why it created four "fast lanes" to drug approval:
Fast track
Breakthrough therapy
Accelerated approval
Priority review
Each fast lane has unique requirements and benefits for drug developments, and they create powerful catalyst dates for investors.
"Alpha-2B" has the potential to be placed in one of these FDA "fast lanes."
And this report covers details on how these "fast lanes" work and how they can make you money.
When a company announces that one if its new drugs has been fast-tracked, it can send the company's shares soaring...
Even if the drug hasn't officially been approved yet.
With this report, I'll show you exactly how to play these types of stocks.
Bonus Report #2:


"Titan Gains: How to Earn Massive Profits on Massive Biotech Stocks"
The stock we're investing in might be small, but these three large-cap biotech companies are certified titans.
They may not have the same blockbuster potential as "Alpha-2B," but they'll likely provide investors steady growth and income for years to come.
These companies provide critical medicines and have distribution deals with hospitals and pharmacies.
They've completed all the R&D for their approved products, so the profit margins are healthy and the income is stable.
And the best part?
They provide steady dividends that can only come from the market's bestselling drugs.
These biotech titans are also highly diversified: Our top pick sells products including testosterone enhancement, pain management, and tumor reduction.
This same company has been able to grow its dividend every single quarter for over 45 straight years.
It doesn't get much more reliable than that.
Inside this report, you'll learn the name of this stock, our recommended entry price, and our two other top biotech titans.
At Topline Trader, we uncover every profit opportunity we find, big or small.
So think of these biotech titans as a way to complement today's other, more aggressive growth stocks.
But let me show you one more report you'll also receive...
Bonus Report #3:


"The Quantum Computer King:
The #1 Stock to Buy for the Quantum Era"
We're rapidly entering the age of quantum computing, and it's going to be HUGE.
It has nothing to do with cryptocurrency, 5G, or smartphones...
This is bigger than anything else we've ever seen since the dawn of the personal computer.
Quantum computers have the potential to perform tasks 100 trillion times faster than the computing devices we use today...
Allowing them to solve incredibly complex problems that would be effectively impossible for even today's most powerful supercomputers.
That's why they're going to change the world in ways we can't even imagine.
And the tiny firm with the patents for this technology could be set to hand investors gains of as much as 31,594% or more.
In fact, every major firm in Silicon Valley is already paying this firm for access to its quantum computing technology.
I'm talking about juggernauts like Google, Microsoft, and IBM, which are all racing to be leaders in quantum computing.
And with this report, you'll receive the company's name and ticker symbol, and all my research on spintronics and quantum computing.
When you join Topline Trader, I'll rush you all of this material at zero charge.
That includes your exclusive special report:
"COVID Killer: Cashing in on the Tiny Company Behind 'Alpha-2B'"...
As well as the three free bonus reports I just mentioned:
"The Biotech Investor's Guide to FDA Fast Lanes"
"Titan Gains: How to Earn Massive Profits on Massive Biotech Stocks"
"The Quantum Computer King: The #1 Stock to Buy for the Quantum Era"
All I ask in return is that you take a risk-free trial of my premier weekly investment advisory Topline Trader.
And when I say risk-free, I mean exactly that.
Because I want Topline Trader not just to be one of the best decisions you make all year, but also the easiest…
Your 100% Satisfaction Guarantee
That's why every membership is protected by a full 90-day, money-back guarantee.
If you decide within 90 days that it's not for you, you're out nothing.
Call our friendly member services team at 877-303-4529 and let them know. You'll get a prompt and courteous full refund of the membership fee you put down today.
Given our success rate and all the information you're going to receive as a member, I honestly don't expect that to happen...
But if you sign up for Topline Trader and do decide to cancel, you STILL get to keep everything, including all the special materials I mentioned above.
So what's the membership fee for Topline Trader?
Well, providing this level of service isn't cheap.
The full-time staff, the proprietary data networks, the secure U.S. servers, the network of 250 biopharmaceutical experts...
All of that requires a significant investment on our end.
And when you consider that you could easily make six figures off the "Alpha-2B" trade alone...
I know that Topline Trader would offer HUGE value even at a list price of $10,000 a year.
But because I'm so excited about the company behind "Alpha-2B," I don't want a high subscription price to stop you from knowing the name and ticker of this play.
So here's the deal:
The retail rate for a year of Topline Trader is $5,000.
But I've got more good news. You won't pay that much for it — not even close.
My publisher has temporarily reduced the 12-month membership to just $1,999.
That's $3,000 in instant savings.
If you want a front-row seat to the most lucrative tech opportunities on the market — at a fraction of what you would otherwise pay annually — click the button below to get started.
But don't wait...
The types of stocks we target are so small that we have to limit how many people can get in.
And the company behind the "Alpha-2B" breakthrough is VERY tiny. It's a true microcap, valued at just $20 million right now.
And it trades for around just $1 a share.
That's why I'm only opening 450 slots today.
And I'm afraid this number is nonnegotiable.
As of right now, you're one of those 450.
But if you exit this opportunity, your spot will go to the next person in line...
And you won't see this special offer ever again.
In fact, once all the slots fill up, you may never get to join PERIOD.
So if you're interested in this opportunity, I sincerely recommend that you act quickly...
Keep in mind this is a risk-free trial, backed by our full money-back guarantee.
So you have absolutely nothing to lose by simply giving Topline Trader a try.
It's easy to do.
Simply click the button below that says "Subscribe Now," complete the secure invitation form, and you'll be in!
It only takes seconds.
Your financial future is in your hands.
And I know you'll choose to make it a wealthy one.
To your wealth,
Keith Kohl
Investment Director, Topline Trader