Legend Who Bought Tesla after IPO Now Says...
You Can Earn Royalties on Elon Musk's No. 1 Business!
Private "SPV" royalties — now available to all Americans...
Earn as much as six figures in retirement income on this $50 trillion boom.
Easy as buying a stock from your brokerage account... without the market volatility!
Start with as little as $100
Is there really a backdoor way to earn as much as six figures in royalties from Elon Musk's big new ambitions?
Bigger than Tesla's 937% rally last year...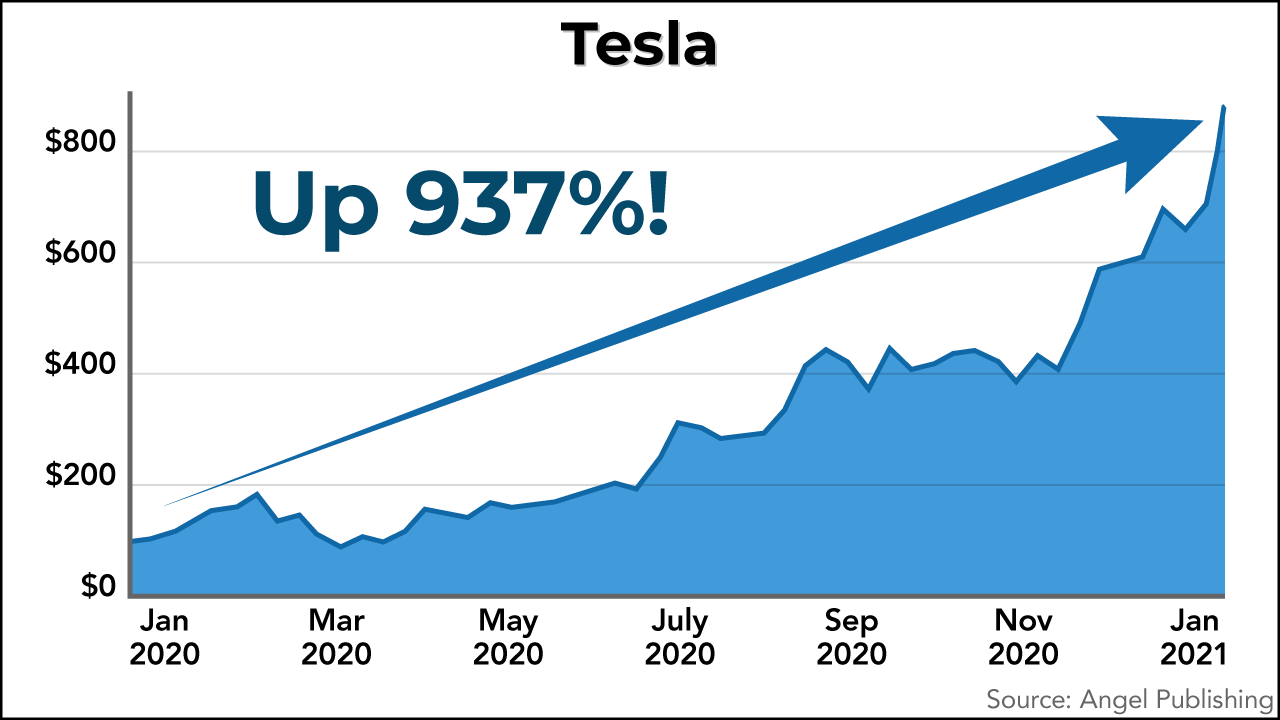 Bigger than EV stocks like...
Plug Power, which jumped 1,990%...
Workhorse, which soared 2,332%...
Or Nio, which skyrocketed 4,058%?
Royalties that make bigger payouts for a lifetime...
Starting with as little as $100...
Without touching a single stock or bond...
Which means no volatility...
No risk of a market crash.
This is a totally private deal...
But it's as easy as buying shares of Tesla from your brokerage account.
I call it SPV.
And with the click of a button...
You can start earning royalties from Elon Musk's No. 1 business.
One he says is "growing faster" than electric vehicles (EVs). Of course I mean solar power.
I'm talking about payouts...
83x more than a bank CD.
214x more than a savings account.
1,000% more than many stock dividends.
The World Economic Forum calls clean energy "a $50 trillion investment opportunity."
And now you can get a cut of virtually every watt generated...
Just like the mega-rich are doing.
In fact, the 1% of the 1% are buying in to the tune of billions...
And are setting themselves up to earn MILLIONS in contracted payments...
So why haven't you heard of this? See, these kind of deals surfaced 15 years ago... with one aim:
To give the world's richest people direct access to the world's biggest solar opportunities...
Like those involving Elon Musk.
You may have seen headlines alluding to them like...
But the media are missing a big story. These big companies aren't just installing solar panels.
They're not just buying more clean energy.
They're directly investing billions in the biggest part of the solar boom...
And reaping massive windfalls as a result.
But now, the story just got so much bigger.
Incredibly enough...
An obscure SEC rule changed...
Giving every American access to these same private deals...
And now you can cash in on the $50 trillion clean energy megaboom... exactly like the mega-rich do!
All that's required is $100...
A single website...
And the click of a button.
It's as easy as buying a stock.
No accreditation required.
And you get access to the same royalty deals...
The same kinds of deals used by Buffett, Bezos, Google, Apple, and more.
This solves one of the biggest questions facing retirees...
How will you earn enough income to fund your retirement...
And quit the rat race...
Without eroding your capital?
In a bank account that pays nothing?
In other stocks that are risky and may destroy your capital?
The options are few. But with private SPV deals, you can earn up to 1,000% more than stock dividends...
With safety more like T-bonds or CDs...
And the payouts can grow exponentially.
As you'll see in a moment...
Over time, you can earn income equivalent to 10x or even 15x returns... over and over... year after year!
And it's totally safe. It's the best of both worlds.
Plus, energy royalties like you can earn with these private SPV deals are some of the best ways to get rich.
They made Rockefeller the world's first billionaire, not to mention tycoon billionaires like:
T. Boone Pickens
J. Paul Getty
Harold Hamm
H.L. Hunt
The Koch brothers
And let's not forget...
Shale oil minted thousands of new millionaires in America...
But not from oil stocks! It all came from royalties.
Oil companies paid out as much as $21 billion each year...
And everyday Americans collected the lion's share.
Some went from earning a $30,000 salary...
To earning $3 million each year — without lifting a finger!
Royalties changed lives practically overnight.
This opportunity is practically the same...
Only instead of old, obsolete fossil fuels...
You earn royalties from the new energy gold rush that's dwarfing oil, gas, and coal.
And you don't need to own land.
We're transitioning away from fossil fuels.
The world of energy is changing...
But the ways to get rich are the same.
And the opportunity is bigger than ever.
Again, $50 trillion is flooding into clean energy.
It's a tidal wave of wealth never seen before.
And while the gains have been huge so far...
Just as with oil... the No. 1 way to profit is with royalties:
Cash paid out directly to investors over and over — for life.
That's what SPV deals are for.
So what exactly are these private deals?
How did I discover them when nobody in the media is talking about this?
And how exactly can you buy into them today...
To start generating consistent income from endless energy...
While removing the volatility of stocks?
You'll discover all this and more in a moment. But first, allow me to fully introduce myself...
Hi. I'm Jeff Siegel.
And I've been a professional investor for 30 years.
I'm also a bestselling author, television commentator, and editor of Green Chip Stocks, a highly successful research publication that focuses on renewable energy.
Over my career, I've developed a unique set of contacts, including former presidents, energy policymakers, venture capitalists, CEOs, family offices, and more.
It helps me understand the intricacies of the energy markets like nobody else on the planet.
I was one of the first to call the boom in solar power.
In fact, in a 2007 book I authored called Investing in Renewable Energy, I predicted its inevitable rise.
I wrote about the potential for new technology to eventually make it dirt cheap — cheaper than anything else.
I predicted its potential to power billions of homes worldwide.
But back then, everybody laughed me off. They called solar power a fantasy — and said that oil and coal would dominate the market forever.
But the investors who listened to me had the chance to score life-altering gains.
I recommended solar power manufacturer SunPower Corporation (NASDAQ: SPWR) — before it shot up nearly FIVE TIMES its value...
That turned every $500 into $2,480!
And when I told my readers to buy First Solar (NASDAQ: FSLR), they made out like bandits when it exploded with up to an 850% gain...
That turned every $500 into as much as $4,750!
These were the "first-wave" companies that helped bring solar power to the market — and I helped my readers rack up huge gains on them.
But don't worry if you missed out last time.
Because it's about to happen again.
Solar is now the fastest-growing industry in America. It's more affordable than ever before.
According to the International Energy Agency, solar could soon be the No. 1 source of energy on the planet... surpassing oil, gas, and coal power.
But one part of the solar boom is at the absolute forefront...
And that's where the next big opportunity is...
The opportunity to earn six figures in royalties each year...
Without even touching the stock market!
Forbes calls it "solar's fastest-growing segment."
Quartz calls it "the most competitive force in the market."
Bloomberg says it's "bringing solar energy to everyone."
In short...
It's No. 1 in America's fastest-growing industry.
It's the "cream of the crop."
I don't mean panels on your rooftop...
Or your local utility plant...
This little-known sector is beating them BOTH.
I'm talking about this:
Some call it the "Netflix of solar."
Again, I call it SPV, or subscription PV (meaning photovoltaics, the scientific term for solar power).
Yes, subscription solar...
As in homes paying monthly fees for solar.
No rooftop panels required. No greedy power companies.
That's why millions are signing up now.
You'll see in a moment how you can earn royalties from every subscriber...
Because of an obscure SEC rule change...
That allows you to buy directly into SPV through private deals...
Just like Buffett, Bezos, Gates, Google, and Apple are now doing.
And NOBODY is talking about this.
In fact, I haven't heard a single financial publication share this idea.
Not once.
It's that off-the-radar.
But I'm going to lay it all out for you over the next few moments.
You'll see how you can buy into SPV deals directly...
Position yourself at the front of the $50 trillion clean energy boom...
And lock in a lifetime of energy income — all with the click of a button. It's as easy as buying a stock.
So how does SPV work exactly?
Introducing SPV: The "Netflix of Solar"
Just as streaming replaces the old cable companies...
And cuts your cable bill dramatically...
SPV is slated to replace the old utilities — and it's going to cut your energy bill down to nothing.
It's the end of the power monopolies.
With SPV, homes can subscribe as they would to Netflix...
And voila, this powers the whole house on solar:
The kitchen, the laundry room, your gadgets — everything...
While cutting out the middleman power companies...
Just as streaming does to box cable.
No more $300 monthly bills.
No more blackouts.
You get much cheaper and more reliable power...
All with the click of a button.
This opens the floodgates of solar power to all Americans.
And I think it's going to accelerate solar's market dominance... finally!
You see, the solar revolution has been absolutely incredible.
It's now the cheapest electricity in history...
And it's been spreading at a breathtaking rate.
The U.S. alone just crossed the 100-gigawatt milestone...
Meaning solar can now power 20 million homes.
But in spite of all this success...
Most Americans aren't enjoying the real benefits of solar...
Benefits that, until now, you could only get from a rooftop panel.
They either:
Can't shell out $13,000 for a solar panel.
Rent from an apartment complex.
Have HOA restrictions on installations.
Your only other option?
The power companies.
The One Thing Holding Back the
Solar Revolution... Is Now Obsolete
Fact is, 75% of solar is still under the control of the power companies — 75%!
Because of this, your power bills have not gotten cheaper.
In some cases, they may even be higher!
Plus, you're still getting power from a single source...
The power plant. So if a blackout happens, you're still vulnerable.
The power companies control the solar panels, not YOU.
It's outrageous.
We were told clean energy would make the utilities obsolete.
It would render these middlemen a thing of the past...
And cut our energy bills down to nothing.
But that hasn't happened for so many. Not even close.
Why is that?
You see, for years, when a solar project was being built...
The developer had to look to big money for financing.
That means — you guessed it — the power company.
In return, it gets first dibs on the cheap solar.
By the time that power gets to us, it's already marked up.
We're still paying highway-robbery prices.
In fact, with the way the current system is arranged, 77% of American households can NEVER access the real benefits of solar.
This is what's stopped solar from achieving TOTAL MARKET DOMINANCE.
But the rules are all changing...
SPV Deals Remove the Power
Companies From the Equation...
Twenty-six states are passing bills to greenlight SPV to everyday Americans...
States like Florida, New York, and Texas.
Because of these legal changes...
Early-stage solar projects are now open to the public.
Instead of looking to the power companies...
They get backing from the communities they serve.
The people go from customers to "stakeholders" — literally.
Individuals can buy a share of the project...
A city or neighborhood can pool its resources...
And create a network anyone can subscribe to.
In any case, once the consumer is signed up...
They are entitled to all the benefits of solar like:
20%–30% cheaper bills
No blackouts
No carbon emissions
And best of all, no rooftop panels. No need for upfront costs.
Bottom line:
SPV is going to make solar practically ubiquitous.
I mean 100% universal adoption.
Instead of this on your roof...
Or paying your power utility...
We will get power by simply clicking this...
And get all of the benefits of solar directly.
It's as easy as subscribing to Netflix.
That's why it's going to be bigger than rooftop solar...
Bigger than batteries.
It's going to accelerate total adoption of solar power...
Dominate a $50 trillion industry...
And cut the greedy power companies out of the picture...
Giving everyday Americans direct access to clean energy.
That's where this gets really interesting for you...
YOU Become the Utility
Instead of power companies getting paid...
Investors can buy into SPV deals directly with just $100...
And collect royalties from every subscriber.
It's like getting a piece of each Netflix subscription...
Only much, much bigger...
Since energy runs every part of our lives... not just our TVs.
And that's why it can generate six-figure payouts.
To sum it up...
It's a win for power customers...
A win for the environment...
And the biggest win for investors.
Because you're getting paid on the model that's going to make solar the dominant form of American power!
It's like buying into Standard Oil early...
A $10,000 investment with Rockefeller in 1870...
Would have earned you $12.5 million in dividends by 1906.
Or becoming a shale royalty millionaire...
Plenty of Americans making less than $50,000 each year...
Soon found themselves collecting double that amount in their mailbox every month!
SPV's potential is similar...
You're getting a piece of all power being generated for millions of homes worldwide...
But with new energy, not oil.
So forget Exxon's 6% dividend.
This opportunity in SPV completely blows that away...
And the payouts are set to grow exponentially.
This is still on the ground floor but surging at a record clip...
Massive 11,067% Market Surge
Ten years ago, there were only a few homes powered by SPV.
Right now, 600,000 households are getting power this way.
The growth has been extraordinary, but SPV is still only 5% of the entire solar industry.
That's changing rapidly.
Within the next few years...
That number is projected to reach 67 million households!
That's a stunning 11,067% use surge...
From a few homes in a few states...
To half of all the homes in America.
My point is...
Not only does this pay huge royalties right now...
But your payouts could grow up to 11,067% in a few years...
And pay for life.
The sky's the limit.
How much exactly?
"Endless Income" From Endless Energy
Look...
The secret to building a retirement income stream is this:
It's not just how much you earn right now...
It's how much you can potentially earn over the long run.
By my calculations, as little as $10,000 invested in SPV...
Could explode from $1,500 in royalties right now...
To over $150,000 in annual payouts.
Meaning you could potentially beat Tesla's incredible 937% stock run...
Every single year.
Potentially for life.
That's what this opportunity is: the chance to build a real retirement income stream with very little invested...
And never having to worry about retirement.
These payouts are possible because SPV is the ground floor of America's clean energy renaissance.
This is why the mega-rich are buying into these projects directly.
It's how they're reaping the biggest profits from solar.
Bottom line:
Energy royalties once minted the world's richest men like Rockefeller.
Now the world's richest men like Bezos and Buffett are buying in.
And now you can too.
What are they doing exactly?
How the World's 1% Are Buying
Into the Solar Gold Rush
You see, for years, Congress wanted to spur private investment in solar...
Meaning big whales with deep pockets.
So it created a special benefit called the solar investment tax credit (ITC).
In return for investing DIRECTLY in the development of a solar farm or power plant...
A big investor will get three rewards:
30% tax credits.
Cheap solar electricity once the project is done.
Cash flow from their stake in the project.
It made solar good for the climate and good business.
The biggest names in the Fortune 500...
Warren Buffett, Bill Gates, Google, Apple, Amazon...
They've all piled billions into solar projects...
And averaged 30% returns annually.
That's nice for them.
But it was always the exclusive right of the super-rich.
Then, in 2013, everything changed.
Private Solar Deals Now Available to All
An obscure part of the JOBS Act changed SEC "Regulation A."
Suddenly, everyday Americans could buy into private solar deals...
Just like the mega-rich.
No need to be an accredited investor.
In fact, all you need is $100 to get started.
Yet for years these private deals remained inaccessible.
You had to have some kind of connection.
Or "in" with the developer.
One entrepreneur changed all that.
This man is a legend in the solar industry.
He founded his first solar company with a $35,000 loan...
And sold it for $165 million in less than 10 years.
Could you imagine turning $35,000 into $165 million in under a decade?
The deal was the most remarkable win I've ever seen.
It stunned the entire industry.
He could have retired, but he's not done yet.
He wants to repeat his success, all while backing the world's best solar projects...
The projects with the most potential...
That will bring solar to the most people...
And generate the biggest payouts for investors who buy in directly.
So he honed in on SPV — the world's fastest-growing solar industry...
One that's bringing solar DIRECTLY to the masses for the first time...
And making endless income from monthly subscriptions...
Creating a windfall for the environment and investors alike.
Only instead of letting banks in on these deals...
He wants everyday Americans to get their share this time.
And because of the 2013 SEC rule change...
Now you can.
Best of all, he's now created a website that allows you to easily buy into these projects.
It's as easy as buying a share of Tesla, only it's totally off-market.
Plus,unlike a stock...
You actually have something tangible you're a part of.
I'm talking about real land... real solar panels... a real plant bringing power to ordinary people.
It's all in your hands.
To get everything you need to access this...
I met the CEO, interviewed him on camera...
And shared the full scoop for my readers.
They're already buying into SPV deals, earning royalties from some of the world's best solar projects.
Today I'm opening access to you too.
You can get first dibs on the latest private solar deals...
Some backed by none other than Warren Buffett.
You can partner with the most successful investor in history on some of the fastest-growing solar deals...
With as little as $100.
And this is a pure ground-floor opportunity.
I've uncovered at least six deals, all now accepting new investors.
But demand for private solar is starting to surge. The window to buy is brief.
They may open and be gone in a matter of days.
So if you want to begin collecting solar royalties now...
Just like Buffett, Apple, or Amazon...
Don't wait on this any longer.
To get you started...
I've explored all the projects...
I've analyzed the SPV market...
And calculated the royalty potential.
I've lifted up the hood on everything...
All the due diligence you'll need...
And I've compiled it for you in a new briefing I call:
"Private Solar Royalties: Earn 6-Figure Payouts From the Clean Energy Revolution."
It holds everything you need to earn a lifetime of energy income.
Inside, you'll get:
Directions to the secure website and where and how to sign up.
A total market analysis on SPV and why it's the No. 1 fastest-growing segment of the $50 trillion solar market.
My interview with the CEO.
The full scoop on top-notch SPV deals — the same kind bought by Buffett, Amazon, Apple, and Google.
Why royalties are the safest and most surefire way to riches on clean energy.
Exactly how much in royalties you stand to make in the coming months and years.
And much, much more.
I'll send this exclusive report to your inbox free of charge.
All I ask in return is that you take a risk-free test drive of my flagship newsletter, Green Chip Stocks.
Profits From a Proven Track
Record... in Your Hands
As I've already mentioned, my name is Jeff Siegel and I'm the editor of Green Chip Stocks, the first independent investment research service focused almost entirely on renewable energy.
Why? Because these are the plays that are going to usher in a new way of life... and a new generation of wealth.
Since 2003, I've been at the forefront of new, modern energy generation.
Along the way, I've helped individual investors make small fortunes by tapping everything from solar, wind, and geothermal to natural gas, electric cars, and smart-grid technologies.
I leverage my elite network of contacts that I've built over three decades to exploit the energy market's most significant moves... BEFORE the mainstream money does.
It's how I'm able to gain access to company laboratories, engineering facilities, private meetings with management teams, and other executives that every investment "analyst" would kill for...
Just like how I got access to private deals on the No. 1 trend in the $50 trillion solar revolution — giving you a shot at earning six-figure royalties alongside Buffett, Bezos, Gates, Google, Apple, and Facebook... starting with only $100.
It's the reason I've been able to land so many triple-digit winners, including extraordinary gains of:
153% on Captiva Verde
172% on Hannon Armstrong
215% on U.S. Geothermal
153% on WorldWater Corporation
159% on Greenbriar Capital
311% on Ormat Technologies
396% on SunPower
546% on XsunX
552% on Tesla
788% on Vestas Wind Systems
850% on First Solar
I've been able to help so many of my readers make absolute fortunes in renewable energy and other early market trends.
Take a look...
Jeff, I just secured a $120,000 gain in 30 days. You rock!!! Let's keep making $$$$$.
— Matt H., Burlington, Vermont
Hi Jeff. My entry point was $0.99, so my score is 332%. Very Good! And thanks.
— Rene L., Des Moines, Iowa
I have done tremendously well with your portfolios... $400,000 in pure profit!
— Craig J., Abilene, Texas
I made a nice $32,000 profit.
— Susan C., Bend, Oregon
This is something I boast about with much pride.
In fact, we regularly put most top hedge funds to shame.
Not to mention that just to get your money on board with one of these high-profile investment managers, you'd typically need to put up more than $1 million in capital. And once the gains come (assuming and hoping of course that they do), fund managers rake in between 20% and 50% in "performance fees"...
In other words, while you may or may not make any money with one of those funds, the guys making the decisions for you get paid no matter what. So while your money earns modest gains at best, hedge fund managers become billionaires faster than any other segment of the population.
That's just not my philosophy. I'd rather you KEEP your gains instead of redistributing your wealth to a bunch of hedge fund managers.
That is why I offer my members something you won't find anywhere else...
Insider Events for Members Only
In January 2020, I invited members to a private meeting with the top executives of a new startup I have reason to think has huge potential.
The event was fully booked almost immediately.
At the meeting, the executives presented their latest confidential research findings to Green Chip Stocks members and some of the major-league investors I know personally.
It was a very small, intimate gathering that gave members the chance to hear directly from the top people of a company they might want to invest in.
These are the kinds of hush-hush meetings you only read or hear whispered about but are never in the room for.
Now, I won't divulge the content of that meeting here, but fortunately, they allowed me to film the proceedings.
You'll get the footage once you become a Green Chip Stocks member.
And as the clean energy boom heats up, I'll be holding ultra-private meetings like these regularly for our members — and you'll be on the invitee list if you act now.
If you want to get in on private deals like the one I shared with you today, you have to get in at the beginning, start on the ground floor, and ride the elevator up.
Membership in Green Chip Stocks gives you this kind of exclusive, early-in access through my recommendations and members-only events.
As a member, you'll also get:
An "all-access" pass to Green Chip Stocks. This is my website where I post every urgent update that you'll need to profit from the innovative breakthroughs in renewable energy, health, and technology that I uncover by leveraging my unique network of contacts and industry insiders.
Urgent weekly updates. Once a week, I'll update you on the investment opportunities that I've shown you up to that point. This includes any breaking news, insider rumors, and more.
Invitation-only private research trips. As an active member of Green Chip Stocks, you'll be able to join me on private research trips that are only available to the select few in this group. You'll also be able to attend private investor dinners that I hold exclusively for my inner circle of like-minded folks.
Constant direct support. As long as you're a member of our community, you'll be able to contact me with any questions you may have. My staff and I will be happy to work with you. Of course, we're not allowed to give any personal finance advice.
You'll also get instant access to our entire research library — an invaluable investment tool that doesn't just educate but also advises how and when to react to sudden developments in the market.
And I'll rush you these two special reports, FREE:
"A Solar Window in Every Home" — It's one of the fastest-growing renewable energy sources there is, with wind companies consuming oil and coal market share every day. This report contains all the juicy details on this solar firm and its breakthrough solar spray that could make you 850% gains! (And that's my lowball estimate... I have no doubts about this company being able to become my next 1,000%+ winner.)
"18 Mining Stocks to Play the EV Revolution" — The $5 trillion EV revolution is bigger than just Tesla or Workhorse. It's the minerals these companies need — key resources like lithium, copper, palladium, and platinum — which is why the biggest potential winners of the EV boom won't be EV makers. They'll be the tiny mining stocks that trade for dollars or even pennies per share. Historically, these companies have surged as high as 10,000% during commodity booms like the one currently underway. But this time, the potential is even bigger as the EV race drives a historic supply crunch, sparking a vertical price move in vital commodities like never before. Financial Times calls it a "gold rush on steroids" — and I've uncovered over a dozen of my favorite potential 10x winners.
That's a full slate of benefits above and beyond "Private Solar Royalties: Earn 6-Figure Payouts From the Clean Energy Revolution."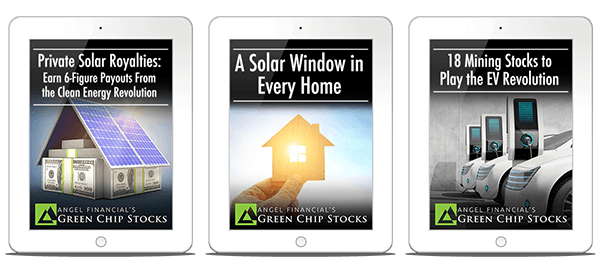 And right now, you can get complete access to this wealth of information at absolutely no risk when you test-drive Green Chip Stocks to see if you like it.
And if you decide that our research, investment style, and winning picks are not for you, just call me at any time within six months of your purchase, and I'll refund your money right then and there.
That's a 100% refund — no questions asked, no surcharges, no restocking fee, and no small print — guaranteed for half a year.
You have absolutely nothing to risk here and everything to gain — like a lifetime of payouts you can only get from buying directly into private solar deals... Endless payouts from endless energy.
When you get to retire early, you can tell people you did it collecting royalties in the No. 1 solar opportunity alongside Warren Buffett, Bill Gates, Jeff Bezos, Mark Zuckerberg, and so many others.
Because of this one decision, your kids, your grandkids, and their kids could all reap the fruits of the legacy you created for many decades to come.
It's akin to buying a share of Standard Oil early or earning royalties during the shale boom — only it's the $50 trillion clean energy boom that absolutely dwarfs coal, gas, or oil.
It doesn't get better than that.
But I must warn you: Private deals like the SPV opportunity I laid out for you go quickly. Some only have windows of a few days or a week.
You see, these deals may now be available to all Americans, but there's a catch:
They have a strict $70 million cap on how much they can raise from everyday investors.
Fortunately, because of my extensive connections, we're in early and have a shot at scooping up the best deals, but that won't last forever.
When it comes to private deals, the window to buy in rarely lasts long.
And if the opportunity is in a booming sector like solar, they go even faster.
So I expect that word will soon get out about private solar deals that are available for everyone and the buy-in is only $100.
It's only a matter of time and when this happens, the window on these deals will close quicker and quicker — sometimes within days or even hours of becoming available.
That's why it's so important that you stake your claim now — before this opportunity for six-figure royalties passes us by...
Because that, my friend, is how you get rich in this market.
Good investing,
Jeff Siegel
Investment Director, Green Chip Stocks